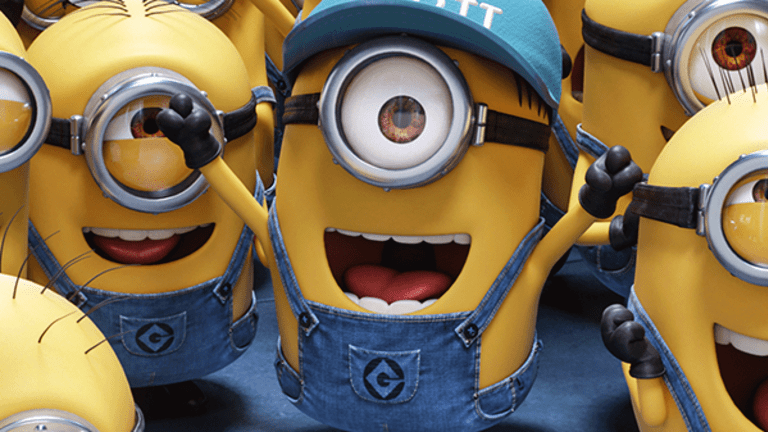 'Despicable Me 3' Aims to Rejuvenate Summer Box Office
The animated feature from Universal and Illumination Entertainment will give the box office a much-needed boost this weekend.
This weekend sees the release of what is bound to be one of the most popular films of the summer. Universal's  (CMCSA) - Get Report  "Despicable Me" films have proven their box office dominance time and again, and though franchise fatigue will set in eventually, "Despicable Me 3" looks to continue the winning streak. Even if it opens below past installments, Universal has no need to worry--these films are produced at a low price point and are monsters internationally, meaning "Despicable Me 3" will probably be one of the most profitable movies of the summer.
Elsewhere at the box office, Sony's  (SNE) - Get Report  thriller "Baby Driver" will aim to attract an older audience, as will Warner Bros.'s (TWX)  R-rated comedy "The House." The Top 12 films at the box office should gross around $175 million this weekend, which would be a 30% increase from last weekend and a 5% dip from the same frame last year, when "Finding Dory" ruled the box office.
When the first "Despicable Me" debuted in July 2010, expectations were modest: "Toy Story 3" was tearing up the box office at the time, and it was the first film from Universal's new animation studio Illumination Entertainment. However, that film barreled past expectations with a $56 million opening, as the adorable Minions and madcap humor won over audiences both young and old.
"Despicable Me" had impressive legs that summer and finished with a domestic gross of $251.5 million and a worldwide total of $543.1 million. The franchise has only gotten stronger since then--2013's "Despicable Me 2" fell just short of $1 billion worldwide, and 2015's "Minions" flew past that threshold with a $1.16 billion global tally. All of these films were produced for under $80 million, which is also true of "Despicable Me 3."
Whether or not this installment in the franchise can clear $1 billion remains to be seen. The upward trajectory can't last forever, especially in a summer where franchise fare has struggled to meet expectations at the box office. "Minions" received mixed word-of-mouth and faded from theaters quickly for an animated film, which may adversely affect "Despicable Me 3." Family audiences who are burnt out on the franchise may save their money for next weekend's "Spider-Man: Homecoming," which looks primed to be a four-quadrant hit.
However, with a fairly open family market and positive reviews in its corner, "Despicable Me 3" is still poised for a big debut even if it doesn't quite reach the box office heights of its predecessors. The film is opening in a record 4,529 venues in the U.S. and Canada, the widest release ever at the North American office. With a great marketing push from Universal, "Despicable Me 3" should see a sizable opening over its first three days and easily take the #1 spot at the box office. Expect Universal and Illumination to keep the good times rolling with an $83-$85 million debut.
Second place should belong to Paramount's (VIAB) - Get Report "Transformers: The Last Knight," which underwhelmed in its domestic debut last weekend. Previous installments in the franchise have dipped over 60% in their second weekends, but "The Last Knight" may fare a bit better, as its daily holds have been encouraging so far. Assuming it doesn't get dinged too badly by the debut of fellow actioner "Baby Driver," expect the fifth "Transformers" film to fall a bit over 50% for a $21 to $22 million weekend.
"Wonder Woman" should continue to attract a sizable chunk of business in third place. The Warner Bros. film just recently surpassed the domestic total of "Suicide Squad," and should fly past the $330 million final gross of "Batman v Superman" this weekend to become the highest-grossing DC film domestically. Expect "Wonder Woman" to fall just 30% for a $17 to $18 million fifth weekend and a domestic total approaching $350 million.
The race for fourth may be close between two car-centric films, "Cars 3" and "Baby Driver." Give the edge to the animated threequel, as Pixar films have held up well against competition from Gru and the Minions in the past ("Toy Story 3" fell only 31% over the debut frame for "Despicable Me"; "Inside Out" lost 41% of its audience to "Minions"). Expect "Cars 3" to dip a reasonable 45% this weekend for a third frame around $13 million.
"Baby Driver" should round out the top 5 this weekend as Sony hopes the film will become the summer's first sleeper hit. While the glowing reviews (98% on Rotten Tomatoes) should help, Edgar Wright has yet to have a mainstream hit as a director, as his frenetic comedy style has never really caught on in the U.S. The film debuted on Wednesday and raked in $5.7 million, which is ahead of the $3.7 million mid-week opening for last summer's thriller "Nerve." That film was able to earn $9.4 million and its opening weekend, which would seem to be the floor for "Baby Driver" this weekend. Expect the $34 million film to open with a $12 to $13 million weekend and a five-day total just over $20 million, a solid result for Sony.
Opening outside the Top 5 this weekend should be Warner Bros.'s Will Ferrell-Amy Poehler comedy "The House," which reportedly carries a budget in the low-$40 million neighborhood. R-rated comedies have really struggled this summer, with both "Baywatch" and "Rough Night" flopping at the box office. It seems unlikely that "The House" will reverse the trend--the review embargo suggests that the studio is expecting negative notices, and the buzz on social media has been troublingly quiet. Warner Bros. is expecting an opening in the $12 million neighborhood, but "The House" may miss double digits with $9 million in its first weekend, which would be a career-worst wide debut for star Will Ferrell.