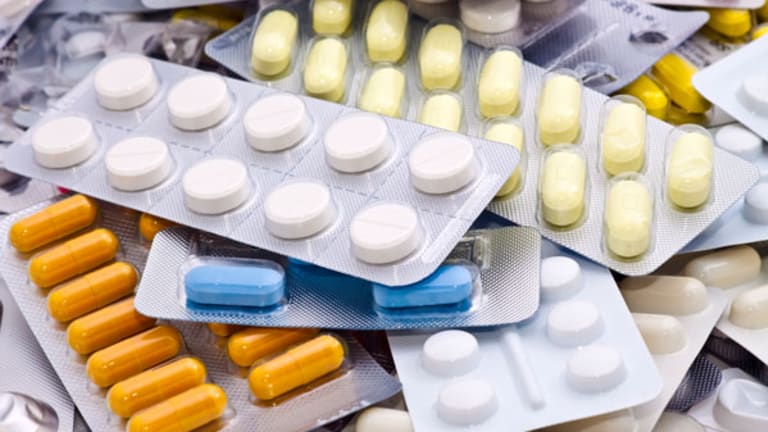 Depomed Bear Case: FDA Panel Will Ding Serada
New contributor Aafia Chaudhry explains why she believes Depomed's hot flash drug has no future.
New contributor Aafia Chaudhry explains why she believes Depomed's hot flash drug has no future.
(Editor's note: The following column from contributor Aafia Chaudhry explains the bear case against Depomed and its "hot flash" drug Serada. All stocks have two sides, so read Chaudhry's column as a counter-argument to the Depomed bull thesis published by Jason Napodano, Zacks analyst and PropThink contributor on Jan. 30.)
NEW YORK (
) -- I believe the FDA advisory panel will vote against
Depomed's
(DEPO)
Serada on March 4. The negative vote will subsequently convince FDA to reject Depomed's application for Serada on or before the decision date of May 31.
Serada is a proprietary, extended-release formulation of gabapentin, an analogue of the chemical transmitter GABA that is used to treat seizures and neuropathic pain. The role of gabapentin to treat vasomotor symptoms (VMS) of menopause -- more commonly known as hot flashes -- is tenuous at best. The results of Depomed's phase III study program for Serada do not support the drug's efficacy in this indication.
Depomed conducted two phase III studies of Serada in women with VMS, or hot flashes. BREEZE-1 and BREEZE-2 were randomized, double-blind, placebo-controlled studies of approximately 540 patients per study, receiving treatment with Serada 1200 mg or 1800 mg daily or placebo.
Total treatment duration in BREEZE-1 was six months, with primary efficacy endpoints assessed after four and 12 weeks of stable therapy. Persistence of efficacy was assessed at six months as a secondary endpoint. Treatment duration in BREEZE-2 was three months, also with assessment of efficacy at four and 12 weeks. Both BREEZE-1 and BREEZE-2 utilized primary endpoints measuring the mean change in frequency and severity of VMS from baseline to weeks four and 12.
Depomed reported the outcomes of the studies in 2009. Both BREEZE-1 and BREEZE-2 failed to meet any of the primary endpoints with statistical significance. There were many issues with the data reported, raising questions about the true clinical benefit of Serada in the VMS setting.
In BREEZE-1, 36% of patients receiving treatment at 1200 mg, and 30% of those receiving 1800 mg failed to complete the study. These are very high and concerning dropout rates for any clinical trial. Some menopausal women can experience VMS for years, so any treatment needs to be well tolerated, safe, and demonstrate persistent benefit.
Serada did not demonstrate persistence of effect for even 12 weeks let alone 24 weeks. The 24-week data were never reported fully reported but will hopefully surface in March at the FDA panel.
At best, the results of BREEZE-1 and BREEZE-2 seem to indicate treatment with Serada is associated with approximately one less hot flash per day compared with placebo treatment, and only for a short period of time. Given the 50% placebo response rate often seen in VMS trials, Serada's "benefit" seems clinically meaningless and hard to justify given gabapentin's adverse event profile. I expect the FDA's own analysis of the BREEZE-1 and BREEZE-2 data will support my bearish position on Serada.
Depomed bulls argue in favor of Serada's VMS benefit only by manipulating the statistics of the BREEZE-1 and BREEZE-2 trials. Well, as the old saying goes, "If you torture the data long enough, it will confess to anything." Thankfully, FDA reviewers are usually skeptical when presented with a plethora of post-hoc "statistically significant" results.
Statistics aside, it's the absolute efficacy benefit of Serada in VMS that will be the central review issue. I expect the FDA and the experts on its advisory panel to raise questions and concerns about the placebo-adjusted frequency and severity scores. Serada's inability to demonstrate durable effect at 24 weeks -- the regulatory benchmark for approval of VMS drugs -- will also be problematic for Depomed.
Let's now discuss the third phase III trial that Depomed conducted of Serada in VMS, this time under a Special Protocol Assessment agreement with FDA. BREEZE-3 was a double blind, placebo-controlled study of approximately 600 patients, randomized to receive a Serada total dose of 1800 mg or placebo. The co-primary efficacy endpoints were reductions in the mean frequency of moderate-to-severe hot flashes and the average severity of hot flashes, measured after four and 12 weeks of stable treatment. As in the prior BREEZE-1 trial, the treatment duration of the study was six months to establish the regulatory requirement for persistence of efficacy.
Mixed results from BREEZE-3 were reported in October 2012: Using the pre-specified, statistical analysis plan, Serada demonstrated a statistically significant reduction in the average frequency of hot flashes and severity of hot flashes at four weeks. At 12 weeks, Serada failed to demonstrate a statistically significant reduction in the average frequency of hot flashes but did show a statistically significant reduction in hot flash severity.
At 24 weeks, Serada failed to demonstrate a statistically significant benefit on either of the two measures of VMS efficacy.
While Depomed bulls argue otherwise, it is clear to me that the efficacy of Serada as defined by the SPA agreement was not fully met in the BREEZE-3 study. Like in the previous negative studies, Serada failed to demonstrate a significant reduction in the frequency of hot flashes beyond four weeks. Across all three phase III studies, the data compiled cast major doubts against Serada's proving a meaningful benefit in VMS, especially when women experience symptoms for months to years.
Bulls also contend that Serada should be approved because women suffering from VMS deserve a safer alternative than the current standard treatment, hormone replacement therapy. While hormone replacement therapy can be used safely for prolonged periods of time in a lot of cases, I agree that there will be some women for whom an alternative therapy is preferred. Luckily, the FDA panel on March 4 will be reviewing just such a safe, effective treatment for VMS on the same day that it shoots down Serada.
I'm referring to
Noven Pharmaceuticals'
Low-Dose Mesylate Salt of Paroxetine (LDMP), which is also currently under FDA review for the treatment of VMS associated with menopause. Paroxetine is a highly selective serotonin-reuptake inhibitor and the potential mechanism of its action in VMS would relate to normalizing serotonin signaling in the brains' temperature control area.
Noven has successfully completed two phase III studies as part of the LDMP clinical development program. Noven, like Depomed, has a Special Protocol Assessment agreement with FDA in place for its studies. In both studies, LDMP significantly reduced the frequency of VMS from baseline to weeks four and 12. On the VMS severity reduction measure, LDMP met the four-week response threshold in both studies and the 12-week threshold in one study. Overall, LDMP missed just one of the nine prospectively defined efficacy endpoints across two studies.
Importantly and unlike Serada, significantly more patients treated with LDMP than placebo were responders at week 24, demonstrating the drug's persistent of treatment benefit. Overall, LDMP reported a safety profile similar to placebo and was well tolerated.
The experts sitting on the FDA advisory panel March 4 will be reviewing Depomed's Serada in the morning and Noven's LDMP in the afternoon. Therefore, these experts will be reviewing both sets of briefing documents ahead of time, and evaluating their contents with respect to the same regulatory criteria.
Let's don our advisory panel hats and consider the two packages for a moment:
Serada: Minimal evidence to support its role in VMS. Dosed twice a day. High patient dropout rates in clinical studies. Failed to meet a single prospectively defined end point in two large randomized controlled studies. Failed to demonstrate significant reduction in frequency of hot flashes beyond four weeks in a third confirmatory study, Failed to demonstrate persistency of benefit at 24 weeks in every study. Overall side effect profile and tolerability issues with gabapentin
LDMP: Plausible rationale for treating VMS. Dosed once nightly. Met eight of nine prospectively defined end points in two large, randomized controlled studies. Significantly reduced the frequency of moderate to severe hot flashes at four weeks, 12 weeks and maintained persistence of effect at 24 weeks. Excellent overall safety and tolerability profile.
Hmm... I know which way I would vote.
One final not: In the extremely unlikely event FDA does approve Serada for the treatment of VMS, peak sales of the drug will be minimal. Here's my generous revenue forecast:
10 million women per year seeking treatment for hot flashes
75% try medication following a doctor consultation. (This is a high estimate.)
30% require an alternative to hormone replacement therapy
5% peak market share for Serada
90% patients given a prescription choose to fill it.
50% likelihood prescriptions are filled with Serada first, instead of generic substitution with gabapentin. (Note: Serada is "extended release" yet needs to be dosed twice daily. There is no evidence that this confers any benefit over generic gabapentin from a managed care perspective so it is likely Serada will have a low-tier formulary status and will frequently be subject to generic substitution.)
Average course of treatment: Three months (Note: 30% of patients failed to complete the studies so there is no reason to believe real world experience would be different. In fact, I would predict a high drop-off rate after the first prescrioption. Serada does not demonstrate persistent effects beyond 4 weeks under clinical trial conditions, so it is extremely unlikely the average course of therapy will be as high as nine months).
Average cost per script: $225
Serada peak Sales Estimate: 10 million potential patients x 75% x 30% x 5% x 90% x 50% x 3 x $225 = $34 million peak sales.
Disclosure: Chaudhry owns March puts in Depomed.
Aafia Chaudhry M.D. is a founding partner at Noesis LLC, an investment-management firm focused on the pharmaceutical and biotechnology sectors. She originally trained in general surgery prior to transitioning into the health-care industry. Aafia has been an active life-sciences investor for the past nine years and is an expert in pharmaceutical life-cycle management strategy. She was formerly president of 81qd, a strategic data-analytics consultancy, and most recently served as vice president of strategic market planning at WebMD Health Corp.