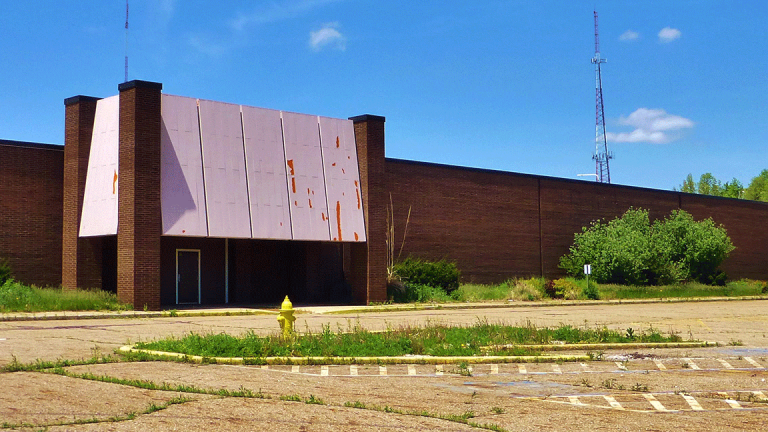 Will Dying Department Stores Fare Better in 2018?
No is the short answer. TheStreet breaks down some top predictions for 2018.
No is the short answer. TheStreet breaks down some top predictions for 2018.
In 2018, the winds of change aren't exactly gusting — at least not for retail.
Despite high consumer confidence and a capital infusion, thanks to tax reform, traditional department stores will face heightened competition, store closures and — no surprise here — more bankruptcies, analysts told TheStreet.
"Can the department stores capitalize on what looks to be a pretty strong consumer backdrop in 2018? That's the million dollar question," said Chuck Grom, an analyst at Gordon Haskett.
In the meantime, below are industry predictions about the likes of Macy's Inc. (M) - Get Report , J.C. Penney Company (JCP) - Get Report , Nordstrom Inc. (JWN) - Get Report and, of course, Sears Holdings Corp. (SHLD) .
Bankruptcies, Store Closures and Inaccessible Capital
When it comes to bankruptcies, the worst is yet to come, especially for Bon-Ton Stores Inc. (BONT) . 
While Sears has held on for longer than anyone could've imagined, Bon-Ton is facing an imminent filing, according to David Tawil. He predicts the department store will declare bankruptcy in early 2018. It skipped a $14 million bond payment, due Dec. 15, and is now in the middle of a 30-day grace period before facing a default. Typically, a company files for bankruptcy at that point.
J. C. Penney, too, is treading water, he said. But bankruptcy for the Texas-based chain will come in "2020, maybe 2019."
Neiman Marcus Group, a privately held luxury retailer, is also on bankruptcy watch, as is Sears, both of which have a financial health rating of 19 out of 100 points, per RapidRatings. Even if these retailers opt for restructuring, the credit market even more lacking in confidence of these traditional brick-and-mortar retailers, Tawil said.
Nordstrom's failed attempt in October to go private under private equity firm Leonard Green was proof of the lost faith, he added. Refinancing will be tougher in 2018, especially for the ones that need it the most.
All the while, stores will continue closing. This goes for J.C. Penney, Macy's, Sears and certainly those facing bankruptcy, multiple sources said. Cushman & Wakefield's head of retail Garrick Brown told TheStreet's sister publication, The Deal, last week that 2018 could be the worst year yet for shuttering retail stores. As of early December, about 6,885 stores had closed in 2017, according to research firm Fung Global Retail & Technology.
The Weak Get Weaker
Retailers exalted on Friday, Dec. 22, when President Donald Trump signed into law tax reform that cuts the corporate tax rate to 21% from 35% — a policy change the National Retail Federation has long championed.
But the extra cash could create more problems for already ailing retailers like J.C. Penney and Sears, neither of which would see capital advantages when pitted against stronger contenders like TJX Companies (TJX) - Get Report .
Comparing net income with and without the new tax rate, Susquehanna International Group analyst Bill Dreher calculated that J.C. Penney would have a capital expenditure benefit of $1 per square foot, compared to TJX' $13 per square foot, given their respective operating metrics and financial returns.
This means that "the dichotomy between the winning department stores and losing department stores will get even wider," Dreher told TheStreet. While TJX would likely put its extra cash toward earnings per share, weak companies like Penney and Sears will barely realize any savings. Instead, they are likely to continue relying on asset sales to invest in their business, Dreher explained in a Dec. 19 note.
Meanwhile, companies like Macy's, Nordstrom and Kohl's Corp. (KSS) - Get Report , which Dreher deems "struggling," will see some earnings growth from tax reform, while the rest would go into business investments. Macy's, for instance, would realize a capital expenditure benefit of $4 and Kohl's $11.
Better Choices for Customers
While the silver lining for these department stores is hardly visible, shoppers will benefit from rising retail woes. Savings from the tax cut could go into price investments, which translates to lower price tags for merchandise, Dreher said. Retailers will also drive online sales by offering better service and cheaper shipping options to compete with Amazon.com Inc. (AMZN) - Get Report .
Kohl's, for instance, is likely to expand its partnership with Amazon, Grom predicted in a Dec. 21 note. The store allows Amazon returns at 82 locations and carries Amazon smart home products in 10 of those. "We believe the stage is set for the partnership to be rolled out more broadly across the Kohl's store base, with Amazon Return capabilities a potential fixture in all stores," Grom wrote.
M&As?
While there have been rumors of mergers — such as Amazon or Wal-Mart Stores Inc. (WMT) - Get Reportpotentially buying Nordstrom — there will likely be few strategic acquisitions, maintains Tawil.
He added that even activist investors will shun the sector, given failures in 2017. As for next year, he said, "It's an unenviable task of trying to turn around a brick-and-mortar retailer." 
More of What's Trending on TheStreet: