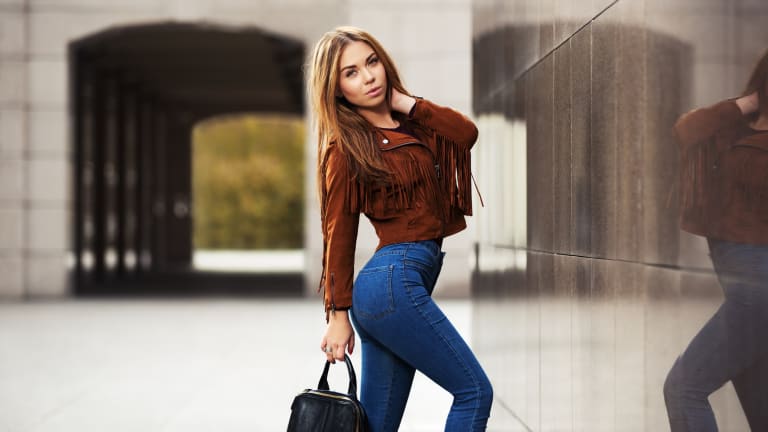 Denim Is Back With a Vengeance -- Here Are the Top Names That Could Cash In
Denim is cropping up everywhere from catwalks to style magazines.
Denim has been a mainstay of American life for nearly 150 years. Eventually, that workday fabric made its way into jeans, jackets and coveralls and became commonplace the world over.
Recently, denim has started to make a comeback after years of athleisure styles dominating the fashion scene, with denim looks being in abundance at spring assortments previewed on the catwalks. Introductions of jeans with stretchy and softer fabrics have helped the outlook for denim, too. 
In turn, the companies that sell denim are poised to reap the profits.
"Last year was a positive one for jeans," wrote NPD in a report this month, "another critical category for apparel, which finally rebounded in 2016 to align with the industry's 3% growth rate, reaching $15.3 billion in sales."
Canaccord analysts highlighted the denim trend in a recent note as well: "Coming out of the MAGIC/Platform trade show ...  denim was a standout trend that is clearly gaining momentum across the retail landscape as we saw denim displayed both in spring assortments and on the runway in recent fashion shows. Given the cyclicality of fashion trends, it makes sense that a new trend in women's apparel is emerging." 
One of the top jeans manufacturers is V.F. Corp. (VFC) - Get Free Report , maker of the brands Lee and Wrangler. Analysts project 7.3% annual earnings per share growth over the next five years, much faster than the S&P 500. That growth rate could pick up even more if V.F. Corp.'s denim business kicks into higher gear.
What's more, V.F. Corp. has a long and fruitful dividend history. Its 3.2% dividend yield is better than the textile apparel clothing companies' average of 1.8%, and the payout ratio of 54.2% looks solid as V.F. Corp. also has other stable brands such as The North Face, Timberland and Vans.
In the denim space also is Iconix Brands (ICON) - Get Free Report , an American brand management company that licenses brands to manufacturers. Although its financials have been weak of late, that could turn around as denim brands such as Lee Cooper, Bongo and Mudd, Buffalo David Bitton and Ecko Unltd come back to life. The company's brands are sold at Kohl's (KSS) - Get Free Report , Target (TGT) - Get Free Report , Macy's (M) - Get Free Report , Kmart and Sears (SHLD) and J.C. Penney (JCP) - Get Free Report .
Levi Strauss & Co., which started the denim run some 150 years ago during a California gold rush, is already seeing a boost from the denim revival. Net income was up 40% last year, according to the company's quarterly earnings reported on Feb. 9. The company is privately held. 
As for other specialty apparel retailers, Guess (GES) - Get Free Report and American Eagle Outfitters (AEO) - Get Free Report are also heavily dependent on denim sales.  
"Recall that 2006 was the last time denim began a new dominating trend with skinny jeans and the 'inverted triangle,' " wrote Canaccord in the note. "The new trends in denim suggest that triangle is turning right side up (tight tops paired with roomy bottoms -- see photo above)."
This spring season, denim is showing up in trench coats and dresses and in lots of "statement" jeans, from a garter belt version at Y/Project to flares with racing stripes by Victoria, Victoria Beckham and jeans put forth by a new designer at Christian Dior, reported Vogue.
Whether those high-brow placements and denim's fresh popularity help struggling retailers such as Macy's , Sears  and J.C. Penney is unclear, but undoubtedly they will pick up some sales this spring and back to school shopping season. 
Trump and your taxes:Watch Jim Cramer lead a roundtable discussion on how investors and retirement savers should position their portfolio.