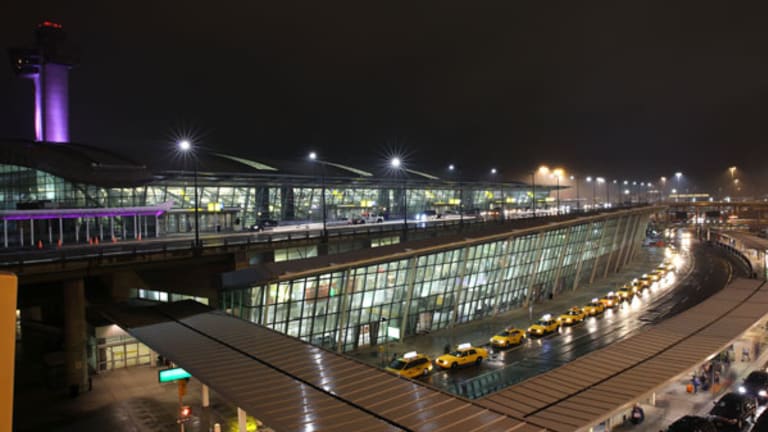 Delta's JFK Jewel Pressures United at Newark
Delta on Friday will open a long-awaited $1.4 billion terminal at JFK, where it replaced Pan Am to become the largest carrier.
NEW YORK (
) --
Delta
(DAL) - Get Delta Air Lines, Inc. Report
will open its new $1.4 billion John F. Kennedy terminal on Friday, strengthening its case to be considered New York's leading airline.
"We are and should be the preferred airline out of New York," said Gail Grimmett, Delta's senior vice president for New York. "We have a great hub out of LaGuardia, which is the preferred airport for local traffic, where we serve 48 of the top 50 business markets (all but Fayetteville and Oklahoma City) and now we have the international hub at JFK.
"But it's not just the breadth of network that's important," Grimmett added. "It's the customer service you get. It's the experience you get. It's the service on board that you get. One thing Delta has learned over the years is that you can never stop investing in the customer or the customer experience."
The expansion of Terminal 4, where Delta is the primary tenant, has added nine new widebody gates, bringing the total on Delta's B Concourse to 19, of which Delta controls 16. Additionally, Delta has built a 24,000-square-foot airport club, the largest club in its system, with an outdoor terrace, as well as a new ticketing area that includes two rows of counters, about 50 kiosks, and a special check-in area for premium customers.
Between late Thursday night and early Friday morning, Delta will move much of its operation from Terminal 3 to Terminal 4. Once the job is complete, the carrier will begin work on a smaller $200 million project, adding 11 smaller gates at Terminal 4, enabling it to move its regional jet operation from Terminal 2. "This will make the customer experience better because the majority of regional jet traffic flows to international," Grimmett said. Delta passengers can already connect between terminals "behind security," she noted.
New York is the world's biggest aviation travel market, producing $14 billion in annual airline revenue. The vast majority is split between three major airports. In recent years, Delta has moved to gain share and improve facilities at both LaGuardia and JFK. The key steps have been a 2011 deal with
US Airways
(LCC)
to trade Washington National slots for LaGuardia slots, and the JFK construction improvements, which have taken three years.
Delta's LaGuardia hub has 271 daily departures to 63 destinations while the JFK hub has 146 daily departures to 48 destinations. At JFK,
JetBlue
(JBLU) - Get JetBlue Airways Corporation Report
and
American
(AAMRQ.PK)
operate smaller hubs. The biggest New York hub is the
United
(UAL) - Get United Airlines Holdings, Inc. Report
operation at Newark, with 404 daily departures to 160 destinations including 75 international destinations.
United on Wednesday celebrated the 25th anniversary of Newark's Terminal C, which enabled rapid expansion after it opened on May 22, 1988. Terminal C was built for
, which in 1986 was acquired by Continental, which merged with United in 2010.
Delta's history at JFK also involves the disappearance of a historic name. In 1991 Delta acquired major pieces of Pan Am including its Boston-New York-Washington shuttle, its 34 international routes from JFK and Terminal 3, decrepit even then, where Delta stayed for 22 years.
Delta becomes the last of the JFK hub carriers to open a new terminal. American opened its
, which cost $1.3 billion, in August 2007. JetBlue opened an $800 million terminal in 2008.
"Delta was the last missing piece," said Ray Neidl, an aviation consultant with Nexa Capital Partners in Washington. "Delta was operating in an obsolete terminal. Its new terminal will be a gangbuster."
Neidl said that given the strength of the Newark hub, it's difficult to say that Delta is No. 1 in New York. "United is so big at Newark," he said. "The main drawback for Delta is that it has some flights at LaGuardia and some at JFK, where it has been hard to feed flights, due to using different terminals."
Aviation consultant Bob Mann said United celebrated its Newark anniversary on Wednesday "to remind everybody that there's another side of the Hudson River. The battle for New York is being waged on both sides of the river, and United is saying 'Hey, it's more convenient for Wall Street (passengers) to go to Newark.'"
As for the country's third major carrier, US Airways "for a number of years has struggled" in New York, Robert Isom, executive vice president, said at an investor conference Wednesday. But a pending merger with American will enable the combined carrier to better compete for corporate business in New York, Isom said, noting "the great facility at JFK is a cornerstone of Oneworld." Unfortunately, key partner British Airways does not occupy the same terminal.
In fact, despite the vast improvements, JFK is not quite set up to Delta's liking either. While Skyteam partners KLM,
Air Europa
and
China Airlines
, as well as future joint venture partner
Virgin Atlantic
, are already in Terminal 4, key joint venture partner
Air France
as well as Skyteam partners
China Eastern
and
China Southern
are not.
"We would love for all of Skyteam to be together," Grimmett said. "But 77 airlines fly to JFK. A lot of them would like to reshuffle the deck."
Speaking at an investor conference in March, Delta President Ed Bastian said the New York buildup is feeding
He said Delta has gained over seven points of corporate market share in New York over the past three years, leading to a margin gain of more than 300 basis points in New York. "We're still in the building phase," Bastian said.
-- Written by Ted Reed in Charlotte, N.C.
>To contact the writer of this article, click here: