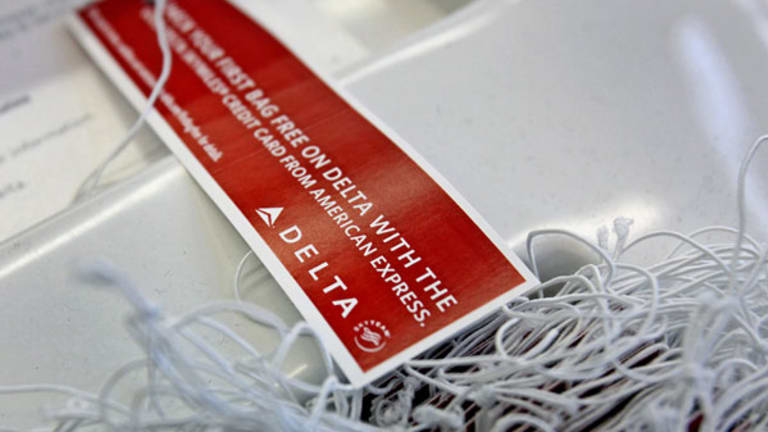 Delta: Our New York Hub Rocks -- Now We Are Building One in Seattle
Delta shares are up 115% this year, with the carrier forecasting a record 2013 plus improvement in 2014.
ATLANTA (
) --
Delta
(DAL)
is touting the gains from an emerging strategy: Build an East Coast hub in New York, build a West Coast hub in Seattle, and let nobody stand in your way.
Delta shares rose 3% Tuesday to close at $25.49 after the carrier beat Wall Street estimates and said it would post a record profit in 2013, then beat that in 2014. Year to date, Delta shares are up 115%.
On the earnings call Tuesday, executives pointed to continued growth in both New York, where Delta is gaining share on the country's most important most international route, John F. Kennedy International Airport to London Heathrow, and in Seattle, where Delta will have nine international destinations by May 2014.
In New York, Delta is growing at LaGuardia, after acquiring 132 slot pairs in a 2011 deal with
US Airways
(LCC)
, and at JFK thanks to its $360 million purchase of a 49% share of
. That deal brought nine daily round trips to London Heathrow from Newark and JFK; the routes will be operated in a joint venture.
"What we've been able to do at LaGuardia has been pretty remarkable," said CEO Richard Anderson. "And as we ramp up the Virgin arrangement, we now have the No. 2 position across the trans-Atlantic to the most important airport in the world to travelers out of the United States.
"JFK has tremendous upside," Anderson said. "We've seen enormous improvement in the trans-Atlantic with Virgin, and we haven't really started the JV yet. It doesn't start until Jan. 1."
The Virgin Atlantic joint venture means "we have a big opportunity, principally in corporate arena, where we can bring selling efforts together on both sides of the ocean," said Delta President Ed Bastian. "New York will be a big beneficiary in that regard. We will be looking at future opportunities to grow with Delta metal or Virgin metal. Virgin will benefit from Delta operational prowess. They have a great brand and a great name, but they're relatively sub-scale."
Bastian said New York corporate revenue rose 10% in the third quarter, a result of both generally rising corporate revenue as well as Delta's market share growth. "New York gains outpaced the system average," he said, as London Heathrow unit revenue rose nearly 20%.
On the West Coast, "We are building Seattle as a West Coast gateway to Asia," Anderson said. By mid-2014, Delta plans to fly from Seattle to nine international destinations including Amsterdam, London and Paris and six in Asia: Beijing, Hong Kong, Seoul, Shanghai and Tokyo, as well as Osaka. That means destinations will include the top three European markets as well as the top five Asian markets.
"In Seattle, markets like Shanghai have been, out of the box, profitable for us," said Glen Hauenstein, executive vice president, adding: "These are not all new customers for us. We've been in these markets for years. We're just changing the routing."
The Seattle expansion has triggered a
with hub carrier
Alaska
(ALK)
, as Delta now plans to expand domestic flying along with international.
Delta said this month it will add six daily Seattle-San Francisco flights starting in March, with a seventh flight to be added in June. It will add two daily Seattle-Las Vegas flights in January, with two more in April, bringing the total to five. It will add two daily Seattle-Los Angeles flights in June, bringing the total to seven. Regional partners will operate most of the new service. Delta said last week it would offer double miles on the new domestic Seattle flights through Oct. 31, 2014.
On Tuesday, Alaska responded, saying it will offer double frequent flier miles between Seattle and five California destinations, plus Las Vegas, through May 31, 2014. The miles will count toward elite status. "With 62 flights a day between California and Seattle, earning miles and elite status in our award-winning mileage plan is easier and faster with Alaska Airlines than any other carrier," said Caroline Boren, managing director of loyalty marketing and customer advocacy, in a prepared statement.
Alaska will report earnings on Thursday. Analysts surveyed by
Thomson Reuters
estimate the carrier will earn $2.14 a share, up 3% from a year earlier. On Tuesday, Alaska shares rose 70 cents to $66.55, up 54% for the year.
-- Written by Ted Reed in Charlotte, N.C.
>To contact the writer of this article, click here: