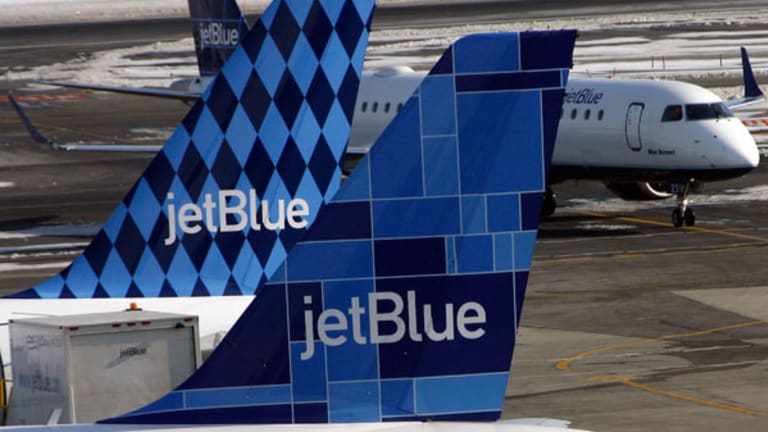 Delta, JetBlue Lead Airline Service Rankings, Survey Says
Delta has the most satisfaction service among legacy carriers, while JetBlue leads all carriers, according to a consumer survey.
CHARLOTTE, N.C. (
) -- A new survey of consumer attitudes showed that airline customer satisfaction has improved for the second consecutive year and has reached its highest level in nearly two decades.
Nevertheless, room for improvement remains. "Air travel remains an uncomfortable and costly experience for most passengers," according to the American Customer Satisfaction Index in Ann Arbor, Mich., which said that only subscription TV service and Internet service providers had lower customer satisfaction ratings.
ACSI, which annually surveys customer satisfaction in 32 industries, said passengers give high marks to airlines for the check-in process, the ease of making reservations, the courtesy and helpfulness of flight crews and baggage handling. All four areas scored 80 or above on the ACSI scale; 100 is the highest score.
On the negative side, "Crowded seating, rising ticket prices, extra fees and poor service all contribute to a rather dreary travel experience," ACSI said. Rated lowest was seat comfort, which got a 63, which ACSI called "awful."
Among the carriers,
JetBlue
(JBLU) - Get JetBlue Airways Corporation Report
leads the industry, with an 83, up 2% from a year earlier.
Southwest
(LUV) - Get Southwest Airlines Co. Report
is second with an 81, up 5%. An aggregate of smaller airlines including
Alaska
(ALK) - Get Alaska Air Group, Inc. Report
,
Frontier
and
Spirit
(SAVE) - Get Spirit Airlines, Inc. Report
-- yes Spirit, which is hated by some travelers, evidently a minority -- tied for third with a 72, down 3%. Apparently, many Spirit passengers know exactly what they are getting when they buy a ticket, which is to say nothing except for a cramped seat.
Among the major carriers, cursed with unpleasant realities such as operating in congested airports and trying to connect large numbers of passengers,
Delta
(DAL) - Get Delta Air Lines, Inc. Report
leads the pack. The survey said Delta's rating gained 5% to 68, the carrier's highest rating in more than a decade.
American
(AAMRQ.PK)
had a 65, up 2%, while
US Airways
(LCC)
had a 64, down 2%.
United
(UAL) - Get United Airlines Holdings, Inc. Report
remained at the bottom, with a 62 for the second straight year. United has had difficulty recovering from a botched merger with Continental, and it takes time for perceptions to catch up with reality as an airline improves its performance.
Airlines have struggled to overcome the barriers, many out of their control, to high passenger approval ratings. Reduced capacity has helped, given that the performance of the entire U.S. industry is diminished by congested airspace in the New York area and at major hub airports such as Chicago O'Hare. Also in recent years, Delta and US Airways have taken steps to improve operations and on-time performance, generally considered the most important component in boosting passenger satisfaction.
Additionally, the global airline industry in recent years has launched a baggage handling improvement programs. In 2008, officials from the International Air Transport Association began a program of visits to 80 hub airports around the world to review baggage handling systems, while another 120 airports participated in a self-help program. In 2007, global airlines mishandled 19 bags per 1,000 passengers, IATA said. By 2012, the share of mishandled bags had been reduced to nine per 1,000 passengers.
Claes Fornell, ACSI founder and chairman, said messy airline mergers have contributed to passenger dissatisfaction. "As operations are combined and consolidated, airline mergers are not without significant problems and passenger dissatisfaction is usually one of them," said Fornell said in a prepared statement. ACSI noted that
Southwest
and
AirTran
faced short-term integration problems, while Delta is still recovering from a 2009 merger with Northwest.
Overall, "Crowded seating, rising ticket prices, extra fees and poor service all contribute to a rather dreary travel experience," Fornell said. "Airlines continue to improve service for business travelers, which is important since they are the most profitable customer group. Still, their satisfaction remains at a level slightly below that of other passengers."
Looking at some other industries, ACSI said guest satisfaction for hotels is at 77 for the third straight year. But the thing that really keeps customers happy is consumer package shipping, as
FedEx
(FDX) - Get FedEx Corporation Report
got an 85 and
UPS
(UPS) - Get United Parcel Service, Inc. Class B Report
got an 84. The biggest bargain, however, is probably the regular mail service provided by the U.S. Postal Service. It costs just 46 cents to mail a letter, and the ranking for USPS regular mail service moved up 3% to 77, its all-time ACSI high.
-- Written by Ted Reed in Charlotte, N.C.
>To contact the writer of this article, click here: