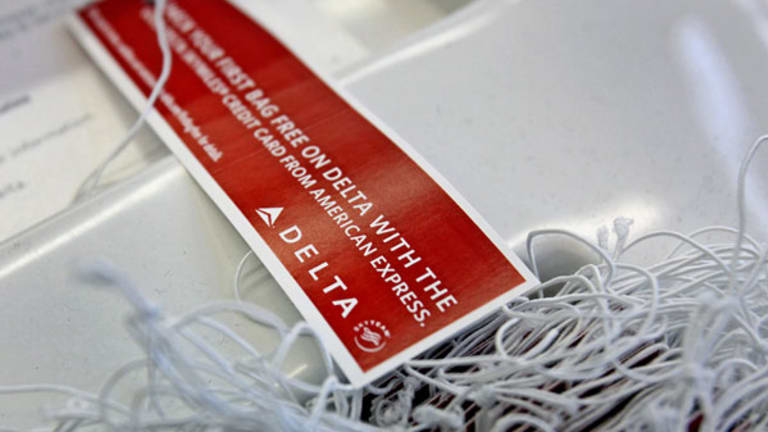 Delta Faces Questions on Seattle Hub Buildup
Delta asks regulators to let it have more flexibility in serving Tokyo Haneda Airport, raising questions about its Seattle flight, while an analyst wonders whether American might want to grow in Seattle.
SEATTLE (TheStreet) -- Delta's (DAL) - Get Report battle with Alaska Airlines (ALK) - Get Report for domination in Seattle has many observers convinced that the regional airline will eventually succumb to a global mega-carrier. But now a leading airline analyst has raised doubts.
In a report issued Friday and titled "Is Delta's Seattle-Asia strategy working? We Aren't Sure," Wolfe Research analyst Hunter Keay wondered whether Delta is experiencing unforeseen complications.
A major question, in Keay's mind, is why Delta recently filed a petition with the U.S. Transportation Department asking permission to use its two Tokyo Haneda slot pairs at any U.S. airport, rather than being limited to LAX and Seattle. The request was denied.
Keay noted that in 2012 Delta moved a Haneda route from Detroit to Seattle. "This begs the question: is Haneda not working as planned?" Keay wrote. "And if not, what does it mean for Delta's big buildup in Seattle?"
Another question raised by Keay, in an earlier report on Alaska, concerned whether the hostilities between Delta and Alaska might set up American (AAL) - Get Report as a white knight for Alaska. Both American and Delta have code-share agreements with Alaska.
"It is our opinion that Delta needs Alaska more than Alaska needs Delta in the context of their codeshare relationship given Delta's Seattle-Asia plans and Alaska's dominance in the Pacific Northwest," Keay wrote." If Delta pushes too hard we wouldn't be surprised if Alaska finds solace in the arms of its other partner, American, at Delta's expense."
It is possible that questions about Delta's Haneda routes and American's Asia plans will be addressed on the carriers' earnings calls. Delta reports earnings Tuesday while American will report on Jan. 28.
In its filing with the DOT, Delta said it "has no immediate plans to change its current pattern of Haneda service."
However, the carrier said, "gateway flexibility is critically important to allow carriers to adapt to the changing competitive environment that will continue to present unique challenges to U.S. flag carriers at Haneda until that airport is completely open for service to the United States."
Delta cited two recent developments involving Haneda service. American canceled its JFK-Haneda service last month, citing the untenable flight times it was assigned. Meanwhile, new service from Air Canada's Vancouver hub is expected to begin in April.
"The impact of these marketplace developments on other west coast Haneda gatesways is not yet known," Delta said. "It is vital that U.S. flag Haneda competitors have the ability to make network changes quickly," just as Japanese competitors at Haneda can do.
In recent months, Delta has rapidly built its domestic Seattle service. This summer, Delta will offer 79 daily Seattle departures, nearly twice the number it offered last summer, reflecting expansion on domestic routes including three Alaska cities.
The domestic flights, Delta has said, will feed international flights. By mid-2014, Delta plans to fly from Seattle to nine international destinations including Amsterdam, London and Paris and six in Asia: Beijing, Hong Kong, Seoul, Shanghai and Tokyo, as well as Osaka.
Not everyone shares Keay's doubts regarding the potential impact on Delta from the battle for Seattle. In December, Deutsche Bank analyst Mike Linenberg downgraded Alaska to sell from hold, noting that Alaska will likely be disproportionately impacted by a skirmish because it is one eighth the size of Delta.
Overall, Delta's Seattle strategy appears logical. Seattle is closer to key Asian cities than other West Coast hubs, provides a good place to connect, and represents a far better place to set up shop than congested, ultra-competitive LAX or San Francisco, long dominated by United (UAL) - Get Report.
However, Keay said, "It doesn't appear the local demand (in Seattle) is very strong.
"The question is (whether) there is sufficient local demand (in Seattle) to support a true hub," he said. "Los Angeles' Asian population is five times greater than Seattle and San Francisco's Asian population is three times greater than Seattle's.
"The Seattle strategy was never going to be a slam dunk," Keay said. "It may actually be trending better than we think. But Delta needs Seattle to work."
Written by Ted Reed in Charlotte, N.C.
To contact this writer, click here.