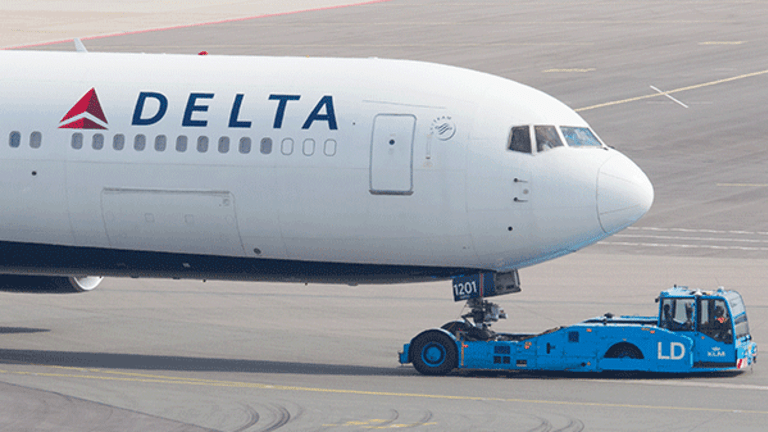 Delta Expects Improvement After Mediocre Earnings, but There's a Better Airline for Investors
The airline's earnings suffered partly because of the signing of a labor contract that increased pilot salaries.
Shares of the world's biggest airline (by market cap), Delta Air Lines (DAL) , fell on Thursday, following a so-so fourth-quarter earnings release.
Although the company said it expects improvement, and that its earnings had suffered from a one-time charge related to a new labor contract, investors should not get onboard unless they're looking for a long-term play. Delta is facing rising fuel costs and increased competition. 
Year over year, Delta's earnings during the fourth quarter plunged by 31%, to 82 cents, despite only a slight decline (0.5%) in revenue. A key metric for airlines is passenger revenue per available seat mile, or PRASM. Originally, Delta had been calling for a PRASM decline of 3% to 5%. The decline for the quarter was 2.7%.
During the fourth quarter, Delta agreed to a new labor contract that upped the salaries of its pilots. The pay difference amounted to 18% but was retroactive to the start of 2016. These costs, which added up to roughly $475 million, counted against fourth quarter earnings. 
Delta is expecting unit revenue to grow again in the first quarter, with a year-over-year PRASM increase of as much as 2%. This would mark the first increase in PRASM in more than two years.
However, thanks to rising fuel costs, Delta expects as much as a 30% increase in the price that it pays, compared with last year. That could put a big bite into the company's bottom line. It's likely that Delta will register another year-over-year profit drop in the first quarter of 2017.
To be sure, airline stocks have been improving over the past year after years of languishing. 
Last year, Warren Buffett's Berkshire Hathaway fund shocked investors and analysts when it disclosed stakes in Delta, as well as competitors American Airlines, United Continental Holdings, and Southwest Airlines. Until then, the Oracle of Omaha had stayed away from airline stocks.
If Buffett believes that the major carriers are due for more good news, it's a good sign. 
However, if you would prefer an opportunity at more explosive, albeit riskier gains, consider the fast-growing discount carrier Spirit Airlines. With new initiatives to improve customer satisfaction and even increase its number of routes, Spirit could become a big profit maker.
---
85% Accurate Trader gives his Personal Guarantee: "Give Me 9 Minutes a Week and I Guarantee You $67,548 a Year." What if I told you I know a way you can see a $67,548 per year - or more - in profitable trades just by following this simple step-by-step process? The trader who is sharing this secret has been right more than 8 out of 10 times, turning $5,000 into more than $5 million for himself. Click here to see how easy it is to follow his lead and collect thousands of dollars in "Free Money" every month.
The author is an independent contributor who at the time of publication owned none of the stocks mentioned.