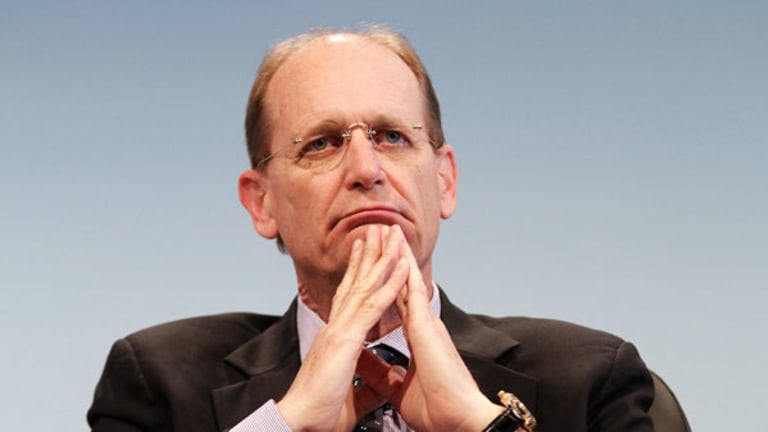 Delta CEO Moves to Jump Seat so a Mom Can Get Home
Delta CEO Richard Anderson gives his seat to a passenger on the day's last flight to Atlanta from National.
Delta CEO Richard Anderson gives his seat to a passenger on the day's last flight to Atlanta from National.
ATLANTA (
) -- A
Delta
(DAL) - Get Report
passenger has praised CEO Richard Anderson for giving up his seat on a late night Washington National-Atlanta flight so that she could get home.
Anderson moved to the aircraft's jump seat on June 13 so that the passenger, Jesse Frank, eighth on the standby list, could take his seat, Frank said in a post on her Facebook site. The Monday post was reposted on the Flyertalk Web site.
"You, Richard Anderson, the CEO of Delta, did all that for me, just an average, middle-aged, woman with, as far as anyone at Delta knew, no special reason to get home," wrote Frank, president of Werner Frank, an Atlanta-based representative for giftware and home décor manufacturers.
Anderson's seat, by the way, was in coach, not in first class. He typically flies coach on domestic flights.
In her "open letter" to Anderson, Frank described "one of my more harrowing flying days" which, due primarily to bad weather, involved "multiple delays, cancellations, re-routings and even a mechanical failure. A two-hour flight turned into an entire day. By 9:30pm, I was just halfway home, waiting standby in DC hoping to make it out before the 10pm (noise) curfew."
Frank praised Delta employees, saying they were "calm, diligent (and) funny" despite multiple weather-related flight disruptions and angry passengers. She said that as she boarded the aircraft for the day's last flight to Atlanta "a vaguely familiar face met me at the doorway, not in uniform so probably an off-duty pilot I had seen before. He quickly grabbed my roll-aboard, helped clear a space in the overhead, and showed me to my seat."
Frank said she wanted to be home Thursday night so that on Friday she could pick up her 12-year-old daughter, a Type 1 diabetic, from summer camp. "I'm sure she would have been fine if someone else had shown up in my place, but it's a special moment for me," Frank wrote.
"As the plane descended into Atlanta, the flight attendant announced that there was a special guest on board," Frank wrote. "He was riding in a jump seat, because he had given up his place to allow one more person on that flight." The special guest was Anderson. Only then did Frank realize that it was he who had helped her to board; she had recognized him because he appears on Delta's in-flight safety videos.
Building customer loyalty, one seat at a time.
-- Written by Ted Reed in Charlotte, N.C.
>To contact the writer of this article, click here: