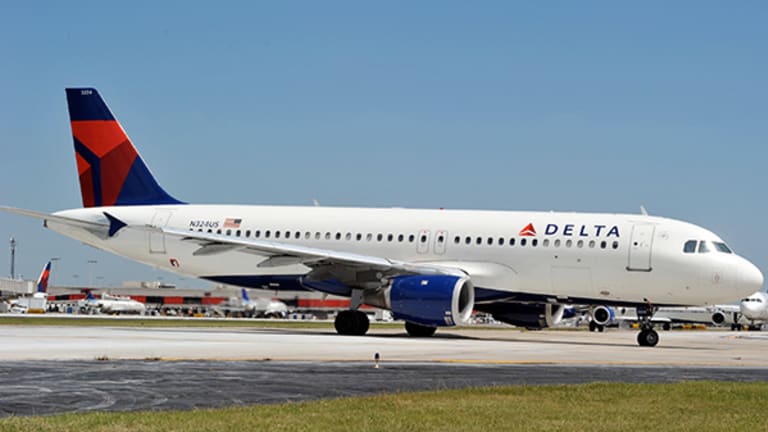 Delta Boosts Order for the Newly Stylish Airbus A321
Delta says it has boosted its Airbus A321 order book to 45, one more sign that high loads are making the A321 the narrowbody airplane of choice.
ATLANTA (TheStreet)--  Delta (DAL) - Get Free Report said Monday it has added 15 more Airbus A321s to its order book, bringing its total orders for the stretched aircraft to 45 and underscoring a recent airline industry trend to take the A321 in preference to the A320.
Delta's first A321 is scheduled to begin service early in 2016 with 192 seats including 20 in first-class, 20 in economy comfort and 149 in economy. Delta's A320s (shown in photo) have 150 seats in three classes.
Increasingly, airlines are taking the A321 because they provide significantly more seats with a relatively small increase in fuel use. It is a simple decision given that U.S. domestic flights generally fill the vast majority of their seats.
Read: AMC Takes a Gamble Prolonging Mad Men's Season Finale
Specifically, Delta said Monday that it has reached agreement with Airbus to purchase 15 A321s for delivery beginning in 2018.
"This opportunistic aircraft order continues Delta's disciplined, capital efficient approach to fleet renewal," said CEO Richard Anderson, in a prepared statement. The carrier said the A321s "will replace similar, less-efficient domestic aircraft that are being retired from Delta's fleet."
Delta said in September that it had ordered 30 A321s, with deliveries in 2016 and 2017. The two orders combined total 45 A321s.
Read: 5 Most Outrageous Airline Fees
Delta's current fleet of 745 aircraft includes 126 Airbus narrowbodies --- 57 A319s and 69 A320s. All are powered by CFM56 engines produced by CFM International, a joint venture of General Electric (GE) - Get Free Report and Snecma (Safran) of France.
Last month at the Wolfe Research airline investor conference, American (AAL) - Get Free Report President Scott Kirby spoke of the proclivity to take A321s.  "At American and US Airways, when we've had decisions in front of us, we've taken all A321s," Kirby said. "We're migrating to the largest in class for all aircraft. ... You can put an extra 60 seats on that airplane and the cost goes up 10% to 15%.
"It's due to high load factors," he added. "We're going to be continuing to migrate up to bigger and bigger aircraft."
Written by Ted Reed in Charlotte, N.C.

To contact this writer, click here.
>>Read More: What's Wrong with United Airlines? A Little Bit of Everything.

>>Read More: American Air President: Don't Call Us 'Nickel and Dimers.'

>>Read More: Union President's Final Act: Organize Airbus, Ramp Up Boeing 777X