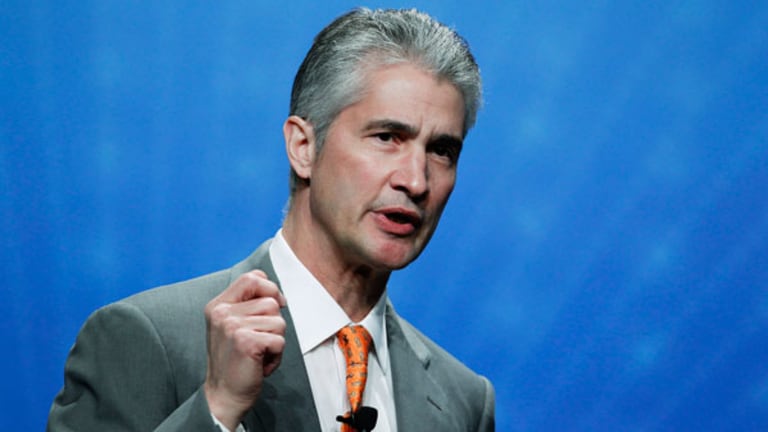 Defiant United CEO Assures Earnings Gains, Chides Delta
United CEO Jeff Smisek has been under assault from the airline's pilots, but he comes out swinging at an investor conference.
CHICAGO (TheStreet) -- United 's (UAL) - Get United Airlines Holdings, Inc. Report CEO sounded defiant Wednesday, saying the carrier intends to increase year-over-year earnings each quarter, chiding rival Delta (DAL) - Get Delta Air Lines, Inc. Reportas well as previous United management, and sharply criticizing U.S. government policies.
It was not so much that Jeff Smisek was saying anything radically different from past statements. But he seemed more forceful as he spoke at a Deutsche Bank investor conference, recalling his often outspoken statements on Continental earnings calls before the 2010 merger with United.
In recent months, Smisek has been sharply criticized by United pilots, who have challenged his leadership and developed a plan to improve airline strategies. But at the investor conference, with no pesky reporters asking questions, that topic didn't come up.
At the conference, Smisek said United intends to "increase quarterly earnings each quarter going forward (and) we are confident of our ability to do so." By 2017, United intends to increase earnings between two and four times, he said, noting, "We are very excited about our future at United. We think we have a lot of value to deliver."
Asked about Delta's move to build a hub for Asia in Seattle, Smisek chided the carrier, saying: "Our friends in Atlanta lack a gateway to Asia.
"The best gateway is already taken -- that's San Francisco," Smisek said. "Los Angeles is a highly fragmented market. Everyone calls it a hub, (but) it's not a hub for anyone ....So that's why Delta is taking its actions to grow, or try to create a hub in Seattle.
"it's not unexpected that competitors would like to grow their presence in Asia, particularly if they don't have a gateway," he said. "So it's not unexpected for Delta to do that, but it's like any other development in the business. The best way to compete against anybody in any market is to have a good operation, and that's why we have so much focus on our operational integrity."
 He added: "Our predecessor company in Chicago had done inadequate training (of) its employees and hadn't invested in its employees. We're continuing to do that and are making very significant progress."
Additionally, he said, previous United management had maintained its 747-400 fleet adequately in terms of safety "but not for reliability." As a result, he said, new United "had problems" with the aircraft and had to temporarily base them all in San Francisco, where they could undergo a preventive maintenance program.
Asked about United's decision to end Doha, Qatar service in August (United flies Dulles-Dubai-Qatar), Smisek responded with an emphatic restatement of the airline industry's position on Middle East airlines.
"The Middle East carriers are heavily subsidized by their governments," he said, while the U.S. government has "not put any limitations on those carriers" in terms of government subsidies, airport subsidies, fuel price subsidies or taxes. "Our government clearly is not here to serve or protect in relation to the Gulf carriers," Smisek said. "They don't have the teeth, nor do they have the desire."
Pilot criticism of Smisek has mounted since United posted a $489 million first-quarter loss while rivals American (AAL) - Get American Airlines Group, Inc. Report and Delta reported record results. Earnings declined for nine consecutive quarters starting in the second quarter of 2011. 
United shares year to date have performed well, but not as well as rival's shares. United shares closed Tuesday at $46.87, up 24% in 2014. During the same period, Delta shares have gained 54% and American shares have gained 70%.
Written by Ted Reed in Charlotte, N.C.
To contact this writer, click here.
Disclosure: TheStreet's editorial policy prohibits staff editors, reporters and analysts from holding positions in any individual stocks.

>>Read More:
What's Wrong with United Airlines? A Little Bit of Everything.
American Air President: Don't Call Us 'Nickel and Dimers'
People Express Revival: Airline Magic or Wishful Thinking