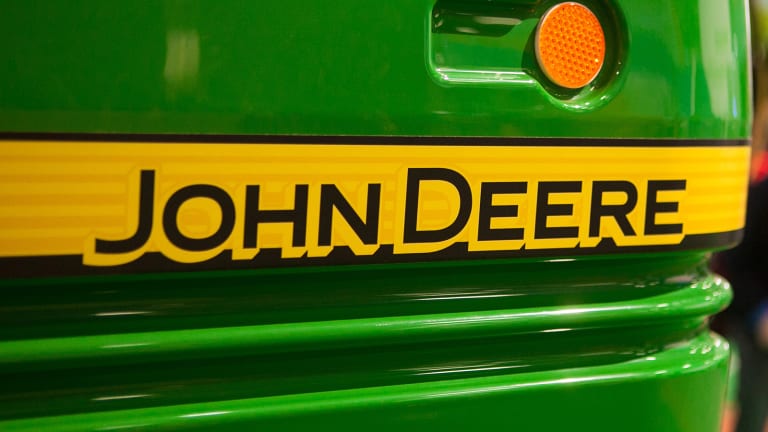 Deere Posts Earnings Above Expectations as Full-Year Guidance Is Raised
Revenue is hurt by the global farm recession and tough conditions in building equipment markets.
Revenue is hurt by the global farm recession and tough conditions in building equipment markets.
Deere (DE) - Get Report posted third-quarter earnings per share that exceeded expectations and raised its 2016 earnings projections as it seeks to boost efficiency and cut costs.
The Moline, Ill.-based agricultural equipment manufacturer said that earnings in the third quarter came to $1.55 a share, exceeding Wall Street projections of 94 cents. It earned $1.53 a share in the same period last year.
Third-quarter net sales and revenue fell 11% to $6.7 billion, undershooting forecasts of $6.1 billion.
"John Deere's performance in the third quarter reflected the continuing impact of the global farm recession as well as difficult conditions in construction equipment markets," said Samuel R. Allen, the company's chairman and CEO, in a statement.
He also underscored that all divisions remained profitable, with agriculture and turf reporting higher operating profit than last year.
"As in past quarters, our results benefited from the sound execution of our operating plans, the impact of a broad product portfolio, and our success keeping a tight rein on costs and assets," Allen added. More details are expected in a conference call later Friday.
The company raised its full-year earnings forecast to $1.35 billion but said that equipment sales are projected to decrease about 10% in the year and be 8% lower in the fourth quarter. The forecast includes a negative foreign currency translation effect of about 2% for the full year and a positive translation effect of about 1% in the fourth quarter.
For fiscal 2016, net income is expected to be about $1.35 billion.
Deere shares were up 2.03% in premarket trading Friday at $78.50.
Warren Buffett's Berkshire Hathaway recently lowered its stake in Deere by 1.32 million shares to about 21.96 million shares, equal to a 1.4% stake.