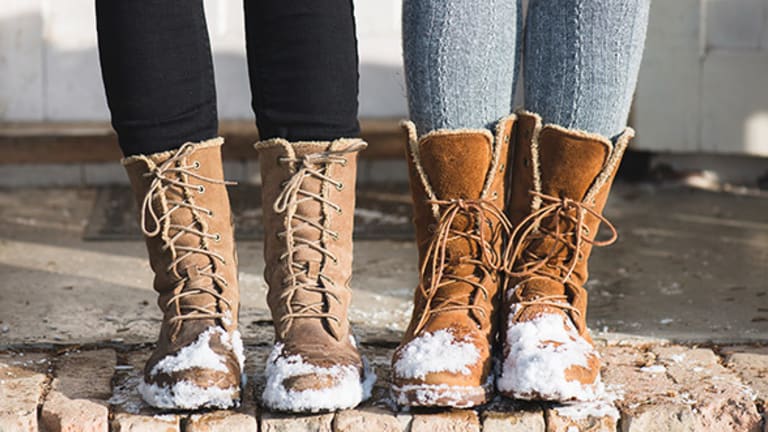 Deckers Outdoor Gets Destroyed Because People Shunned Ugg Boots
Even spokesman Tom Brady couldn't help the quarter.
Deckers Outdoor (DECK) - Get Deckers Outdoor Corporation Report reported a 9.9% sales decline in the U.S. for its 2017 third quarter, featuring a 5.3% drop in the sale of UGG boots and shoes. Shares crashed 23.8% to $42.69 in after-hours trading.
After Thursday's market close, the California retailer of cold weather boots, surf shoes and other footwear under the UGG, Teva and Sanuk brands posted earnings of $4.11 a share for the period ended Dec. 31, down sharply from $4.78 a share a year ago. Deckers reported revenue of $760.3 million, a 4.5% decline from last year's $795.9 million.
Analysts surveyed at Factset expected the company to post third quarter earnings of $4.22 a share on $789 million in sales.
The company's domestic net sales fell 9.9% to $489.5 million, compared with $543.3 million in the previous year. UGG sales fell 5.3% to $704 million for the quarter compared to the same period last year when the once-popular winter boots and shoes generated $743.2 million.
On an earnings call Thursday evening, Deckers CEO Dave Powers said the company's weak third quarter results can be attributed to a warmer-than-expected winter, resulting in a 12.6% decline in wholesale and distributor sales which generated $388.6 million vs. $444.6 million last year.
Powers said "unfortunately" brick-and-mortar locations are underperforming, as they are for the entire retail industry, and the company will work to reduce its stores. So far this year, Deckers has closed 24 stores.
Deckers will also cut its employee headcount, Powers said.
It shouldn't come as a shock to investors that UGG sales were down during the holiday season, despite it being the period that historically generates the best sales for winter boots.
In December, just ahead of the holidays, only 11% of consumers said they planned on buying cold weather or snow boots, compared to the 20% who planned on buying sneakers or athletic shoes and the 15% who said they planned on purchasing slippers, according to NPD Group research.
Sanuk brand sales fell a whopping 18.4% year-over-year to $13.9 million from $17 million. Sanuk is known for its slip-on surfer shoes.
Meanwhile, Deckers' Teva brand shoe sales increased 3.9% to $14.6 million.