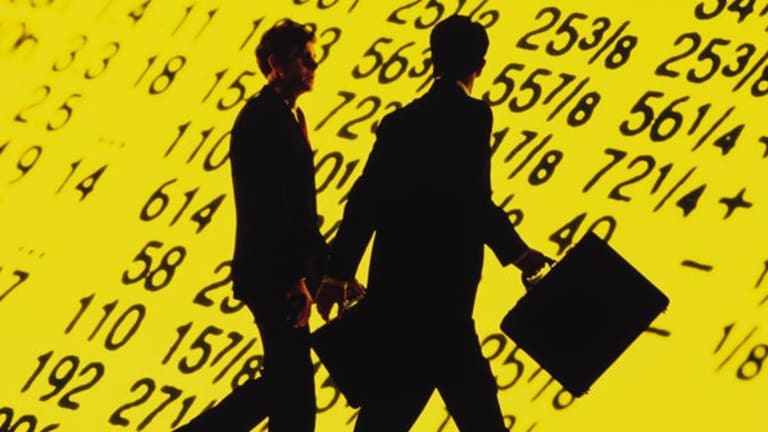 December 31 Premarket Briefing: 10 Things You Should Know
Stock futures rise on the final trading day of 2014, as oil remains weak and market volume is expected to be low.
NEW YORK (TheStreet) -- Here are 10 things you should know for Wednesday, Dec. 31:
1. -- U.S. stock futures were looking up on the last day of the year, as markets prepare to close for the Jan. 1 market holiday. S&P 500 futures were trading up 0.12%, while Nasdaq futures were up 0.07% and Dow futures were rising 0.05%.
European stocks traded up, as the FTSE100 rose 0.31% to 5,567. In Paris the CAC 40 was up 0.59% to 4,270.
In Asia, Japan's Nikkei 225 closed down 1.57% to 17,450.77 in a disappointing end to the year, while in China the Shanghai Composite closed up 2.15% on the day and a remarkable 52.84% on the year at 3,233.96.
2. -- The economic calendar in the U.S. on Wednesday includes numbers for new unemployment claims to be released at 8:30 a.m. Last week's jobless report said 280,000 new jobless claims were filed then.
The Institute for Supply Management also releases Chicago PMI data on Wednesday, based on a survey on business conditions in Chicago. That data will be released at 9:45 a.m.
3. -- U.S. stocks on Tuesday were focused on oil prices and Greece's elections on a low-volume day. Prices sank all around.
The Dow (DIA) - Get SPDR Dow Jones Industrial Average ETF Trust Report sank 0.31% to close at 17,983.07, below the much-discussed 18,000 threshold. The S&P 500 (SPY) - Get SPDR S&P 500 ETF Trust Report dropped 0.49%, ending the session at 2,080.35. The Nasdaq (QQQ) - Get Invesco QQQ Trust Report decreased 0.61% to 4,777.44. And the Russel 2000 undefined was off 0.5% to 1,213.05.
4.
-- It's the final trading day of 2014. Investors should finalize any year-end trades before
.
5. -- Oil remains extremely weak. Brent crude oil prices are down 49% year to date and are seeing the largest annual decline since 2008.
OPEC has said it wants to maintain current levels of supply, suggesting that prices will remain low even as turmoil in Libya has limited oil sales from that country.
6. -- More than 60 million vehicles were recalled in the U.S. in 2014, notably because of a decade-long ignition switch problem in General Motors (GM) - Get General Motors Company Report cars and trucks. GM, Honda (HMC) - Get Honda Motor Co. Ltd. Report and Fiat Chrysler (FCAU) - Get Stellantis N.V. Report all had record-setting recall years, the New York Times reports. And in March Toyota (TM) - Get Toyota Motor Corp. Report was fined $1.2 billion in a civil suit over uncontrolled acceleration.
Automakers are planning a system to transmit recall information directly to cars on the road.
7. -- Lithuania is joining the eurozone, and the Baltic country adopts the euro currency on Thursday. Residents hope that by joining the economic union, they will boost commerce and reduce money-conversion drag.
Lithuania has suffered economically from the collapse of the Russian ruble, as Russia is a major market for Lithuanian goods. Eventually, if Lithuania seems to enjoy success from joining the union, it may attract other Eastern European holdouts like Poland into the euro fold.
8. -- A stronger dollar and weak oil don't seem to be unduly influencing the Federal Reserve's timetable for raising rates. Even low inflation doesn't seem to be making much of an impact on the Fed's plans to raise rates, likely some time in 2015.
9. -- Online grocery ordering company Instacart has raised $210 million in a new startup funding round, the company reported in an SEC filing. Instacart's overall valuation is $2 billion.
As recently as six months ago, the company was valued at $400 million by investor Andreessen Horowitz. Instacart was founded in 2012.
10. -- Tuesday's S&P/Case-Shiller Home Price Index report suggests that U.S. home price growth is slowing, but that there's room for them to grow in 2015. Home prices rose 4.5% year-over-year in October, the Case-Shiller index report said. The index measures prices in 20 metropolitan cities.
-- Written by Nora Morrison
Nora Morrison is an editor, writer and researcher on music, popular culture and business. She is an associate editor at
TheStreet
, and is on Twitter at
.