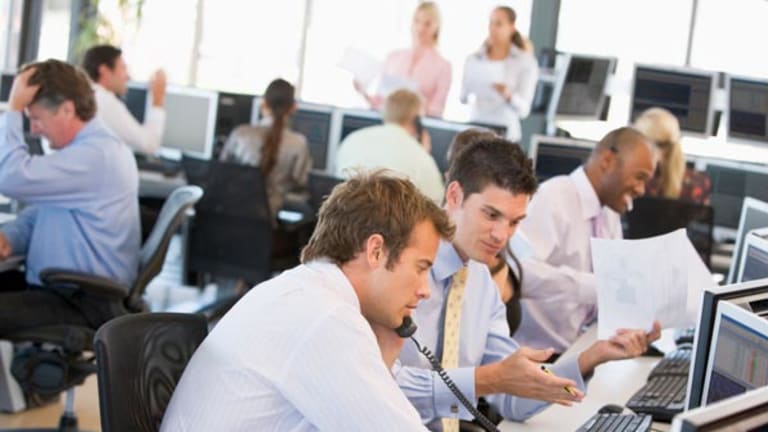 Dec. 30 Premarket Briefing: 10 Things You Should Know
U.S. stock futures are dipping somewhat Wednesday as oil prices weaken, despite a strong showing in the markets on Tuesday.
Updated from 6:34 a.m.
Here are 10 things you should know for Wednesday, Dec. 30:
1. -- U.S. stock futures were dipping somewhat as oil prices weakened, despite a strong showing in the markets on Tuesday.
European stocks were also falling after oil prices resumed their descent, dampening spirits momentarily raised by robust U.S. consumer and house-price data on Tuesday. The U.K.'s FTSE 100 dipped 0.31% and Germany's DAX fell 0.38%. France's CAC 40 bucked the trend, rising 0.05%.
2. -- The economic calendar in the U.S. on Wednesday includes the Mortgage Bankers' Association mortgage application data numbers at 7 a.m., the National Association of Realtors pending home sales index at 10 a.m., and the Energy Information Administration petroleum status report at 10:30 a.m.
3. -- U.S. stocks on Tuesday rose markedly despite thin trading volume as buzzy tech companies drove the indices higher.
The S&P 500 closed 1.06% higher to 2,078.36. The Dow Jones Industrial Average jumped 1.1% to 17,720.98. The Nasdaq gained 1.33% to 5,107.94.
4. -- International Monetary Fund Managing Director Christine Lagarde said that global growth in 2016 will be constrained, as higher interest rates in the U.S. and slower growth in China have hurt next year's outlook. Lower commodity prices and slowing global trade are also putting pressure on growth. Lagarde made the comments in a guest column for Handelsblatt, a German newspaper.
Lagarde said that higher U.S. interest rates were "necessary and healthy" but that they might nonetheless slow global growth. She also said that emerging markets might be hurt by foreign exchange rates.
5. -- Chipmaker Qualcomm (QCOM) - Get Reportstruck a patent deal with two Chinese smartphone makers, Beijing Tianyu Communication Equipment and Haier. The Chinese companies will pay royalties to Qualcomm to license its patents and build 3G and 4G mobile devices.
Qualcomm earns more than half of its profits from such licensing deals, which have attracted attention from China's antitrust authorities and the U.S. Federal Trade Commission.
In premarket trading, Qualcomm stock was rising by 0.24% after a 2.6% jump on Tuesday. The stock is still down 31.6% for the year.
6. -- KaloBios Pharmaceuticals (KBIO) filed for bankruptcy on Tuesday. The company, which is majority-owned by disgraced investor Martin Shkreli, has also had trade halted by its exchange, the Nasdaq, since Dec. 17.
Shkreli, the CEO of Turing Pharmaceuticals, was arrested this month for securities fraud related to his hedge fund, MSMB Capital Management, and the drug company where he was previously CEO, Retrophin (RTRX) - Get Report .
7. -- Crude oil rebounded slightly on Tuesday, though its gains seemed to evaporate in early global trading Wednesday. Brent crude oil, the international measure, was back below $37 a barrel and was near 11-year lows.
Oil prices have been influencing the U.S. stock market's fluctuations, as higher prices push the stock market up and lower prices act as a drag.
8. -- Home prices in 20 U.S. cities were rising at a faster pace due to tighter supply, according to the S&P/Case-Shiller index. For October, housing prices had increased 5.5% over prices a year before. San Francisco, Denver and Portland, Ore., saw the biggest gains in the survey, and Chicago saw the smallest.
More housing data on mortgage applications and pending home sales will fill out the picture for investors Wednesday.
9. -- Switzerland's third-largest wealth management company, Julius Baer (JBARF) , will pay a fine of $547 million to the U.S. to settle an investigation into whether it helped clients evade U.S. taxes. Julius Baer is one of twelve Swiss banks that have been investigated for criminal tax evasion by the U.S. Department of Justice. 
Shares in Julius Baer were up by 1.5% in European trading on news of the settlement.
10. -- No earnings reports are scheduled for Wednesday, which is expected to be a slow trading day. Markets are closed Friday for New Year's Day.