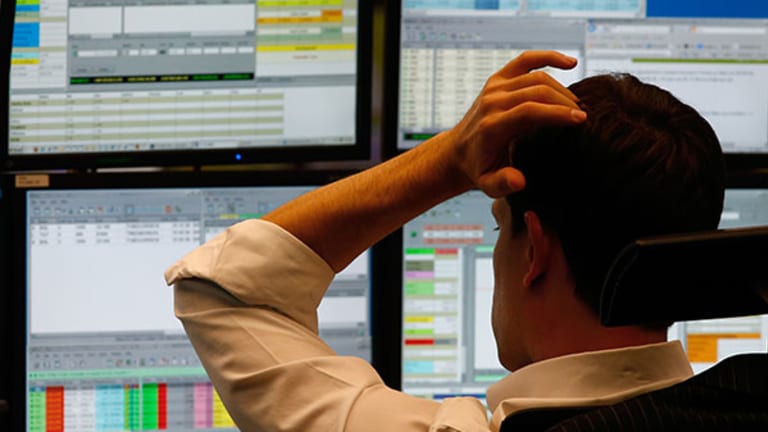 Dec. 3 Premarket Briefing: 10 Things You Should Know
U.S. stock futures are rising Thursday ahead of an expected move by the European Central Bank to increase stimulus.
Here are 10 things you should know for Thursday, Dec. 3:
1. -- U.S. stock futures were rising Thursday ahead of an expected move by the European Central Bank to increase stimulus.
European stocks rallied but Asian shared finished mostly lower Thursday after Federal Reserve Chair Janet Yellen indicated the central bank is on track for an interest rate hike this month.
2. -- The economic calendar in the U.S. on Thursday includes weekly Initial Jobless Claims at 8:30 a.m. EST, and the ISM Services Index for November at 10 a.m.
Must Read: Why You Should Dump These 3 Large-Cap, High-Yield Energy Stocks Now
3. -- U.S. stocks on Wednesday declined as talk of interest rate hikes was all but forgotten after news broke of a mass shooting in San Bernardino, Calif.
The S&P 500 closed down 1.1%, the Dow Jones Industrial Average declined 0.89%, and the Nasdaq slipped 0.64%.
4. -- A mass shooting Wednesday in San Bernardino, Calif., left at least 14 people dead and at least 17 people wounded. It was the deadliest mass shooting in the U.S. in three years.
A man and woman armed with assault-style rifles opened fire on a holiday party of his co-workers, and were then killed in a shootout with police.
The two suspects were identified as Syed Rizwan Farook, 28, and Tashfeen Malik, 27, who San Bernardino Police Chief Jarrod Burguan said were in a relationship, possibly married or engaged, Reuters reported. He said they were believed to be the only shooters involved in the attack.
While the motive remained unclear, Burguan said, "We have not ruled out terrorism." Farook was U.S. born, while Malik's nationality was still undetermined, accrording to Reuters.
5. -- JPMorgan Chase (JPM) - Get JPMorgan Chase & Co. Report , Bank of America (BAC) - Get Bank of America Corp Report and Citigroup (C) - Get Citigroup Inc. Report were among eight large U.S. banks that had credit grades cut one level by Standard & Poor's on the prospect that the U.S. government is less likely to provide aid in a crisis, Bloomberg reported.
After signaling the move last month, S&P lowered its long-term issuer credit, senior unsecured, and nondeferrable subordinated debt ratings. Firms affected also include Wells Fargo (WFC) - Get Wells Fargo & Company Report , Goldman Sachs (GS) - Get Goldman Sachs Group, Inc. Report , Morgan Stanley (MS) - Get Morgan Stanley Report , Bank of New York Mellon (BK) - Get Bank of New York Mellon Corporation Report and State Street (STT) - Get State Street Corporation Report .
"We now consider the likelihood that the U.S. government would provide extraordinary support to its banking system to be 'uncertain' and are removing the uplift based on government support from our ratings," S&P said in the statement. 
6. -- Several potential suitors are emerging for Yahoo!'s (YHOO)  core Internet business, from media and telecommunications giants to private-equity firms, as the company considers whether to put itself up for sale, The Wall Street Journal reported.
Among the companies that would likely explore a purchase are Verizon (VZ) - Get Verizon Communications Inc. Report and IAC/InterActive (IACI) , people familiar with the matter told the Journal. Others might be interested in pieces of Yahoo! if they become available, including News Corp (NWSA) - Get News Corporation Class A Report , and magazine publisher Time, according to executives familiar with the situation.
Private-equity firm TPG Capital has looked at buying media properties within Yahoo!, according to a person familiar with the matter, the Journal reported.
The board of Yahoo! plans to consider significant strategic options at meetings this week, the Journal reported on Tuesday.
7. -- The European Union is investigating allegations that fast food giant McDonald's (MCD) - Get McDonald's Corporation Report received a sweet tax deal from Luxembourg, at a time the EU is trying to come down hard on preferential treatment for multinationals.
EU antitrust Commissioner Margrethe Vestager announced Thursday that the Luxembourg deal may have breached state aid rules, which seek to keep a level playing field for businesses across the 28 member states.
Vestager said that "a tax ruling that agrees to McDonald's paying no tax on their European royalties either in Luxembourg or in the U.S. has to be looked at very carefully."


8. -- Anheuser-Busch InBev (BUD) - Get Anheuser-Busch InBev SA/NV Report confirmedThursday that it planned to seek the sale of several of SABMiller's (SBMRY) premium brands in Europe, including Peroni and Grolsch, in the hope of easing regulatory concerns about the brewers' proposed $105 billion merger, The New York Times reported.
9. -- Sears (SHLD) posted a fiscal third-quarter adjusted loss of $2.86 a share on revenue of $5.75 billion, down from $7.21 billion a year earlier.
Sears said comparable-store sales in the quarter fell 9.6% at Sears and 7.5% at Kmart.
10. -- Earnings are also expected Thursday from Ambarella (AMBA) - Get Ambarella, Inc. Report , Barnes & Noble (BKS) - Get Barnes & Noble, Inc. Report , Dollar General (DG) - Get Dollar General Corporation Report , Kroger (KR) - Get Kroger Co. Report and Medtronic (MDT) - Get Medtronic Plc Report .