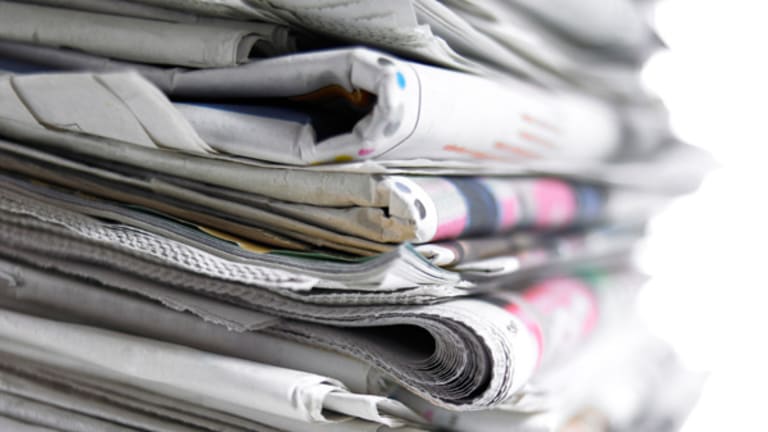 Dec. 19 Premarket Briefing: 10 Things You Should Know
U.S. stock futures slip from record highs after the Federal Reserve trims economic stimulus; Congress passes a spending plan; Oracle's earnings top Wall Street estimates; AstraZeneca to buy Bristol-Myers out of diabetes venture.
U.S. stock futures slip from record highs after the Federal Reserve trims economic stimulus; Congress passes a spending plan; Oracle's earnings top Wall Street estimates; AstraZeneca to buy Bristol-Myers out of diabetes venture.
Here are 10 things you should know for Thursday, Dec. 19: 
1.-- U.S. stock futures slipped Thursday from record highs but global stocks were mostly higher after the Federal Reservetrimmed economic stimulus for the U.S. economy.
The Fed's unprecedented so-called open-ended monetary stimulus program has helped boost stock markets since initially being implemented in September 2012.
European stocks were gaining early Thursday. Asian shares finished mostly to the upside. Stocks in Japan rose, while markets in China and Hong Kong finished lower.
2.-- The economic calendar in the U.S. Thursday includes weekly initial jobless claims at 8:30 a.m. EST, existing-home sales for November at 10 a.m., the Philadelphia Fed Index for December at 10 a.m., and leading indicators for November at 10 a.m.
3.-- U.S. stocks on Wednesday surged to all-time highs as the Fed reinforced confidence about a broader economic recovery and maintained a highly accommodative stance by electing to curb its stimulus program by $10 billion. Chairman Ben Bernanke said recent improvements in U.S. employment convinced the central bank that it was appropriate to reduce the size of the program.
The S&P 500 jumped 1.7% to 1,810.65, a record closing high. The Dow Jones Industrial Average surged 1.9% to 16,167.97, also an all-time closing high. The Nasdaq finished up 1.2% to 4,070.06.
4.-- Congress passed on Wednesday a two-year spending plan that all but removes the threat of another government shutdown like the one that slowed the economy in October. Among other things, the agreement will roll back some of the automatic federal spending cuts that kicked in this year.
President Barack Obama is certain to sign the measure, which on Wednesday passed the Democratic-controlled Senate on a vote of 64-36. Last week, it cleared the Republican-run House by a similarly bipartisan margin of 332-94.
5.-- AstraZeneca (AZN) - Get Report, the British drugmaker, agreed to buy Bristol-Myers Squibb's (BMY) - Get Report stake in their diabetes joint venture for $2.7 billion.
AstraZeneca said Thursday it also will pay Bristol-Myers an additional $1.4 billion in regulatory and sales-related payments.
AstraZeneca said the deal will "consolidate worldwide ownership of the diabetes business within AstraZeneca," and extend its geographical reach, especially in emerging markets. 
6.-- Oracle (ORCL) - Get Report, the business software maker, posted fiscal second-quarter earnings that slipped slightly from a year earlier but still topped analysts' forecasts.
Oracle earned $2.55 billion, or 56 cents a share, compared with profit of $2.58 billion, or 53 cents a share, a year earlier. Adjusted profit in the latest second quarter was 69 cents a share. Analysts expected 67 cents a share.
Revenue rose 2% to $9.28 billion from $9.09 billion. Analysts called for revenue from Oracle of $9.18 billion in the second quarter.
7.-- Dish Network (DISH) - Get Report is considering making a bid for T-Mobile US (TMUS) - Get Report next year, Reuters reported, citing people close to the matter.
Dish, which lost out to Japan's Softbank in an attempt to buy Sprint (S) - Get Report several months ago, has been sizing up T-Mobile as a takeover candidate and has talked to majority owner Deutsche Telekom about a potential deal, the three sources told Reuters.
It was reported last week by The Wall Street Journal that Sprint could make a bid for T-Mobile in the first half of 2014. 

8.-- Target (TGT) - Get Report is investigating a security breach involving stolen credit card and debit card information for millions of its customers, one person involved in the investigation told The New York Times.
The breach was first reported Wednesday by security blogger Brian Krebs.
The security breach began the day after Thanksgiving, and may be continuing, the Times reported, citing the person involved in the probe.
The Secret Service confirmed Wednesday it's investigating the credit- and debit-card data theft at Target.

9.-- Nike (NKE) - Get Report, the athletic apparel maker, is expected by analysts on Thursday to post fiscal second-quarter earnings of 58 cents a share on revenue of $6.44 billion.
10.-- Electric-car maker Tesla (TSLA) - Get Report said its Model S and charging system didn't cause a fire in a Southern California garage last month.
While there was a fire at the wall socket where the vehicle was plugged in, the car itself wasn't part of the fire, Tesla said in e-mailed comments to Bloomberg. Investigators can't conclude whether the fire started in the wall socket or was caused by the charger, and found it had nothing to do with the battery, a spokesman for the Orange County Fire Authority told Bloomberg.
-- Written by Joseph Woelfel
To contact the writer of this article, click here:Joseph Woelfel
To submit a news tip, send an email to:tips@thestreet.com.
Copyright 2013 TheStreet.com Inc. All rights reserved. This material may not be published, broadcast, rewritten, or redistributed. AP contributed to this report.