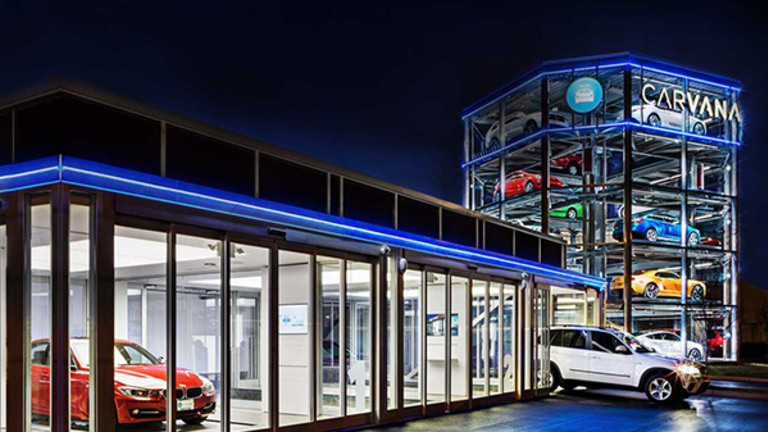 Death of a (Used Car) Salesman? Enter Upstart Digital Car Sellers Carvana and Shift
For the time-pressed car buyer, it can't get any easier than going digital.
Used car salesman are about as popular as politicians, so the "death" of such a profession is good news for car buyers everywhere.
That's where disruptive online used car sales companies, like Carvana and Shift, can play a big role, effectively allowing you to avoid a nagging salesman trying to pawn off a lemon or spending hours trudging from dealership to dealership.
"In the last five years, the shift to online [car] sales grew exponentially, driven by pricing benefits for both buyers and sellers, not to mention the warranties that were provided to incentivize the sale," said Isaac Abraham, a mobility senior research analyst at Frost & Sullivan, in an email to TheStreet. By next year, digital used car sales will hit 3 million, on their way to reaching 3.7 million units by 2022, according to a report from Frost & Sullivan.
Through upstart Carvana, you can handle everything online, from the selection process to financing. Carvana owns parking garages, called vending machines by the company, in Atlanta, Nashville, Houston, Austin and San Antonio. If you live outside those areas, Carvana will reimburse you $200 for a one-way airfare, so you may travel to one of its locations, or you can opt to have the car delivered to you for a fee.
Throughout the process, if you have questions, online assistants are available to help. The company claims you can complete a purchase and its financing in less than 15 minutes and save an average of $1,461 per purchase versus Kelley Blue Book's suggested retail price.
The Phoenix-based Carvana, which was incorporated in 2012, filed for an IPO on March 31. According to the filing, the company's annual revenue was at $365 million in 2016, up 180% year over year. It also noted that as of Dec. 31, 2016, it offers more the 7,300 "high-quality" used vehicles. The filing said also that Carvana sold more than 18,000 vehicles in 2016, a steady rise from some 2,100 in 2014 and about 6,500 in 2015.
Profits remain elusive for Carvana, however. Losses have accelerated each year since 2014. Total losses have amounted to $145.1 million over the past three years. 
But, there are two big names readying to join Carvana's board once it goes public, which suggests digital used car buying is no fly by night business model. The prospectus says former AutoNation (AN) - Get AutoNation, Inc. Report executive Michael Maroone will come aboard. Maroone served as AutoNation's -- which is the largest car retailer in the U.S. -- president and COO from August 1999 until his retirement in February 2015.
Planning to join Maroone is former vice president Dan Quayle. Since 1999, Quayle has served as chairman of private equity firm Cerberus Global Investments.
Carvana declined to comment when contacted by TheStreet.
Editors' pick: Originally published April 14.
Shift, which services the San Francisco, Los Angeles and San Diego markets, is a venture-capital-backed online car-buying site, tailor-made for millennials.
"A lot of people have the misconception that millennials don't buy cars, but that's totally not true," Shift CEO and co-founder George Arison told TheStreet on Friday. "Millennials don't like the big-box dealership model."
That's one reason, he said, the digital-savvy consumer, such as millennials, who make up a large portion of Shift's business, take to its process. They can research the car online, get help through its online "car enthusiast," instead of spending time at a dealership.
Shift works in a way similar to Carvana, with one big exception. Once a prospective buyer decides on a car, it is delivered at no charge to the customer's chosen location—home or place of business—for a 45-minute test drive. "Often, they will buy the car on the spot," said Arison. He said handling the paperwork takes about 15 minutes as opposed to about four hours at a car dealership.
Arison, a former product manager at Google (Alphabet (GOOGL) - Get Alphabet Inc. Class A Report  , said the formation of Shift grew out of his own experience trying unsuccessfully to get financing to buy a car outside a dealership. 
Arison started Shift in 2014 with a $23.8 million investment, mainly from chief investors DFJ, Highland Capital Partners, SV Angel and Great Oaks VC. Individuals such Lars Rasmussen of Google Maps and Hans Robertson of Meraki also stepped up. The next year, he made a deal with Goldman Sachs for a $50 million investment in the company.
Shift's cars, which are mainly sourced from individuals, are stored at warehouses near the company's main locations. It also gets vehicles from Hertz (HRI) - Get Herc Holdings, Inc. Report , with which it entered a partnership in December. Shift sells all brands, between 1 and 10 years old with less than 120,000 miles. Its No. 1 sellers in San Francisco and Los Angeles are cars from BMW and Toyota (TM) - Get Toyota Motor Corp. Report , respectively.
The CEO plans to grow the company, but in a prudent way, he said, and expand to the East Coast and, perhaps, eventually to go public. 
As the digital used-car platform expands exponentially, could it ever be as reviled as the used car salesman? Probably not.
Alphabet is a holding in Jim Cramer'sAction Alerts PLUS Charitable Trust Portfolio.Want to be alerted before Cramer buys or sells GOOGL? Learn more now.