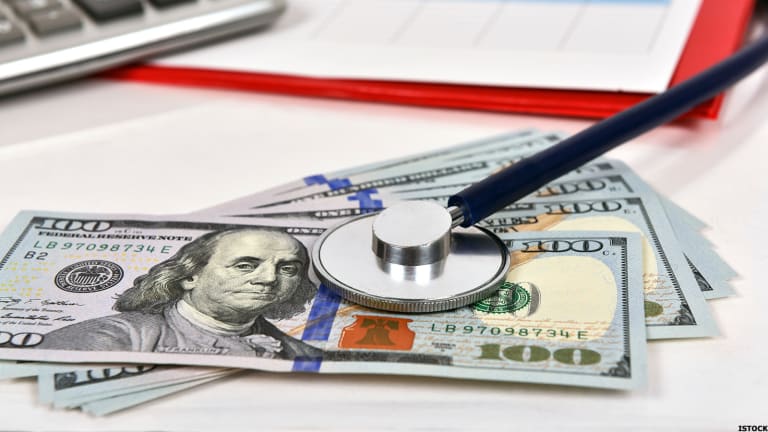 DaVita May See Greater Gains Once the Negative Sentiment Subsides
This kidney care provider hasn't lived up to high expectations, but the stock could be a value play in an overbought market.
It is easy to understand why kidney care company DaVita (DVA) - Get Reporthas a place in Warren E. Buffett's Berkshire Hathaway portfolio.
That said, shares of the leading dialysis provider, with a valuation of more than $13 billion, have had a lackluster year. The stock is down about 7%, and if it finishes the year lower, it will be its second successive annual loss.
But the stock looks like a good value that may see healthy appreciation.
Observers cite allegations around controversial practices and tepid organic growth prospects as the principal reasons for the slump.
The fundamental reason behind investing in dialysis services in the U.S. is easily understood. Patients suffering from chronic kidney failure need constant care.
However, DaVita, a value pick for Buffett, is grappling with its own set of challenges.
The company lowered its full-year outlook following the release of second-quarter results. Although it had formerly offered guidance for full-year consolidated operating income of between $1.8 billion and $1.95 billion, DaVita said that it would come in between $1.785 billion to $1.875 billion for the full year. 
When DaVita reported third-quarter results, it refined that range to $1.810 billion to $1.870 billion.
Meanwhile, the company said last month that its DaVita Kidney Care unit suspended its support for applications to the American Kidney Fund.
This charity provides premium assistance for Medicaid patients who seek additional coverage. The situation was estimated to affect nearly 2,000 of DaVita's dialysis patients.
DaVita's smaller peer, American Renal Associates, has also faced its own troubles.
Goldman Sachsdowngraded that stock to sell from neutral, citing American Renal Associates' decision to temporarily interrupt assistance for charitable premium support. This segment of its business was important for earnings and pricing growth.
Baird analyst Whit Mayo cut his rating on DaVita to neutral from outperform, suggesting that the company will have lackluster organic growth, unless the payer mix sees significant development.
At 17.24 times one-year forward earnings earnings estimate, DaVita's stock certainly isn't expensive. American Renal Associates trades at more than 24 times.
Notwithstanding the negative buzz, fundamentally the dialysis market demand hasn't waned. With DaVita projected to deliver 13.5% annual earnings-per-share growth over the next five years, long-term investors could use the weak sentiment around the stock to accumulate shares on the dips.
DaVita's stock is poised for gains once the negative sentiment subsides.
---
Trump's shocking election as president has turned the investment world upside down. If you're looking for new (and safe) growth opportunities in these uncertain times, we've found a genius trader who turned $50,000 into $5 million by using his proprietary trading method. For a limited time, he's guaranteeing you $67,548 per year in profitable trades if you follow his simple step-by-step process. Click here now for details.
The author is an independent contributor who at the time of publication owned none of the stocks mentioned.