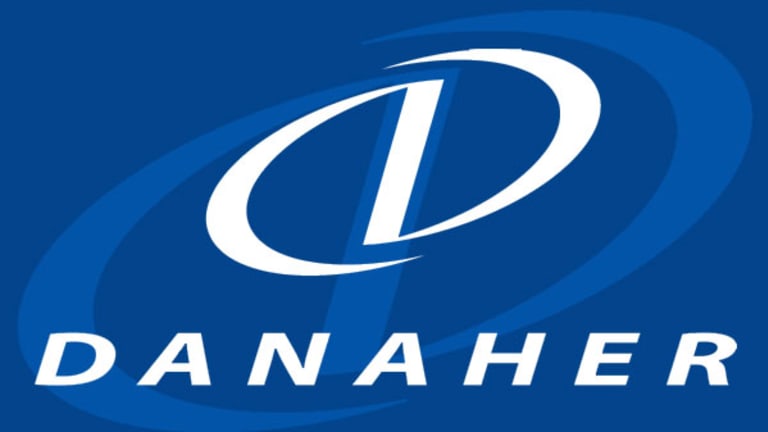 Danaher May Not Have Much More Growth in Store
Danaher is a Wall Street darling, but it may not live up to the hype in 2017.
Before the holidays, rollup Danaher (DHR) - Get Free Report held an investor day in New York City to make its case before the investment community. And Wall Street loves Danaher.
Danaher is the consummate dealmaker (and investment banker fee provider). It trades companies like a baseball team trades players. Approximately half of Danaher's revenue has been part of Danaher for five years of less. In 2016, the company announced 10 deals alone.
In 2002, 32% of revenue came from tools and 17% came from niche products. In July, management jettisoned those divisions into a separate company called Fortive (FTV) - Get Free Report and focused its portfolio on diagnostic (32% of revenue), life sciences (32%), dental (16%) and water quality (12%).
Management likes these businesses because more than 60% of their revenue is from consumables. The dental business for example has estimated revenue of $2.8 billion in fiscal 2016, with gross margins of 55% and a mid-teens operating margin. Plus, more than 70% of revenue is from consumables. In diagnostic medical equipment, the business has a mid-teens operating margin, about $5 billion in revenue, and 80% of the business comes from consumables.
At the meeting, management updated 2017 guidance. The company said adjusted earnings per share would grow between 7% and 10% or between $3.85 and $3.95 per share. Organic revenue is forecast to grow between 3% and 4%. Management predicted the strong dollar would take $375 million out of revenue or 8 cents per share, which was slightly more than Wall Street had anticipated. (Analysts thought currency would take about 6 cents out of earnings.)
Revenue is expected to be $17.8 billion, up 6%. Using the consensus estimate of $3.94 per share, the stock is trading at nearly 20 times forward estimates, which seems like a pretty full valuation for single-digit top-line growth.
Assuming Danaher doesn't buy more revenue this year, next year the company will only grow revenue around 3%, because this collection of companies has little growth. Growth in the life sciences field comes from equipment sales, not from consumables. And with a collection of companies with 60% of revenue from consumables, I doubt Danaher will have much growth going forward.
This article is commentary by an independent contributor. At the time of publication, the author held no positions in the stocks mentioned.