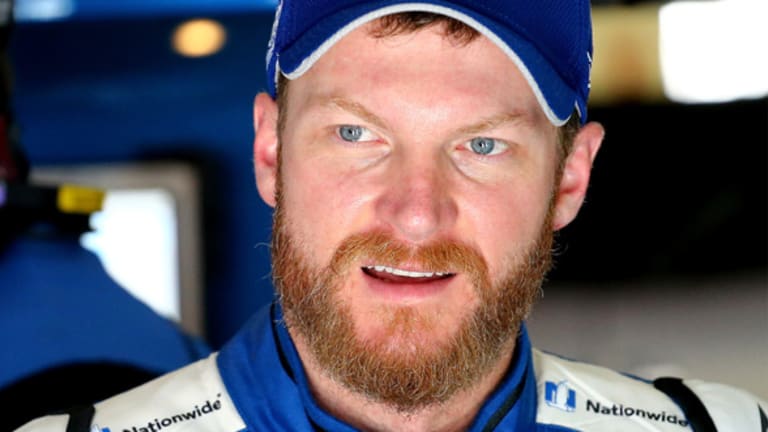 Dale Earnhardt Jr. Brings Hometown Feel to American's Charlotte Hub
American operates its second-biggest hub at Charlotte Douglas Airport, where local hero Dale Earnhardt Jr. has opened a new restaurant in the regional aircraft concourse.
American operates its second-biggest hub at Charlotte Douglas Airport, where local hero Dale Earnhardt Jr. has opened a new restaurant in the regional aircraft concourse.
NEW YORK ( TheStreet) -- In a world overstocked with homogeneity, so that every mall, every main street and every airport looks  the same, Charlotte Douglas International sees a niche for something a little bit more individualized and a little more Southern.
Something like an airport restaurant and bar co-owned by Dale Earnhardt Jr., the best-known driver for NASCAR, a business that originated in North Carolina and never totally succeeded in an effort to become a bit more homogeneous and a bit less Southern.
Earnhardt appeared Wednesday at the grand opening of the airport location of Whisky River restaurant and bar. The only other location is in downtown Charlotte. "We're proud of where we're from and proud of the city of Charlotte," Earnhardt said. "This is just strengthening that."
Country singer Lauren Jenkins, who grew up in Charlotte and lives in Nashville, performed. Afterward she tweeted, "So glad I got to support my fav driver," along with a photo of herself with Earnhardt.
Jenkins used to perform at the airport Starbucks (SBUX) - Get Report. "Met people from all over the world," she said.
Locating Whisky River, which focuses on Southern-themed food, in Concourse E is not random, said Jack Christine, deputy aviation director at Charlotte Douglas. Concourse E handles most of the global airport's regional flights, the ones that go to Southern cities like Jacksonville N.C. and Jacksonville Fla.,Greenville, N.C. and Greenville S.C., and Wilmington, N.C., the city where the first Piedmont Airlines flight originated in 1948.
"This location works well," Christine said. "There's a good mix of local regional passengers going through here. It has a more Southern feel." About 120,000 connecting passengers pass through Charlotte Douglas each day; the airport does not count by individual concourse.
Charlotte and Atlanta are the only two airports that offer connections throughout the 10-state Southeast region, home to 87 million people. In terms of global aviation, that presents a problem for United (UAL) - Get Report and Star Alliance, because the U.S. has three global airlines, the world has three global airline alliances and the Southeast has just two hubs.
Somehow, despite being located in a medium-sized Southern city, Charlotte Douglas managed to become one of the two, a big city airport that is now the second-busiest hub for American (AAL) - Get Report, the world's largest airline.
Airport growth parallels the growth of NASCAR and North Carolina National Bank and First Union National Bank, all of which grew to become national institutions. NCNB is now Charlotte-based Bank of America (BAC) - Get Report. Wells Fargo (WF) - Get Report, which acquired First Union's successor, employs 23,000 in Charlotte, its biggest employment center.
In the late 1970s, Charlotte became the first hub for Piedmont Airlines, which was founded in Winston-Salem. Piedmont was once the official airline of NASCAR and the sponsor of drivers including Terry Labonte.  It merged into US Airways, which merged with American in 2013.
Today American operates an average of 654 daily departures from Charlotte, the world's third-largest single airline hub after Atlanta, with about 1,000 daily Delta (DAL) - Get Report departures, and Dallas, with 825 daily American departures. With 44.3 million passengers in 2014, Charlotte Douglas is the eighth-busiest U.S. airport.

The airport has lost some of its Southern charm, but not all of it. "We are a big airport but we have a small-town feel, and we pride ourselves on that," said Terri Pope, now American's vice president for the Charlotte hub, in a 2007 interview, according to my book, American Airlines, US Airways and the Creation of the World's Largest Airline. The culture derived from the Piedmont Airlines culture, Pope said.
Earnhardt said the airport has abetted the growth of NASCAR. While drivers typically fly from Charlotte to weekly races in private plane, crews often fly on commercial flights. "A lot of our industry uses the airport (as) crews fly from race to race," he said. Also, he said, his girlfriend once flew regularly between Charlotte and Jacksonville, Fla.
Derryl Benton, executive vice president for HMS Host, which manages airport concessions at Charlotte, said airport concessions matched with local celebrities are not common. However, one-time Ohio State football player Eddie George has a restaurant at the Columbus, Ohio, airport, and former Houston Rockets basketball player Clyde Drexler has a restaurant at George Bush Intercontinental Airport in Houston.
In Charlotte, Benton said, "What makes this so special is (Earnhardt) is Charlotte. He's family. He's iconic."
Must Read:
5 Most Beloved U.S. Airlines of All Time
This article is commentary by an independent contributor. At the time of publication, the author held no positions in the stocks mentioned.