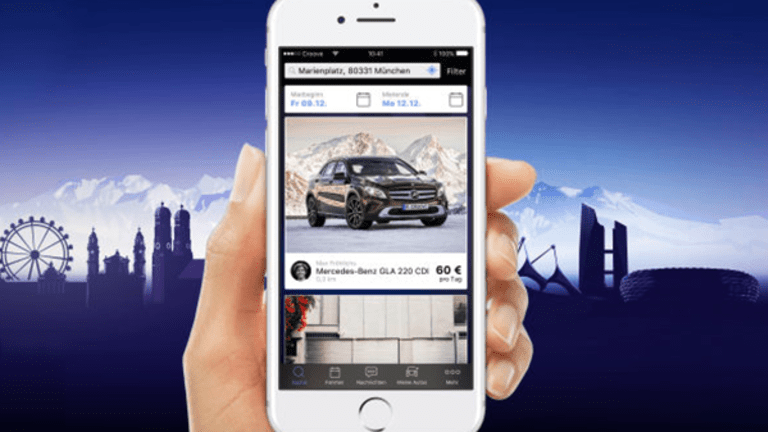 Daimler Rolls Out 'Croove,' Its Peer-to-Peer Vehicle Rental Service in Munich
Vehicle-sharing ventures are multiplying rapidly.
The proliferating varieties of automotive sharing are catching up to the 31 flavors at ice cream maker Baskin-Robbins. The latest is Daimler's (DDAIF)   "Croove" app, which allows an owner to rent his car to someone else for a price and length of time that the two determine.
The service began in Munich this month. While Croove's monetary benefit to Daimler seems obscure, it could provide valuable market research for similar services using the German automaker's own vehicles, such as Car2go, which is owned through the Daimler's Moovel subsidiary.
Daimler is the maker of Mercedes-Benz and Smart branded vehicles.
In November, General Motors (GM) - Get Reportsaid it was expanding its Maven car-sharing venture to Los Angeles, Denver and more western locations, with a fleet that numbered 165 vehicles and growing.
One thing for sure is that the names for these services are getting pretty weird, at least to the ears of those of a certain age accustomed to hearing about cars one buys from Chevrolet, BMW and Toyota (TM) - Get Report. The point is that automakers, having watched the growth of Uber and its competitors, are growing more convinced that the young increasingly will choose to pay for rides and short-term rentals rather than to own cars.
But which cars will this new class of customer prefer? How much are they willing to pay? Which cities are most eager to cooperate with commercial sharing ventures? The potential for reducing congestion, pollution and the need for parking structures is great. Yet BMW decided in late 2015 to pull its DriveNow ride-sharing venture from San Francisco due to difficulties gaining parking permits from the city.
BMW has decided to expand its slightly different ReachNow car-sharing service, with more than 500 vehicles, to Portland, Ore., after establishing operations in Seattle. The German automaker also is reportedly discussing merging some sharing operations with Daimler to save costs.
One of the groups that should be most interested in the progress of these ventures is franchised dealers in the U.S. and in Europe. Presumably, if third-party operators own vehicles and purchase routine maintenance and service, they will still turn to retail dealerships. But if automakers decide they wish to own sharing services, dealers could find themselves selling fewer and fewer vehicles to individual owners.
The Croove app, available at the moment only for Apple (AAPL) - Get Report devices but soon for Alphabet's (GOOGL) - Get Report Android as well, walks a vehicle owner through a series of questions about the vehicle and its features. Cars in poor condition or older than 15 years are ineligible. The owner sets the price for rental.
Potential renters must be 21 and can contact owners via the app, agreeing on conditions of delivery and return, how to obtain the key and so forth. (GM's Maven, with its use of OnStar wireless technology, offers an advantage by sidestepping the need for a key altogether).
Daimler executives talk about the automaker's CASE automotive strategy, which stands for connected, autonomous, sharing and electric. BMW executives talk about its ACES strategy: autonomous, connected, electric and sharing. These are flavors of the same ice cream.
Doron Levin is the host of "In the Driver Seat," broadcast on SiriusXM Insight 121, Saturday at noon, encore Sunday at 9 a.m.
This article is commentary by an independent contributor. At the time of publication, the author held no positions in the stocks mentioned.