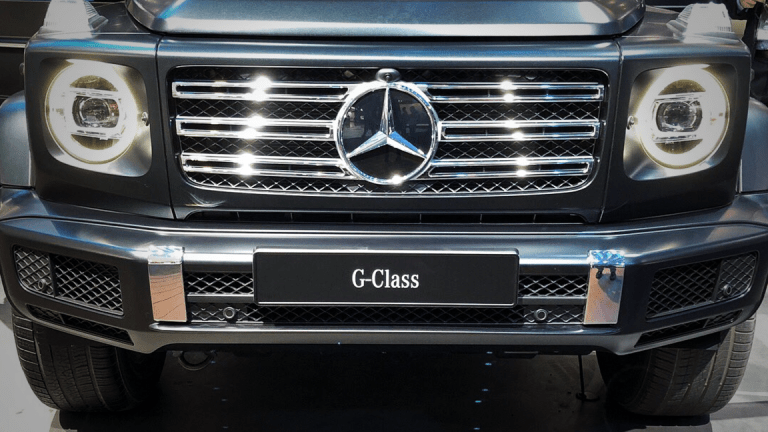 Daimler's Profit Warning Should Terrify Traders Before Earnings Season Begins
Got tariff wars? Disney borders on reckless with its pursuit of Fox's assets. Tech stocks have reached out-of-control levels.
Got tariff wars? Disney borders on reckless with its pursuit of Fox's assets. Tech stocks have reached out-of-control levels.
Respect this Daimler news.
Market fragility is the name of the game. Some volatility is good for publicly traded online brokers but bad for confidence in the bull market. The Dow Jones Industrial Average I:DJI  tanked Thursday as investors digested Daimler's (DMLRY) profit warning, which the company blamed on the impact of the globe's brewing trade war.
The warning gives investors an early glimpse into the type of commentary Corporate America may unleash during second-quarter earnings season. It also offers investors insight into how richly valued stocks will react to said profit warnings. Go out and buy some CDs.  
This Market Is Obsessed With Tech Stocks
The market cap of the five biggest U.S. tech stocks is set to top $4 trillion Thursday pointed out TheStreet's Martin Baccardax. That's insane when you step back and think about it. Wrote Baccardax, "With Facebook Inc. (FB) - Get Report hitting an all-time high of $203.55 in Wednesday trading, giving the social media giant a market cap of $584.71 billion, the collective value of the five biggest stocks on the S&P 500 I:GSPC -- which includes Apple Inc. (AAPL) - Get Report , Amazon Inc. (AMZN) - Get Report , Google parent Alphabet Inc. (GOOGL) - Get Report and Microsoft Corp. (MSFT) - Get Report -- stands at $3.9501 billion."
Want more tech insanity? Check out how tech overshadows entire markets.
U.S. tech stocks in the global stock market now boast a $6.6 trillion market cap, said Bank of America Merrill Lynch strategist Michael Hartnett. That is larger than all of emerging markets ($5.6 trillion market cap) and the eurozone ($4.9 trillion). The global tech stock market cap sits at $9.3 trillion, representing about 20% of the global stock market's valuation as measured by the MSCI All-Country World Index. Be prepared for this tech stock euphoria to blow up, to any extent, within the next 12 months amid rising interest rates.
Most every Wall Street veteran I talk to is voicing concern on a possible "great tech stock unwind" as higher rates make borrowing more expensive and by extension betting on hot sectors of the market. Look at the rout in emerging stocks as a precursor to what could come to the tech space.
Lesson of the Day 
You should fear a ticking time bomb inside a company, even really large corporations that you think could handle an explosion.
This is cautionary reminder to the bulls who have chased Disney (DIS) - Get Report shares up 5% over the past three months on optimism over the Twenty-First Century Fox (FOXA) - Get Report deal. The revised $71.3 billion purchase price Disney put forth on Wednesday borders on reckless -- the financing to make this deal happen, and what it will do to Disney's balance sheet, will be mind-blowing. Any slip-up in deal execution at a time in which Disney's core media assets are struggling will likely lead to sharp quarterly earnings misses. That is unless Disney's unnamed next CEO comes out within three months after his or her employment and resets Wall Street's expectations in the hopes of beating a lowered bar.
Instinct says Disney is prepared to do whatever it takes to fend off Brian Roberts at Comcast (CMCSA) - Get Report . That should be borderline terrifying for Disney investors. But hey, Disney could just keep raising prices at theme parks to help alleviate some profit pressure. $500 to enter Disneyland, anyone?