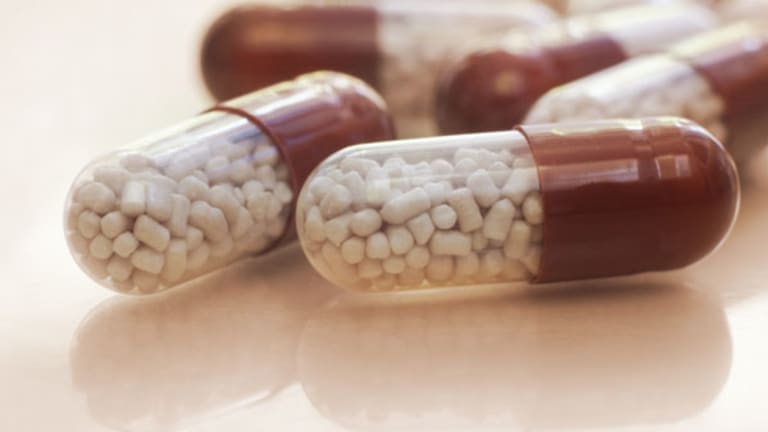 CytRx Directors Are $3M Richer With Well-Timed Stock Option Grants
CytRx directors award themselves stocks option one day before the company's stock prices soars on clinical trial results.
CytRx directors award themselves stocks option one day before the company's stock prices soars on clinical trial results.
Five independent directors on CytRx's (CYTR) board are $3 million richer after they granted themselves stock options one day before the company shares soared on the announcement of clinical trial results.
The incredibly well-timed stock-option grants paid out to CytRx's directors last week may be perfectly legal but still stink of insider self-enrichment.
Here's how CytRx's directors Max Link, Marvin Selter, Joe Rubinfeld, Lou Ignarro and Richard Wennekamp each made $600,000 for themselves last week. It was really quite simple:
Step 1: On Dec. 9, the compensation committee of CytRx's board approves the grant of stock options to purchase 180,000 shares of common stock to each non-employee director. Directors Link, Selter, Rubinfeld and Wennekamp serve on CytRx's compensation committee -- only Ignarro is missing -- so the board truly did vote to grant themselves the stock options.
Step 2: The exercise price of the stock options is set to closing price of CytRx's stock on Dec. 10. That was $2.39 per share. The option grants are allowed vest immediately.
Step 3: On Dec. 11 -- the next day -- CytRx issues a press release announcing "highly statistically significant positive results" from a phase IIb study of the cancer drug aldoxorubicin in soft tissue sarcoma. CytRx shares close the day 57% higher.
Step 4: Cytrx shares close Friday at $5.72, meaning the stock ends the week 127% higher. CytRx is the best-performing biotech stock for the week.
The exquisite timing of the options grant plus the company's aldoxorubicin press release one day later -- a coincidence, I'm sure -- combine to boost the value of each 180,000-option grant by $600,000. The total take for CytRx's five non-employee directors: $3 million!
Now, about those aldoroxobucin sarcoma data: Meh.
Aldoxorubicin is a reformulation of the old chemotherapy drug doxorubicin. The addition of a linker molecule which binds to albumin in the blood is supposed to allow for higher dosing and less toxicity.
Sure enough, in the phase IIb study, CytRx compares a 350 mg/m2 dose of aldoxorubicin to the standard 75 mg/m2 dose of doxorubicin. One hundred-twenty three patients with newly diagnosed, advanced soft tissue sarcoma were enrolled in the study -- 83 patients treated with aldoxorubicin, 40 patients with doxorubicin. The study was open label, meaning doctors and patients knew which drug they were received.
The results: Aldoxorubicin doubled the time before patients' tumors started to grow compared to doxorubicin. Median progression-free survival in the aldoxorubicin arm was 5.7 months compared to 2.8 months in the doxorubicin arm, as measured by a central lab review. The difference was statistically significant.
So, too, was the difference in tumor shrinkage between the two drugs. The response rate to aldoxorubicin was 23% compared to 0% for doxorubicin.
What's not to like about these data? For starters, aldoxorubicin's efficacy received a big assist from the unusually poor performance of the doxorubicin-treated patients.
Consider last year's 447-patient phase III study of Ziopharm's (ZIOP) - Get Report palifosfamide compared against doxorubicin in front-line sarcoma -- the same type of patient enrolled in the CytRx study.
In the Ziopharm study, sarcoma patients treated with doxorubicin reported a median progression-free survival of 5.2 months. That's essentially the same median PFS reported by CytRx for the aldoxorubicin-treated patients.
I understand the problems comparing two drugs across different clinical trials, but the Ziopharm study was larger and double-blinded compared to CytRx's smaller and open label study. I'm more apt to believe the doxorubicin data from the Ziopharm study (median PFS of 5.2 months) compared to CytRx's study (2.8 months.)
If and when CytRx conducts a larger phase III study of aldoxorubicin, I'd worry the drug won't beat ordinary doxorubicin as easily as it did in the phase IIb study where doxorubicin clearly under performed.
And what about that 0% response rate seen in doxorubicin arm of the CytRx study? C'mon, no patients responded? Really? Search the medical literature and it's easy to find studies of sarcoma patients with doxorubicin response rates in the low 20% -- the same as reported by CytRx for aldoxorubicin.
Ziopharm hasn't reported response rate data from its phase III study of palifosfamide and doxorubicin, but in an earlier and smaller phase II study, the response rate to doxorubicin was 9%.
The 0% response rate for doxorubicin reported by CytRx definitely raises alarm bells about the conduct of the study.
Sure enough, more than 60% of the patients enrolled in the aldoxorubicin study came from India, Romania, Russia and the Ukraine -- hardly the most reliable geographies for reporting credible and reproducible clinical trial data.
Is it possible aldoxorubicin is a more potent or safer form of doxorubicin? Sure. The phase IIb data reported last week by CytRx might stand up when a larger, phase III study is conducted eventually. But given the stronger performance of doxorubicin in a very recent and larger phase III sarcoma study, I'd say it's just as likely that aldoxorubicin's superiority is a mirage that eventually disappears.
Of course, none of this matters to CytRx's directors. When you have the power to grant yourself well-timed stock options, getting rich doesn't depend on getting a drug approved -- something CytRx has never done.
-- Reported by Adam Feuerstein in Boston.
Follow Adam Feuerstein on Twitter.
Adam Feuerstein writes regularly for TheStreet. In keeping with company editorial policy, he doesn't own or short individual stocks, although he owns stock in TheStreet. He also doesn't invest in hedge funds or other private investment partnerships. Feuerstein appreciates your feedback;
to send him an email.