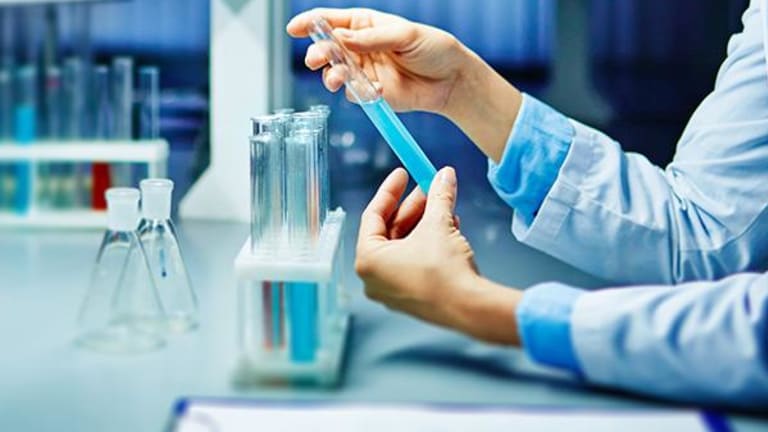 CytomX Soars on Bristol-Myers Partnership
Shares of the biotech, which researches cancer drugs, were up nearly 30% ahead of market's open.
CytomX Therapeutics (CTMX) shares swelled more than 30% Monday morning ahead of market's open on news that the company will be expanding its cancer drug partnership with Bristol-Myers Squibb (BMY) . 
The company's shares were up $4.43 apiece ahead of the opening bell, hitting $19.61 apiece. Bristol-Myers shares, meanwhile, were unmoved by the news. The company was hovering at $56.29 per share before markets opened. 
According to the terms of the deal, Bristol-Myers will pay CytomX $200 million to expand a strategic collaboration that began in 2014. This deal could net Bristol-Myers up to eight additional targets, according to the companies' statement. The previous deal gave Bristol-Myers access to four candidates, including CTLA-4, which is being developed for treatment of tumors caused by cancer. 
If these new targets are reached, CytomX could receive up to $488 million in milestone payments from Bristol-Myers. 
"CytomX's probody platform has enhanced our discovery research as we seek to direct the therapeutic effects of immunotherapy in a more targeted approach against tumors," said Carl Decicco, Ph.D., head of discovery at Bristol-Myers in a statement.
The probody platform attempts to lessen the impact of chemotherapy on healthy tissues, targeting instead the tumors caused by cancers. 
CytomX still has partnerships with Abbvie (ABBV) , Pfizer (PFE) and ImmunogenIMGN for its other research targets. However, its partnership with Pfizer will expire in May, and its partnership with Immunogenics is very limited.