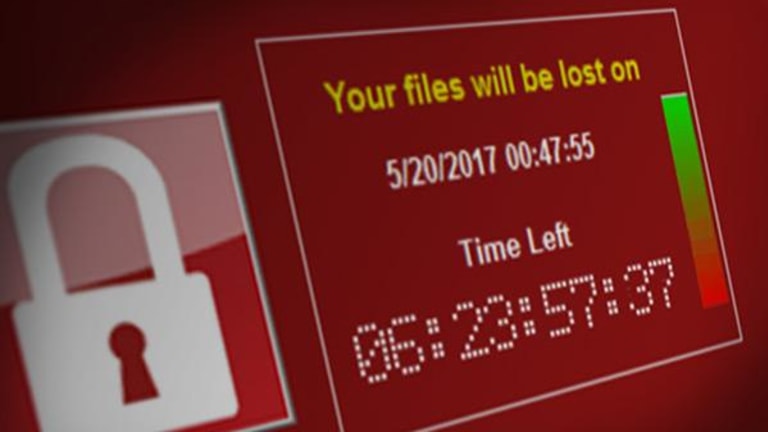 Cybersecurity Stocks the Big Winners on Monday in Wake of WannaCry Ransomware Attack
FireEye, Proofpoint, Cisco, Symantec and other security providers all closed higher Monday.
FireEye, Proofpoint, Cisco, Symantec and other security providers all closed higher Monday.
As the WannaCry ransomware ravaged businesses and other organizations throughout the world, Wall Street focused on security companies such as FireEye (FEYE) - Get Report and Proofpoint (PFPT) - Get Report .
FireEye gained 7.5% to $15.90 on Monday. Wedbush suggested that the company's Mandiant unit forensic and consulting division would benefit from the latest cybercrime epidemic, as businesses sift through the damage that WannaCry caused. FireEye was up slightly premarket Tuesday.
Ransomware typically comes into businesses via email. Cloud and email specialist Proofpoint, which had a hand in finding the "kill switch" in WannaCry that slowed the cyber crooks' progress, gained 7.4% to $86.05, while cloud security and compliance company Qualys (QLYS) - Get Report gained 5.2% to $43.65 Monday and was flat Tuesday.
The WannaCry ransomware attacks made use of a vulnerability in Microsoft (MSFT) - Get Report Windows. Though Microsoft had released fixes, organizations throughout the globe had failed to apply them to their systems.
The victims included large enterprises such as U.K.'s National Health Service, FedEx (FDX) - Get Report and Nissan. According to cyber-risk firm Cyence, the cost of computer downtime alone came to $8 billion, , according to the Wall Street Journal.
However, Evercore analyst Ken Talanian suggested that small to medium sized businesses may face the greatest risk for ransomware, creating an opportunity for companies such as Fortinet (FTNT) - Get Report , Check Point (CHKP) - Get Report and Symantec (SYMC) - Get Report  that provide services to them.
"We do not believe that larger organizations are impervious to ransomware attacks, but they do tend to have more resources to prevent them," Talanian wrote. "Smaller companies with budgets that are thinner on both the security technology and security people fronts may be more at risk."
Symantec shares rose 3.2% to $32 on Monday and was up about a percent in premarket trading Tuesday.
"Unfortunately we do not see SMBs [small to medium-sized businesses] handling threats including ransomware very well," said Symantec technical director Vikram Thakur.
"We do not see them either backing up their data, or validating the functionality of their backups," Thakur added. "Often we see SMBs only realizing of the lack of working backups when ransomware of similar types of threats corrupt available business information.
Fortinet rose 3.4% to $40.45 on Monday, while Check Point gained 2.6% to $110.36.
Meanwhile, networking giant Cisco (CSCO) - Get Report gained more than 2.3% to $34.23. The company has shifted towards software in recent years, and has gained security capabilities through the May purchase of the advanced analytics team from technology services company Saggezza, and its acquisitions of Cloudlock last year and Lancope the year before.
Cisco reports earnings this week. Jim Cramer and the AAP Team suggest that the market's focus on security will benefit Cisco. "The nature of this attack (fast and widespread) further bolsters awareness for the most cutting-edge, security-focused networks in place (in comes Cisco, supported by its recent acquisitions)," they said.
Palo Alto Networks (PANW) - Get Report  and Imperva (IMPV) - Get Report  were also among the day's winners, with Palo Alto gaining 2.7% to $119.61, and Imperva rising 2.3% to $48.93.
Splunk (SPLK) - Get Report , which uses its data sifting and intelligence capabilities to secure enterprises, gained 1.4% to $68.30. But Cyberark (CYBR) - Get Report actually dropped 1% to $47.82.
This article was originally published at 5:17 pm ET on May 15 and has been updated.