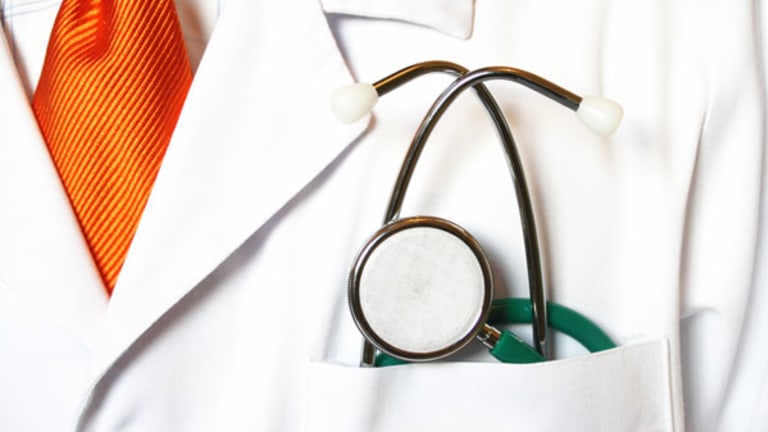 CVS Slashes Generic Drug Prices
The drugstore chain is coming out with a health care pass that will lower generic drug prices.
OKLAHOMA CITY --
CVS-Caremark
(CVS) - Get Report
is introducing next month a "health savings pass" that promises cut-rate prices on hundreds of generic drugs used to treat common conditions such as diabetes and high blood pressure.
After purchasing the $10 pass, CVS customers will pay just $9.99 -- a penny less than they would at
Wal-Mart
(WMT) - Get Report
-- for a 90-day supply of 400 different generic maintenance drugs.
With that same card, cash-paying customers can also receive a 10% discount for treatment provided by the company's in-store MinuteClinics.
"People are struggling with health care costs, especially the uninsured and the underinsured," CVS CEO Tom Ryan stated when introducing the new program on Thursday. "As the largest provider of pharmacy health care in the nation, we felt it was the right time to offer consumers another way to make their health care more affordable.
"This new program will not only provide affordability and convenience," Ryan continued, "but also the superior service and execution that consumers have come to expect from CVS."
CVS could pay a price, however. While the new savings program might attract more shoppers to its stores -- including some who now buy cheap generics at Wal-Mart or
Target
(TGT) - Get Report
-- it will threaten a key source of profits in the process.
Right now, CVS can often make more money marking up a cheap generic drug than it can by selling its expensive brand-name counterpart. For the drugs covered under its new savings card, however, that dependable margin-booster will shrink or disappear.
Still, CVS may need the extra business. While the company continues to grow its revenue and profits, it did suffer a slight dip in pharmacy sales -- and an even sharper decline in prescriptions sold through the mail -- during the latest quarter.
Caremark, the company's big pharmacy benefit manager, once relied on generic drugs and mail-orders sales as its primary drivers of growth. Like its big rivals,
Medco
(MHS)
and
Express Scripts
(ESRX)
, Caremark originally shrugged off news of Wal-Mart's cheap generic drug program. Even traditional pharmacies, facing a more direct hit, tried to do the same.
Wall Street analysts downplayed the threat as well, portraying Wal-Mart's program as a "non-event" because it targeted cash-paying customers who rarely bought prescriptions at CVS or
Walgreen
(WAG)
anyway.
Two years later, however, Wal-Mart has clearly left its mark. Most discount retailers and grocery stores now sell cheap generics, too. Next month, CVS-Caremark will simply join that growing crowd.
Robert Garis, a pharmacy professor at Creighton University, expected as much.
"Wal-Mart has said with its actions, 'Look, guys, generics shouldn't be that expensive," Garis told
TheStreet.com
in the fall of 2006. "And, in fact, they aren't. Wal-Mart is going to at least break even on this promotion."
Now, CVS will try to do the same. The company's stock rose 3.8% to $30.44 on Friday, lifted by investors hoping for the best. The shares, hit along with the recent of the market in recent weeks, currently trade in the lower half of their 52-week range.