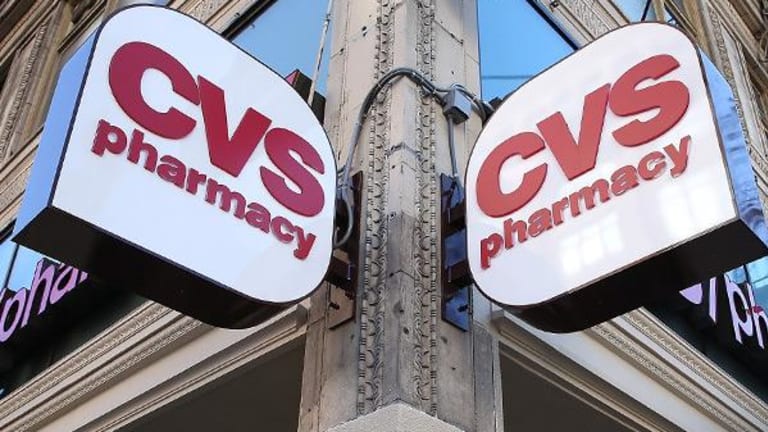 CVS Posts 2017 Guidance in Line With Estimates; Share Prices Fall
The retail pharmacy and pharmacy benefit manager saw shares fall 1.7% ahead of market's open Thursday.
CVS Health (CVS) - Get Report announced fiscal year 2017 guidance in line with consensus estimates, company officials announced at its Dec. 15 analyst day.
The retail pharmacy and pharmacy benefit manager announced Thursday that it expects to bring in adjusted earnings per share to land somewhere between $5.77 and $5.93 in 2017. Consensus estimates for adjusted earnings per share were around $5.87.
CVS also announced that its board approved an 18% increase in its annual dividend in 2017, which translates to $2 per share, up 30 cents per share over 2016. This is the fourteenth year in a row that the company has boosted its dividend.
Despite the positive news, CVS share prices fell in pre-market trading. Shares fell 1.7% ahead of market's open, hitting $77.61 apiece.
Company officials highlighted CVS' diversified lines of business as a way to manage the changes Republicans and President-elect Donald Trump have threatened to the current healthcare system.
"Given the recent changes in the marketplace and our outlook for 2017, we have put a plan in place to return to more robust levels of growth," the company's CFO Dan Denton said in a statement.
Denton also commented on CVS' strategy for M&A in 2017.
"We've always talked about the fact that our business model is to grow organically, but to supplement growth with acquisitions," CFO Dan Denton said during the company's investor day.
CVS has a market cap of $84.21 billion. The company's investor day began at 8 a.m. Thursday and will continue throughout the morning.