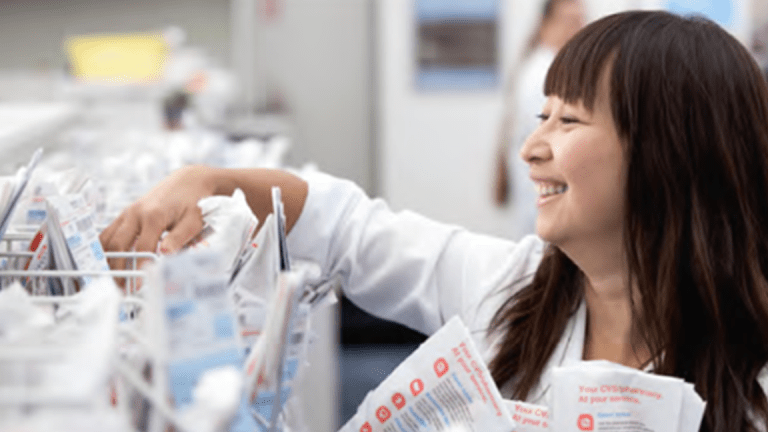 Aetna Who? CVS Blows Wall Street Away With Its Earnings
Same-store sales increased 0.1%.
CVS Health Corp. (CVS) - Get Free Report is leaving competitors in the dust as it beat Wall Street forecasts once again in its fourth-quarter earnings Thursday, Feb. 8, reporting $1.92 in earnings per share, excluding the $1.5 billion tax benefit from the new law. Analysts had projected $1.88.
The quarter covers the three-month period that ended Dec. 31, 2017.
The retail healthcare giant also posted $48.4 billion in total revenue, a 5.3% increase since the same period last year. Same store sales increased 0.1%, while pharmacy same store sales increased 0.4%. For the whole year, however, same store sales fell on both fronts, decreasing 2.6%.
Meanwhile, retail revenues increased 0.3% to %20.9 billion, thanks to a jump in its prescription business. Revenues in the pharmacy segment were up 9.3% to some $34.2 billion
"In 2017, we delivered on the four-point plan we set in place to return to more robust levels of growth," CEO Larry Merlo said in a statement. "Our position in the evolving healthcare landscape is stronger than ever before, and we remain confident in our model and in our ability to make health care more affordable, more accessible and more effective."
CVS raised its operating growth guidance for 2018 from the range of 1% and 4% to the range of 1.5% to 4%, partly thanks to the $1.2 billion in cash benefits from the new tax law, according to CFO David Denton. The company said it will use the extra money to make strategic investments for long-term growth.
CVS is awaiting regulatory approval for its $60 billion acquisition of insurance company Aetna Inc. (AET) . Both companies will have shareholder meetings on March 20 for stockholders to approve the merger. Once the deal is set, CVS will have, by the end of 2018, its own pharmacy benefit manager (PBM) business, almost 10,000 retail pharmacies, more than 1,000 walk-in clinics and millions of potential customers that hold Aetna plans.