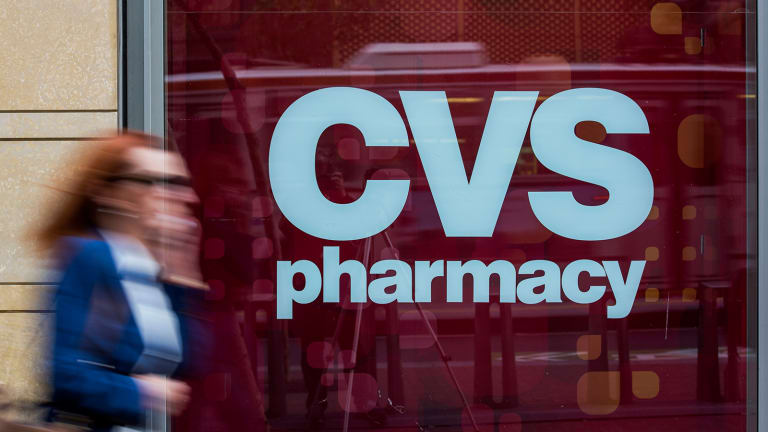 CVS Is the Latest to Rock Mylan's EpiPen Empire
The price of EpiPens has surged about 25% annually since 2007.
CVS Caremark (CVS) - Get CVS Health Corporation Report  announced Wednesday it will now offer Impax's (IPXL) generic epinephrine auto injector at all pharmacy locations at a reduced cost, in hopes of addressing rising drug prices. 
"As a health care company focused on helping people on their path to better health, we recognized that there was an urgent need in the marketplace for a less expensive epinephrine auto-injector for patients with life-threatening allergies," said Helena Foulkes, president of CVS Pharmacy in a statement. 
CVS will offer Impax's generic autoinjector for $109 per two-pack for patients who pay in cash. According to GoodRx, the device typically costs around $200 in cash, although for insured patients, Impax offers a $0 copay coupon online. The Hayward, Calif.-based drug company acquired the rights to a generic version of Adrenaclick, an epinephrine autoinjector used to treat anaphylaxis and severe allergies, in 2015.
This is compared to Mylan's (MYL) - Get Mylan N.V. (MYL) Report EpiPen, which according to GoodRx can cost up to $700 in cash per twin pack. After deductibles went up earlier in 2016, patients began having to pay the full price tag for the drug. The news comes after it was revealed that Cigna (CI) - Get Cigna Corporation Report will no longer cover Mylan's EpiPen
Additionally, Mylan had been raising prices of EpiPens approximately 25% each year since it acquired the rights to the drug in 2007. This is compared to the drug industry average of 10% yearly. When questioned, Mylan pushed the blame of high drug prices onto pharmacy benefit managers like CVS' Caremark, and insurers, like Cigna.
Mylan's shares were up slightly ahead of market's open, hitting $37.37 apiece. On Wednesday the company's stock fell 4.3%. Meanwhile, Impax saw shares fall 0.8% ahead of market's open, hitting $12.30 apiece. This was after the company fell 2.3% Wednesday. CVS moved up slightly ahead of market's open, hitting $83.24. The company's shares did not move Wednesday.
Following public outcry in mid 2016 Mylan began offering coupons that reduced EpiPen and EpiPen Jr. prices to $300 per two pack, and developed a generic that costs $300 per two pack in cash. The company offers a $25 discount card for the generic, so in cash, it would cost $275 per two pack. 
This move comes after Cigna announced Jan. 7 that it will no longer cover Mylan's EpiPen and EpiPen Jr. autoinjectors, instead encouraging patients to use Impax's IPXL generic device for treatment of severe allergic reactions, or, according to Mylan's spokeswoman Julie Knell, the company's authorized generic for the drug. 
"The generic version, available now in pharmacies, has the same drug formulation and device functionality as the branded medication, but at a substantial cost savings," Cigna spokeswoman Karen Eldridge said in a statement.
There are concerns as to whether Impax will be able to keep up with increased demand. Impax puts together its autoinjector together manually. Since there are about twenty pieces, the process takes a bit of time. Further complicating manufacturing is the fact that its cartridge comes from a third party company, which can slow the process even more.
"We've done a lot on the supply side on building out our process... We've invested a lot of money in our lines," vice president of investor relations, Mark Donohue said by phone Wednesday.
"Our goal would be able to supply the market as much as we can," he added, declining to comment on how accretive to earnings Cigna's move could be.
Back in November in an interview with TheStreet, Donohue noted that the company isn't actively seeking new customers through marketing in schools like Mylan has done. He said the company didn't have the manufacturing capacity to do that yet.
Neither Impax nor Mylan saw share prices move ahead of market's open Thursday.