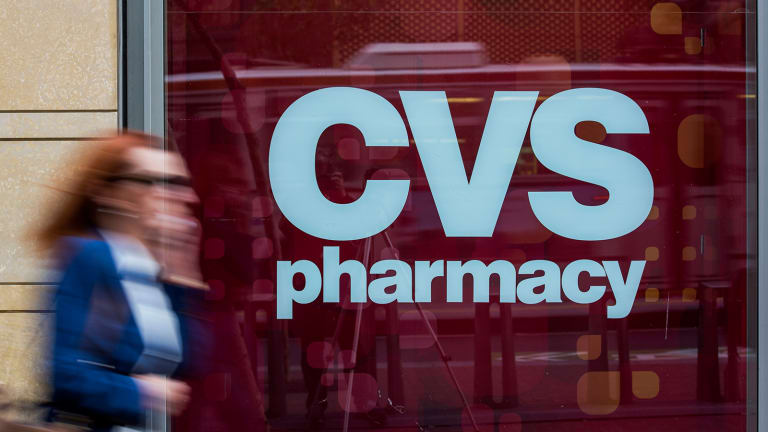 CVS Prepares for the Amazon Invasion
Despite the potential threat of Amazon, analysts see the entrance by the e-commerce giant as having limited on impact on CVS due to the types of customers each is targeting.
Fight or flight. One of the two is the typical reaction when humans encounter a threat or something that may pose danger. Corporate America is no different.
So when executives at CVS Health Corp. (CVS) - Get CVS Health Corporation Report  got wind that Amazon.com Inc. (AMZN) - Get Amazon.com, Inc. Report was making a play for the healthcare industry the pharmacy chain had two options. Retreat, and let Amazon potentially eat into its business, or fight back.
With news that a tie-up with insurer Aetna Inc. (AET)  is imminent, the company seems to be taking the latter route. Not to mention that CVS is undertaking a host of other initiatives to improve its operations and expand its footprint.
"We believe that a potential CVS/AET combination would provide significant long-term value to both shareholders and clients of CVS and AET (MP), from our PBM viewpoint," wrote David Larsen in a note following the Woonsocket, R.I.-based chain's release of third quarter earnings in November. "We believe that in some cases, for large plans, the medical and pharmacy benefit can be more effectively managed under a single roof, CVS may be able to more effectively tie reimbursement to performance for specialty drugs, procurement synergies may exist for Red Oak, and CVS may be able to capture more AET volumes."
The analyst expects the deal to clear regulators though it will likely garner a second request.
Still, the company is working through its issues and the long-term view of CVS remains relatively positive even with the looming threat of Amazon.
"While management did not specifically call out Amazon, it seems to us that CVS is pressing hard on a consumer-oriented approach and shift in strategy," wrote Larsen. "Since Amazon is all about the user experience and user convenience, we applaud CVS' efforts in this regard."
CVS announced Monday, Nov. 6, that it will kick off next-day delivery for all of its stores starting in 2018, while select cities will offer same-day delivery. The announcement came as the company reported a 3.4% decline in same-store sales in pharmacy and a 2.8% drop in front-store same-store sales. Customer traffic was softer, according to the company, but this was partially offset by bigger basket sizes. Operating profit was also down 13.1%.
Despite the potential threat of Amazon, Loop Capital Markets said it sees the entrance by the e-commerce giant as having limited on impact on CVS due to the types of customers each is targeting.
"We believe that [Amazon] would most likely enter the PBM arena serving smaller clients due to its lack of scale. We believe Caremark's book of business is driven more by large clients, which would mitigate any impact," wrote Loop's Andrew Wolf in a note on Tuesday, Nov. 7. "We also note that the downstream pharmaceutical supply chain in the U.S. is dominated by large scale players from governments, to PBMs, to distributors, to retailers."
Specifically in retail, he added, about 97% of prescription drug transactions are "contractually negotiated with pricing set by the industry's largest players."
Amazon's ability to gain significant market share at a rapid pace would "not be possible under the current pricing schemes for Amazon to rapidly gain retail prescription market share on lower pricing as has been its primary business model in other retail categories."
In addition to retail efforts, CVS also has taken other steps to shore up parts of its business and is seen investing in others that could be growth drivers, such as Minute Clinics.
Anthem Inc. (ANTM) - Get Anthem, Inc. Reportannounced Oct. 18, that it will sign onto a deal with CVS to contract the drugstore chain's services for a new pharmacy benefits manager called IngenioRx.
CVS did not mention the the IngenioRx platform on its earnings call, though analysts are encouraged by the partnership.
"We are very much encouraged by the ANTM deal, and we believe that long term ANTM will contribute to significant improvements in retail volumes. On [Aetna Inc.'s] earnings call it sounded as if AET was pleased that ANTM has become a client of CVS because it will improve CVS' overall purchasing scale which should also benefit AET."
CVS has recently signed deals with Anthem, UnitedHealth Group Inc.'s  (UNH) - Get UnitedHealth Group Incorporated Report Optum platform, Cigna Corp. (CI) - Get Cigna Corporation Report , and Aetna to capture Medicare preferred network patients. At the same time, CVS also recently inked a new PBM performance-based pharmacy network focused on reducing costs and improving outcomes with Walgreens Boots Alliance Inc. (WBA) - Get Walgreens Boots Alliance Inc Report .
"We are pleased that CVS inked a performance-based deal with WBA, and it shows that CVS is more open to working with multiple parties in the supply chain," Larsen wrote. "Management highlighted that 75% of prescriptions cost patients $10 or less, and 50% of prescriptions cost patients $4 or less."
Despite the positives, CVS shares fell by more than $1 on Monday. Though the shares rebounded slightly Tuesday they still hover around a 52-week-low. The pressures in retail as well as other factors, however, led to a number of downgrades and price target reductions, including one at Leerink, which lowered its target to $85 from $90.
"Based on recent trading patterns (including yday's reaction to CVS's introduction of same-day/next-day Rx delivery that some viewed as a defensive move against a supposed Amazon's entry into Rx), it is evident that overhangs related to speculation of an Aetna purchase and Amazon's supposed pharmacy plans are the more relevant drivers of NT stock performance," wrote Jefferies analysts in a note, lowering their target to $76 from $86.
"It appears that CVS has learned its lesson, and it is not underestimating any competitive threats in the market," Leerink's Larsen said.
More from TheStreet on CVS:
Editor's Pick: Story originally published Nov. 7 and has been updated.