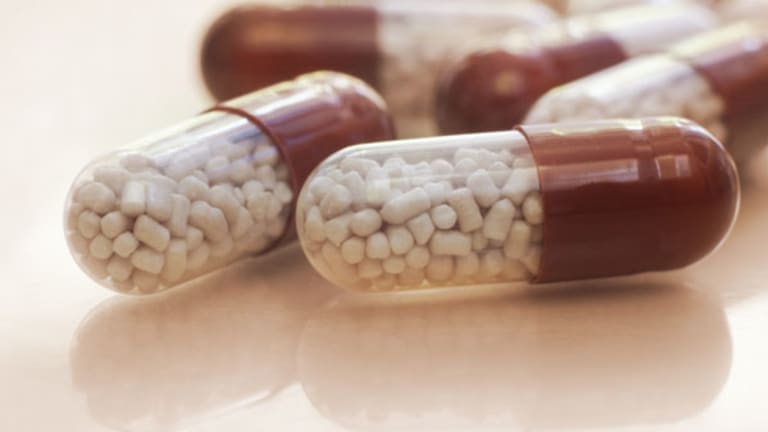 LEXINGTON, Mass. (
) -- The market loves mergers and acquisition rumors and recently, investors have been chattering a lot about
Cubist Pharmaceuticals
(CBST)
and
Optimer Pharmaceuticals
(OPTR)
.
Even before Optimer put itself up for sale earlier this year, Cubist reportedly made an unsolicited $1 billion bid for the company, according to media reports. The rationale for Cubist buying Optimer is fairly easy to understand. The companies are already partners in the co-promotion of Optimer's antibiotic Dificid. Buying Optimer would also help Cubist achieve its five-year strategic goals, one of which is to grow revenue to $2 billion annually.
That being said, I'm not sure Cubist and Optimer make a good strategic fit. For one thing, both companies are developing overlapping antibiotics. Optimer's Dificid is approved for the treatment of C. diff-associated diarrhea (CDAD), while Cubist recently announced plans to move its own C. diff antibiotic surotomycin into phase III studies. Adding Dificid might bolster Cubist revenue in the U.S. but it could also potentially make it more difficult to market surotomycin, if the drug is approved. And Optimer only has U.S. rights to Dificid, meaning Cubist would be unable to sell the drug in Europe.
Cubist may be more interested in acquiring late-stage products that do not overlap with its existing pipeline.
Cempra
(CEMP)
and
Trius Therapeutics
(TSRX)
have both been mentioned as possible buyout targets for Cubist. Trius' lead antibiotic tedizolid does overlap to some extent with Cubist's biggest-selling antibiotic Cubicin in the gram-positive bacteria market, although tedizolid has the potential to be used in broader treatment settings.
What has really sparked investor interest, however, is the recent Trius announcement of a new patent allowance for a "therapeutic combination of the experimental medicine tedizolid phosphate with a currently available antibiotic daptomycin."
Daptomycin is the scientific name for Cubicin.
A fixed-dose combination of tedizolid and Cubicin could limit the small but growing problem of Cubicin resistance and therefore be good for patients. From an investment perspective, the combination of the two drugs is equally positive because it might allow Cubist to protect Cubicin revenue even after patents expire starting in 2018. While the combination would likely not receive New Chemical Entity status given that both drugs would be already approved, Cubist could receive up to five years of market exclusivity if tedizolid-Cubicin is deemed a therapy for a qualified infectious disease.
I'm not guaranteeing a Cubist acquisition of Trius, despite the positive synergies. The two companies may choose to become partners, just like Cubist did with Optimer, or they may do nothing at all. I do believe, however, that deal-making activity will increase between developers and marketers of antibiotics. Cubist, in particular, has been clear about wanting to grow revenue and it's my belief the company needs to look outside for that growth. Trius has already announced plans to find a European partner for tedizolid and Cempra recently brought on a Japanese partner for its antibiotic solithromycin.
An uptick in antibiotic deal making has already started.
Sobek is long Trius.
David Sobek has been writing on biotech for a number of years through various outlets with a general focus on small cap oncology and antibiotics companies. He received his PhD in political science from Pennsylvnia State Univeristy in 2003 and a BA in international relations from The College of William and Mary in 1997.