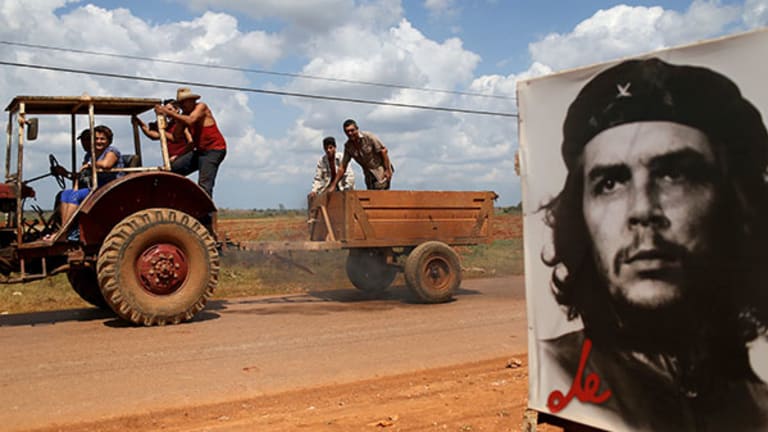 NEW YORK (TheStreet) -- The euphoria created by December's announcement of a new era of Cuba-U.S. relations, and what it means for trade and business, has been diminishing gradually as optimism fades in the face of reality.
The slow pace of diplomacy and politics, relatively high risk and, believe it or not, terrorism are all hurdles that need to be overcome before normal trade with the nearby island nation of 11 million can be restored. And it will take time.
Though President Obama said on Monday in an interview with Reuters that he hopes that United States will have an embassy in Cuba by the second week of April, that does not mean that a flood of U.S. companies will soon be making landfall, ready to do business after more than fifty years of absence.
"My hope is that we will be able to open an embassy, and that some of the initial groundwork will have been laid ... but keep in mind that our expectation has never been that we would achieve full normal relations immediately," Obama said in the interview. "There's a lot of work that still has to be done."
One of the biggest obstacles to normal relations is that Cuba is on the U.S. State Department's list of state sponsors of terrorism. This greatly limits the ability of companies and individuals to engage in financial transactions and trade with people and businesses in Cuba. U.S. banks as well as foreign subsidiaries in the United States have been hesitant to serve as intermediaries in transactions conducted on the island. 
"Capital does not go where there is risk," says Alex Sanchez, president and CEO of the Florida Banking Association, a trade group that represents the banking industry in a state where more than 1.5 million Cuban ex-pats and their descendants reside. "Money does not go to Iran and probably won't go to Cuba for the time being because of the risks."
Cuba and Iran are joined on the list only by Syria and Sudan. Being on the list severely limits the capacity of U.S. companies to do businesses within the country. Under several different U.S. laws, being on the list means that U.S. and international foreign assistance, defense sales and other goods sales are limited and that the country is subject to "miscellaneous financial and other restrictions," according to the State Department website. 
Heavy hitters in the telecommunications industry, such as AT&T (T) - Get AT&T Inc. Report, Sprint (S) - Get SENTINELONE, INC. Report and Verizon (VZ) - Get Verizon Communications Inc. Report, have been waiting patiently to venture into the market. It will be lucrative to link the 11 million Cubans on the island with the two million in United States and Puerto Rico. So far, only IDT (IDT) - Get IDT Corporation Class B Report, a much smaller company, has taken the first step, recently announcing long-distance service in the country -- but the company is proceeding carefully.
"Our primary retail market is focused on the immigrant community", said William Ulrey, vice president of investors relations of at the Newark, NJ-based firm. "We are now in the early stages. We hope, down the road, to advance significantly in other telecommunication services, but that depends on many factors."
Even in areas where trade to Cuba has been well established, U.S. restrictions have been an issue for businesses.
In 2000, under President Bill Clinton, the U.S. government issued an embargo exception to allow food sales, though it denies Cuba credit, forcing it to pay cash up front. As a result, U.S. agricultural sales to Cuba fell in 2014 to $291 million after reaching $700 million in 2008. Other producers like Brazil, Argentina, Canada and some European countries stepped in and are allowing Cuba to buy food on credit.
A 100-member U.S. agricultural delegation began a three-day visit to Cuba on Monday. The visit's purpose is to search of potential partners while also sending a message to the U.S. government to lift the embargo and explore the $2 billion market just 90 miles away.
"It's an ongoing process," says John Kavulich, senior policy adviser at the U.S.-Cuba Trade and Economic Council, a private non-profit advocacy group. "For the time being, they are not talking about investment, as long as Cuba remains on the list of countries that sponsor terrorism."
One of many hurdles.
"Also, we have to keep and eye on how Cuba manages its economy and how it restricts the expansion of the private sector," says Kavulich, adding, "another point, is how it pays its debt."
This article is commentary by an independent contributor. At the time of publication, the author held no positions in the stocks mentioned.