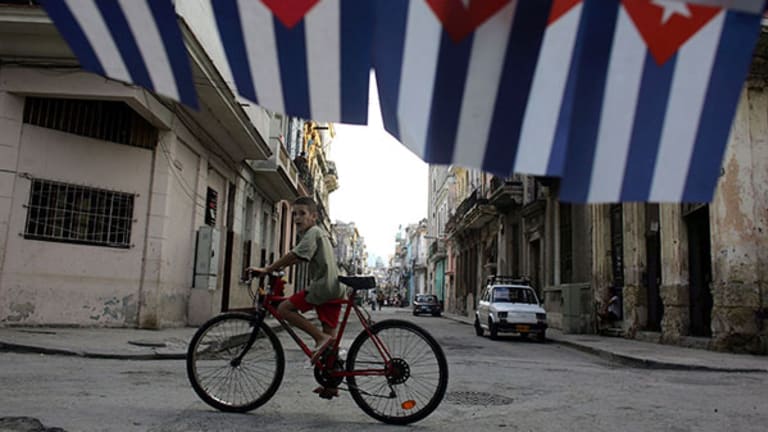 Cuba and United States Are on a Long, Hard Road to Reconciliation
Huge strides have been made in U.S.-Cuba relations since a detente was announced in December. It's just the first step in a long, hard process.
NEW YORK (TheStreet) -- Despite bold steps by President Obama to end years of enmity with Cuba, relations are a long way from being normalized -- and the hurdles that must be overcome are significant.
Last December, after several months of secret negotiations arranged by Pope Francis, Raul Castro and President Obama announced that both countries have taken steps to reestablish diplomatic relations. Still, the two nations have many differences that need to be worked out before normal relations can be fully restored.
"The process won't be easy," said Alcibiades Hidalgo, Raul Castro's former chief of staff and Cuba's former ambassador to United Nations. "Now it is time for negotiations. Castro demands the return to Cuba of Guantanamo Bay, the lifting of the embargo and no interference in the internal affairs of Cuba."
Meanwhile, the United States is asking for the release of political prisoners and free elections, among other civil and political rights for Cuba's citizens.
"It's a give and take process," said Hidalgo.
The first round of talks was held in Cuba in late January. Roberta Jacobson, assistant secretary of state and the highest-ranking U.S. government official who has visited the island in almost 40 years, led the American delegation.
"It's very hard to say exactly how this will work," Jacobson said in her public comments after the talks. ''We think that we need to make decisions in our own interest and take decision that are to going to empower the Cuban people but the verdict on whether that succeeds is still to be made.''
Another point of contention is the repatriation of almost 40,000 Cubans convicted of crimes in United States and the end of the Cuban Adjustment Act -- passed by Congress and signed by President Johnson -- which granted to permanent residency to any native or citizen of Cuba who had been admitted in United States after a year. Castro has been demanding the end of this privilege for the Cubans that have left the island illegally.
"The topics of the deferred deportation of 40,000 Cubans and the annulment of the Cuban Adjustment Act could be at the table of negotiations," said Jesus Pena, a Cuban immigration lawyer at law firm Pena & Kahn in New York.
While the Obama administration can relax some clauses of the long-standing Cuba embargo, it cannot lift it entirely without the consent of Congress.
The second round of talks will be held in Washington, D.C. in the last week of February.
The animosity between the two nations started in 1959, when a young, charismatic leader named Fidel Castro came to power via armed revolution. He nationalized American-owned assets and set higher tariffs for goods imported from the United States. President Kennedy responded, imposing an economic embargo and travel restrictions.
A CIA-backed invasion of Cuba in 1961 helped push Castro into an alliance with the Soviet Union in which the two forged a secret agreement to allow the Russians to deploy nuclear missiles in Cuba, just 90 miles off the coast of Florida. Subsidies and financial aid, provided first by the Soviet Union, and later by Venezuela's Hugo Chavez, allowed Cuba to maintain respectable levels of pubic health and education compared to other underdeveloped countries.
The collapse of the Soviet Union, Chavez's death and the ineptitude of his successor, Nicolas Maduro, pushed Raul Castro, Fidel's brother and successor, into allowing some private economic activity on the island. In the United States, the aging of hardliners within the Cuban community in Florida has helped make a reset of policy toward Cuba possible.
In 2009, newly elected President Obama relaxed some of the restrictions imposed on Cuba, allowing more remittances from the U.S. to Cubans and softening some of the restrictions for Americans visiting Cuba for cultural or educational purposes.
However, later that year, Cuban authorities arrested Alan Gross, a contractor for the Agency for International Development, a pro-democracy group funded by the U.S. government, who visited Cuba to deliver communication equipment, illegal in Cuba, to the Jewish community there. Gross was sentenced to 15 years in prison for attempting to "subvert" the government.
Just few days after the surprise December 17 détente announcement, Gross was released from jail along side a separate spy swap -- one Cuban working for the U.S. for five Cuban spies being held in the U.S. As a sign of goodwill, Castro also freed 53 political prisoners.
While the path may now seem clear for full reconciliation between the two foes, many prominent American legislators oppose it, including anti-Castro Cuban-Americans like senators Marco Rubio, a Republican from Florida, Robert Menendez, a Democrat from New Jersey, and Ted Cruz, a Republican from Texas. Rubio and Cruz are potential presidential candidates.
This article is commentary by an independent contributor. At the time of publication, the author held no positions in the stocks mentioned.