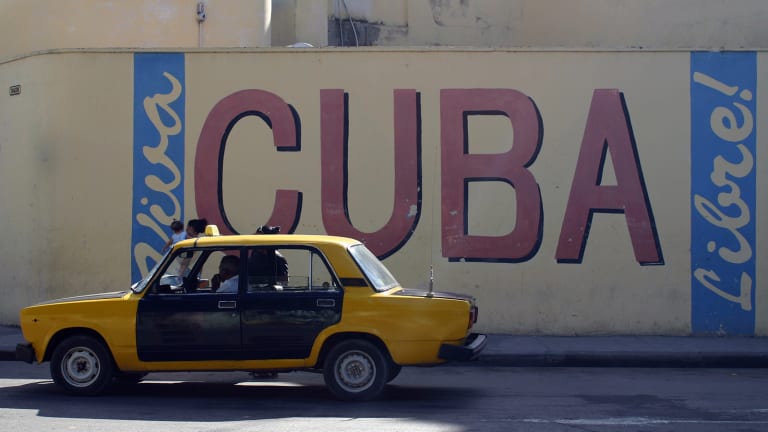 Cuba a 'Longer-Term Play' for Carnival
Due to strict regulations, Carnival has been delayed in opening trips to Cuba, CEO Arnold Donald said on the company's recent earnings call.
Other than scheduling six brief stops to Cuba, Carnival (CCL) - Get Report does not expect to open any major cruise lines from the U.S. to Havana as quickly as its competitors have.
On Thursday, Carnival's Fathom line gained approval to make nine-hour stops to Santiago de Cuba on six voyages making their way to the Dominican Republic, the company said in a statement.
Carnival said in Thursday's statement that Cuba is "one of the world's most in-demand destinations" but the company may not be offering direct cruise lines to the country as soon as competitors Norwegian Cruise Line (NCLH) - Get Report and Royal Caribbean Cruises (RCL) - Get Report have. Norwegian opened bookings for its Cuba trips on Tuesday and Royal Caribbean opened certain bookings on Dec. 9.
"Along with everyone else, we submitted our requests for additional sailings through the beginning of the June period and thereafter," Carnival CEO Arnold Donald said on the company's recent earnings call. "It's just a planning cycle in Cuba and we're in the process of receiving the authorizations from Cuba."
Donald said he hopes Carnival can get approval for more than just one brand - Fathom - to sail to Cuba but the country's authorities "have constraints in number of berths, and the size of the berths and what size ships you can get in and so on."
"So, Cuba's a longer term play but you have to build it today and that's what we're doing," Donald said.
In April, Fathom's Adonia was temporarily approved to sail to Cuba on the condition that U.S. guests would participate in educational and volunteer activities and not just go for the tourism aspect. The cruise expires in May 2017, and Carnival has yet to announce any definitive trips to Cuba for the summer.
The seven-day voyages to the Dominican Republic start at $599 per person and will take place during the weeks of Feb. 26, March 12 and 26, April 9 and 23 and May 7.
On Dec. 7, Norwegian and Royal Caribbean were approved by the Cuban government to begin sailing to Cuba in 2017, with trips beginning as early as March.
On Tuesday, Carnival reported 2016 full-year adjusted earnings of $3.45 a share on $16.4 billion in revenue, crushing analysts' expectations of earnings of $2.67 a share on $12.9 billion in revenue.
The company also posted fourth-quarter earnings of 83 cents per diluted share on $3.9 billion in revenue, compared to Wall Street's estimates of earnings of 59 cents a share on $3.9 billion in revenue. The results came after Carnival's Princess Cruise Lines was hit with a record $40 million in fines on Dec. 1 by the Department of Justice for intentionally dumping oil-contaminated waste into the ocean.
Shares of Carnival are up by 44 cents to $52.87 Friday afternoon.