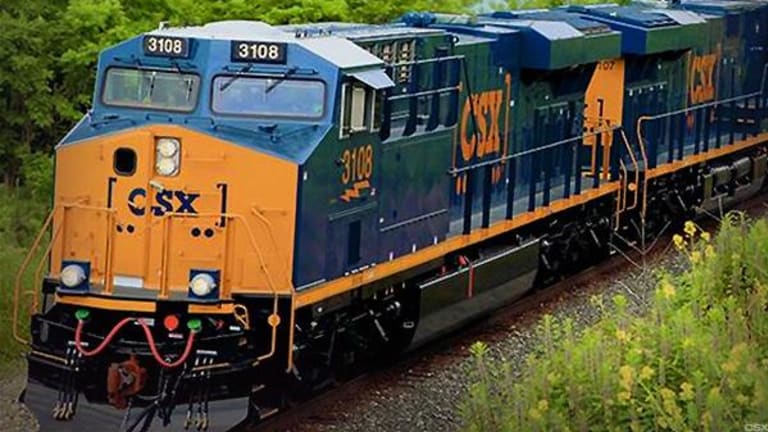 Railroad operator CSX (CSX) - Get CSX Corporation Report will report earnings after the closing bell Wednesday, April 19, and investors will likely be eager to hear the first quarterly report under the company's new regime. 
CSX in March reached a deal to install railroad veteran Hunter Harrison as its chief executive and appoint five new directors to its board that were approved by both CSX and activist fund Mantle Ridge, including Harrison, Mantle Ridge's Paul Hilal and three others.
The move was praised by Wall Street likely due to Harrison's impressive turnaround of industry peer Canadian Pacific Railway (CP) - Get Canadian Pacific Railway Limited Report. Harrison, along with Hilal and Pershing Square's Bill Ackman, are well known for engineering a successful insurgency in 2012 that led to Harrison's installation as CEO at Canadian Pacific and a turnaround that helped Canadian Pacific's Toronto-listed shares climb nearly 190% during his tenure.
"While the stock has stalled in the near term, we look to Mr. Harrison's leadership to instill investor, employee and customer confidence in the outlook, which will likely lead to a materially higher stock value later this year," Barclays analysts said in late March following the deal's announcement. "Investors are engaged, with discussions focusing on what is priced in, how long a turnaround will take and whether structural challenges exist in the eastern US."
Investors are likely still trying to figure those questions out. As Barclays analysts pointed out in March, though, Harrison's track record indicates a quick turnaround could be ahead for Jacksonville, Fla.-based CSX. 
"Hunter Harrison acted quickly at CP, with most margin improvement realized in less than three years," analyst Brandon Oglenski wrote. "Cost efficiencies were broad-based and occurred rapidly in year two of Mr. Harrison's tenure. Labor and fuel efficiency gains continued through 2016 but decelerated as demand headwinds surfaced beginning in 2015."
Credit Suisse Allison Landry concurred in March, noting that at Canadian Pacific, Hunter was able to drive operating ratio expansion of 1200 basis points in the first two years of his tenure. 
"The starting point is better at CSX - how fast could it happen?" Landry wrote in March. "Based on our recent discussions with management, Hunter has already been conducting meetings with senior management, suggesting that the planning has already begun."
But CSX's first-quarter earnings report is not likely to wow investors as the company isn't full steam ahead on the path to improvement just yet. Barclays has suggested the company's operating improvements will begin to accelerate in the second half of the year.
And to be sure, there are still a few details of Harrison's contract to be ironed out. For one, shareholders still have to vote on parts of the new CEO's compensation package at the railroad company's 2017 annual meeting in June. 
At the moment, though, analysts on consensus are calling for earnings of 43 cents per share on nearly $2.8 billion in revenues for the first quarter. That's an earnings improvement of 6 cents from the same period a year ago, but a 6-cent reduction from the fourth quarter of 2016. CSX's expected first quarter sales are also well below the more than $3 billion it recorded in the fourth quarter, but a slight improvement from the $2.6 billion it reported a year ago. 
CSX shares are down a little more than 3.5% since the company announced Harrison's appointment March 6, but the stock had run up more than 30% by that date from when talks between the railroad and activist Mantle Ridge were revealed in mid-January. As of Tuesday's close, the company's shares were still up more than 26% since word of the activist situation leaked. CSX was trading up less than 1% Wednesday morning ahead of earnings, which are expected after 4 p.m. 
Canadian Pacific also reports after the close Wednesday and is expected to post earnings of $1.86 per share on $1.2 billion in sales for the first quarter. Meanwhile, another of the companies' competitors, Norfolk Southern (NSC) - Get Norfolk Southern Corporation Report, reports April 26 and is expected to post $1.36 per share in earnings on revenues of $2.5 billion.