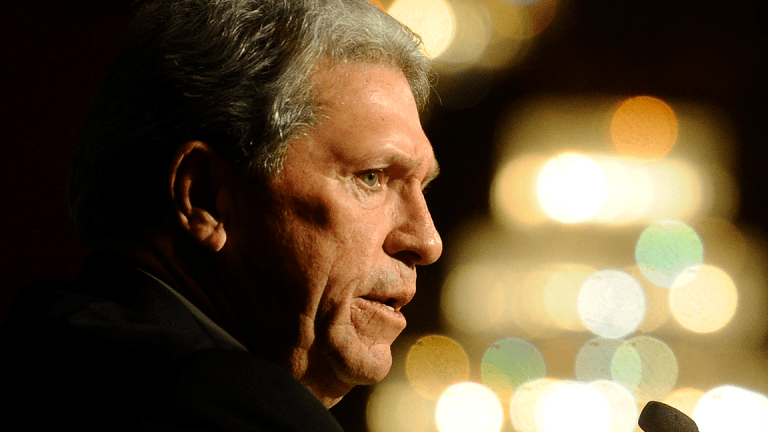 CSX Stock Sinks After CEO Hunter Harrison Takes Medical Leave
Shares of the Jacksonville, Fla.-based company dropped after announcing that CEO Hunter Harrison has taken a medical leave of absence.
CSX Corp. (CSX) - Get CSX Corporation Report shares fell Friday morning after announcing that Chief Executive Officer Hunter Harrison has taken a medical leave of absence due to complications from a recent illness.
Jim Foote, who joined the company in October as its chief operating officer, was named acting CEO while Harrison is on leave. Foote, who worked with Harrison at Canadian National for 11 years, declined to provide further details of Harrison's condition and when he might return during a conference call with analysts Friday morning.
Shares of CSX fell by about 7.7% to $52.88 at 11:15 a.m. EST during the trading session on Friday. The stock had dropped by as much as 12% in premarket trading.
"This is amazing, this man [Harrison] charmed Wall Street, is he worth a 10% decline?" TheStreet's Jim Cramer asked on CNBC. "Well, he gave you a 25% advance," Cramer continued.
Harrison, 73, was installed as CEO of the Jacksonville, Fla.-based railroad company in April 2017 as part of activist investor Paul Hilal's efforts to shake up management at CSX. Prior to joining CSX, Harrison had been at the helm of Canadian Pacific Railway Ltd. (CP) - Get Canadian Pacific Railway Limited Report for five years, according to BoardEx, a relationship mapping service of TheStreet Inc.
Harrison's age and overall health were in focus earlier this year as investors were asked to vote on an $84 million compensation package. The Wall Street Journal reported that Harrison has a medical condition that requires him to "frequently use an oxygen tank" and he declined requests by CSX's board to have an independent physician review his medical record during the brief proxy battle. Still, a vast majority of shareholder supported Harrison and rewarded him with the $84 million payment.
Despite Harrison's leave, Foote said that he does "not see any reason to diminish our expectations concerning the pace and magnitude of our future progress." He said that the real heavy lifting has been done.
"The Precision Scheduled Railroading framework has been put into place and the company has the critical railroad talent sufficient to follow through and execute on the PSR operating plan," Foote said. Precision Scheduled Railroading refers to repetitive on-time performance.
BMO Capital markets analyst Fadi Chamoun concurred, saying that CSX has accomplished more than 50% of its restructuring targets, and Foote has the skill set to keep moving the ball forward.
"CSX has already made meaningful changes in its turnaround, with the heavier lifting complete and foundations of Precision Scheduled Railroading firmly in place," Chamoun wrote in a research note. "We sense that the company has already executed on over 50% of its estimated $1.1 billion cost improvement opportunity, which puts it at a run-rate of 65% operating ratio."
BMO has an Outperform rating on the stock with a $60 price target.
Even though there is no timetable for Harrison's return, Foote said it was "way too early" to discuss succession plans.
"For what it's worth, we observed a mutually respectful, and even collegial, relationship between Mr. Harrison and Mr. Foote as they interacted during the keynote CSX fireside chat that we hosted at the CS Industrials conference two weeks ago," Credit Suisse analysts Allison Landry and Anuj Shah wrote in a research note. "This gives us reason to believe that Hunter - at his post or not - may very well pull it off after all."
"There is still much more work to be done here, but again everyone is focused," Foote said.
More of What's Trending on TheStreet: