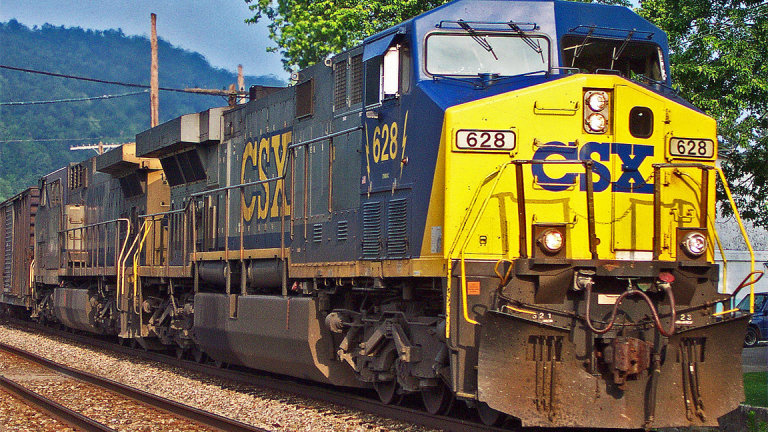 CSX Shares Fall as Earnings Beat Estimates, Revenue Doesn't
The railroad company reported adjusted earnings of $64 cents a share on revenue of $2.86 billion for the fourth quarter.
CSX Corp. (CSX) - Get Report shares declined by about 0.5% in after-hours trading after the railroad company reported better-than-expected earnings for the fourth quarter but didn't meet revenue expectations.
The Jacksonville, Fla.-based company posted net earnings of $4.1 billion, or $4.62 on a per share basis, an increase from $458 million, or 49 cents per share, during the same period last year. Adjusted earnings per share of 64 cents beat analysts' expectations of 56 cents a share but revenue of $2.86 billion fell short of forecasts of $2.9 billion, according to FactSet Research Systems Inc.
For the full year, CSX reported adjusted earnings per share of $2.30, surpassing estimates of $2.21. 
Prior to the earnings announcement, CSX shares dropped by about 1.9% to close at $58.13 during afternoon trading on Tuesday.
The quarterly results come exactly one month after Chief Executive Hunter Harrison suddenly died at the age of 73. Harrison was named CEO in March 2017 as part of a settlement with activist investor Paul Hilal and his fund, Mantle Ridge. Under the terms of the deal, Harrison received a four-year contract and a controversial pay plan that was approved by 93% of voting shareholders.
Jim Foote, who joined the company in October 2017 as its chief operating officer, was named CEO on Dec. 22, 2017. Foote, who had worked alongside Harrison for more than a decade, said he remains committed to delivering Harrison's vision, particularly the implementation of Precision Scheduled Railroading, which refers to repetitive on-time performance.
In a letter to the Surface Transportation Board, Foote said that the company is currently in the second of two phases of Precision Railroading implementation is "well underway." The first phase, involving "top-to-bottom" changes such as hump yards to flat switch, is complete and has produced performance metrics that show a "remarkable rate of positive change," Foote said.
"The update is largely consistent with our thoughts following the tragic passing of former CEO Hunter Harrison, where we noted that there is 'no change our view on CSX's potential, underpinned by a strategy largely set during Hunter's 10-month tenure at CSX...which we expect to be implemented by an army of railroaders, many of whom were hand-picked by Hunter following his appointment as CSX CEO,'" Deutsche Bank Markets Research analyst Amit Mehrotra wrote in a Jan. 8 research note.
Even without Harrison at the helm, "we expect margin improvement will continue under the operating model he established and see a pathway to a sub-60% operating ratio achieved over a four-year turnaround," J.P. Morgan analyst Brian Ossenbeck wrote in a Jan. 11 research note.
Still, CSX has faced volume headwinds due to a strong U.S. dollar and low commodity prices, and "while these challenges will not vanish in 2017 and 2018, the overall volume outlook is modestly positive," Ossenbeck said. J.P. Morgan rates CSX stock at Overweight with a $66 price target.
There are 17 Buys, eight Holds and two Sells on CSX stock, according to Bloomberg data.
The company's 2018 investor conference is scheduled to be held March 1 in New York City.
More of What's Trending on TheStreet: