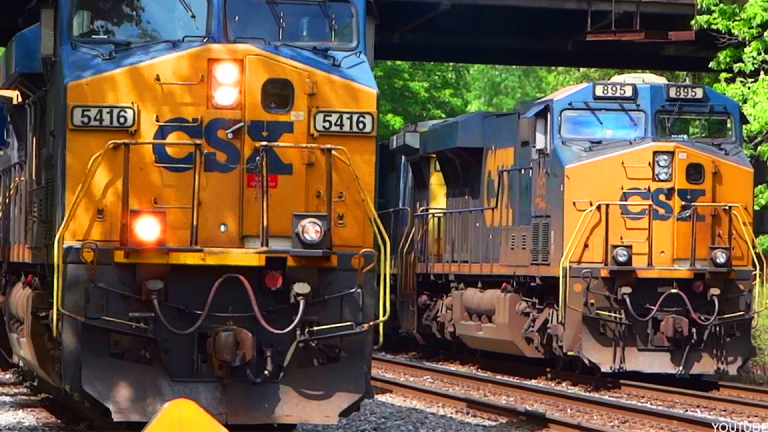 CSX's Quarterly Results Puts Pressure on Investor Day
While the bulls might have appreciated the better-than-expected Capex guidance, analysts anticipate further details on the 2018 guidance and long-term targets at the company's Analyst Day on March 1.
It was a tumultuous fourth quarter for CSX Corp. (CSX) - Get Report , considering the sudden death of Chief Executive Hunter Harrison, and while earnings beat expectations and the free cash flow story is developing, analysts said it may be at least a month before the company can clarify its turnaround plan for 2018.
The Jacksonville, Fla.-based railroad operator reported mixed quarterly results after the bell on Tuesday, Jan. 16. Adjusted earnings 64 cents a share surpassed estimates of 56 cents a share, while revenue of $2.86 billion just fell short of forecasts.
J.P. Morgan analysts, however, noted that the EPS beat "was largely driven by the reversal of previously accrued incentive compensation, helped by discrete state tax benefits." The team of analysts at J.P. Morgan viewed the quarterly results and initial 2018 guidance as a "modest negative near term."
The decrease in capital expenditures, or capex, was notable in the initial guidance for 2018, but more detail was needed to discern how the turnaround plan would play out in the year ahead.
The better-than-expected capex guidance at $1.6 billion coupled with a tax rate estimate of 25% "seems to set the stage for nearly $3 billion in [free cash flow]," Citi Research analyst Christian Wetherbee wrote in a Jan. 16 research note. "We think the prospects for the stock are very good, particularly as it seems like our bullish FCF estimates may prove conservative." Citi rates CSX stock at Buy with a $64 price target.
J.P. Morgan analysts expressed a similar sentiment.
"The declining capex intensity builds on a 25% reduction in 2017 as increased asset utilization and network fluidity boosts free cash flow -- a clear positive in a time when upside to rail valuations are increasingly tied to sustainably higher FCF yields," the J.P. Morgan analysts said.
While bulls may be pleased with the capex guidance, which could translate to higher share buybacks, analysts at Morgan Stanley cautioned that not all FCF is equal.
"CSX management stated on the call that the drivers of the lower capex were pulling back on locomotive spend 'for the foreseeable future' and pushing out technology spending until the new management team can get a handle on this -- both of these stand in stark contrast to growth rails like Canadian National Railway (CNI) - Get Report and Canadian Pacific Railway Ltd. (CP) - Get Report which are likely to raise capex for 2018 to handle incremental volumes and invest in future technology initiatives to combat tech disruption," the team of analysts at Morgan Stanley said.
Aside from the lower capex guidance, the company with a market capitalization of $51 billion anticipates a slight increase in revenues and CEO Jim Foote, who was installed after Harrison passed away in December, said the operating ratio should decline every year for the next three years.
That being said, "the composition of revenue growth and trajectory of operating margin improvement remained unquantified and will be among the many topics to delve into at the investor day," the J.P. Morgan analysts, including Brian Ossenbeck, wrote in a Jan. 17 research note. The firm rates CSX stock at Overweight with a price target of $65.
The group of analysts at Morgan Stanley said they would not be surprised if they only got qualitative long-term guidance without specific numbers until the new management team finds their footing. Although, "disappointing guidance at the analyst day could be a sell-the-news event until the new management team can demonstrate consistent revenue/cost traction," the analysts said. Morgan Stanley has an Underweight rating on the stock with a $51 price target.
The highly anticipated Investor Day is scheduled for March 1.
CSX shares fell 0.7% to close at $57.69 on Wednesday.
There are 17 Buys, eight Holds and two Sells on the stock, according to Bloomberg data.
More of What's Trending on TheStreet: