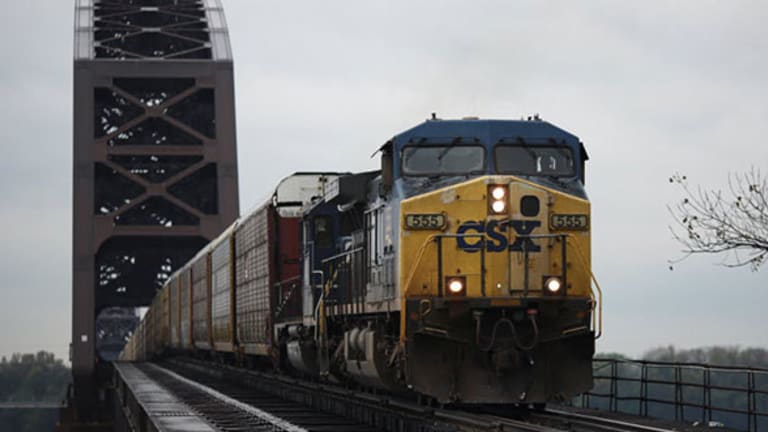 Publish date:
CSX Investors Overshoot the Station
Shares fell more than 3% Wednesday after CSX reported fourth-quarter earnings that missed by a penny. Investors had grown overconfident due to positive commentary
Shares fell more than 3% Wednesday after CSX reported fourth-quarter earnings that missed by a penny. Investors had grown overconfident due to positive commentary
CSX (CSX) - Get CSX Corporation Report reported fourth quarter results that by most measures were adequate, especially given the challenges that faced the company throughout 2016. Alas investors were primed to expect better than adequate, and ran for the exits as a result.
Jacksonville, Fla.-based CSX after markets closed Tuesday reported quarterly net earnings of 458 million, or 49 cents per share, compared to net earnings of $466 million, or 48 cents per share, a year prior. Analysts had expected CSX to earn 50 cents per share, according to FactSet.
CSX did beat expectations by reporting $3.04 billion in revenue, a 9% gain year-over-year thanks in part to the 2016 quarter having an extra week. Operating income for the quarter was $1 billion, which included the $115 million gain from the property sale and the $62 million benefit from the extra week.
Rail companies in general and Eastern-focused ones like CSX in particular were hard hit in 2016, with a decline in coal shipments leading to the worst industry year since the 2009 recession in terms of volumes. CSX for the full year generated $11.1 billion in revenue on a 5% overall drop in volume and a 21% decline in the company's coal business.
CSX saw coal revenue decline by $470 million in 2016. Investors were disappointed by the results, with shares falling as much as 4% in the premarket Wednesday and trading down more than 2% after the open.
While CSX missed by only a penny, Cowen analyst Jason H. Seidl in a note said "we believe some investors' confidence that the company would beat consensus had been rising based primarily on management's relatively positive tone in presentations since third quarter earnings."
Company president Clarence Gooden, for example, speaking at the Midwest Association of Rail Shippers meeting in Chicago earlier this month was bullish on the economy and on export coal. While Gooden prefaced his remarks by saying that he was discussing his thoughts, and not formal guidance from the company, several analysts walked away from that meeting optimistic that fourth quarter targets were conservative.
CSX struck an optimistic tone on a call with analysts Wednesday morning, predicting first quarter earnings per share growth in the low- to mid-teens compared to a year prior. For the full year the company notes that it expects capital investment to decline by $500 million to $2.2 billion in 2017, a positive to both earnings and free cash flow.
The company has a favorable outlook for about 30% of its business, sectors including agriculture, automotive, minerals and coal for export. It has a neutral outlook for forest products and intermodal business, which accounts for about 49% of volume, and warned that chemicals and domestic coal would remain challenged.
Rail intermodal business competes with trucking, and there is at least a hope in the rail industry that new trucking regulations and a tightening labor market that could make drivers hard to find could lead to an uptick in business going to rail in 2017. But longer-term talk of autonomous vehicles is a threat to this key slice of rail volumes.
Costs remain a focus at CSX. The company, which spent nearly 91% of its revenue on operations as recently as 2003, has grinded its operating ratio down to about 70% in recent years. But unsolicited takeover overtures by Canadian Pacific Railway (CP) - Get Canadian Pacific Railway Limited Report in recent years have left both management and investors focused on getting the ratio into the mid-60s, with only modest results to date.
Company officials on the call said they continue to work to drive down costs, but it is growing increasingly clear that the easiest way to bring that ratio down further would be a boost to revenue. Unless high-volume businesses like domestic coal and intermodal rebound, significantly lower ratios appear to be a good distance away.