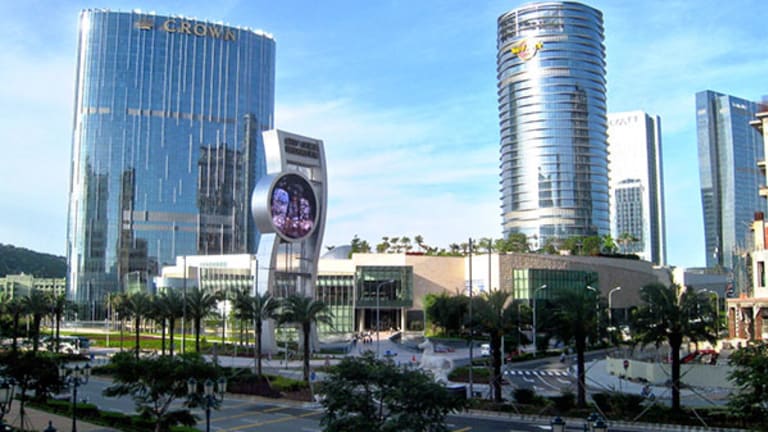 Crown Resorts Reduces Stake in Melco Crown Further
Crown Limited is selling a 13.4% stake in Melco Crown, lowering its investment in the company to 14%.
Macau-based gaming company Melco Crown  (MPEL) shares were down 5.66% to $16.33 Thursday afternoon after founding shareholder Crown Resorts announced it was selling a 13.4% stake in the company.
This is the second time in less than a year that Crown Resorts has lowered its stake in Melco. In February Crown reduced its stake in the company to 27.4% from 34.3%, netting the company $800 million.
Crown, which maintains a 14% stake in Melco, entered into a bilateral agreement with Melco for the sale of 66 million Melco American Depository Shares (ADS) for $18 per share, to be completed over the next few months. The sale is expected to net Melco $1.6 billion. 
"CWN had become a passive shareholder in recent years and stepped back from executive roles - so we don't see any change in day-to-day management," Wells Fargo analyst Cameron McKnight wrote in a note today, according to Barron's.
Crown Resorts had trouble in Macau in October after Chinese officials detained some of its employees and accused them of illegally recruiting Chinese gamblers to Australia. 
Despite the significant divestment from a company that has some of the highest exposure to the Macau gaming region among other U.S. traded casino companies, McKnight does not see Crown's sale as an indictment of the region. 
"This is part of CWN's announced strategy to reduce its international investments, so we don't see it as a long term call on Macau. We remain Neutral on MPEL and Macau operators generally," McKnight wrote. 
Macau is on track to report five consecutive months of year over year revenue growth to close out the year after reporting 26 consecutive months of declines. 
Deutsche Bank (DB) - Get Report , UBS (UBS) - Get Report and Morgan Stanley (MS) - Get Report will act as the underwriters for the sale.
"I dont think (the company) will change at all because, after all, Melco Crown Entertainment was an independently listed company on Nasdaq for the last 10 years. And we have got great infrastructure and a great team," Melco CEO Lawrence Ho told CNBC Thursday morning.