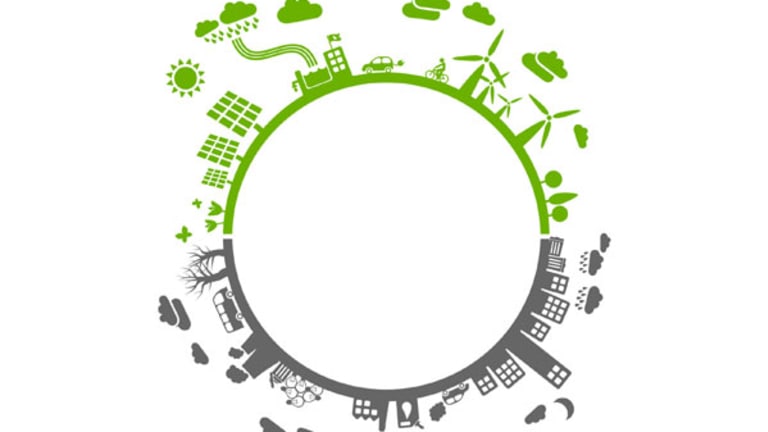 Cree: Clean Tech Winners
Cree shares are gaining ground and hit a new three-month high as the Street becomes more bullish on the LED company.
NEW YORK (
) --
Cree
(CREE)
shares are continuing their recent bullish ride on Wednesday morning, up by 7% in early trading, hitting the latest in a series of three-month highs.
While the markets have been rocky as of late, it's been onward and upward for Cree shares after a rocky late summer and fall sent shares into a nosedive.
Morgan Keegan added Cree to its focus buy list on Wednesday, though it was a few weeks ago that
TheStreet
reported on a resurgence of bullishness for Cree shares and Morgan Keegan moving back to a buy rating.
>>Cree Bucks the Trend: Clean Tech Winners
Morgan Keegan analyst Harsh Kumar thinks there's plenty of upside potential for Cree in the coming year, with the analyst's one-year price target on being raised from $48 to $75.
Oppenheimer & Co. released a note to clients this week recommending investors buy Cree.
"Yesterday we met with Cree. Our general impression is that the lull in various LEDend markets will last into early
first quarter 2011 but that the elements of a very strong 2011 are falling into place. Chinese street lighting quotations have resumed and point to renewed order momentum in 2011; design activity for next-generation LED luminaires is accelerating; and LED-LCD panel builds should pick up after the Chinese New Year. To be sure, there's a measure of uncertainty about exactly when China and LCD kick back in, but uncertainty is the building block of excess return. It's what allows you to buy a company likely facing exponential market growth opportunities for a 14x P/E (excl. cash). We'd buy it," Oppenheimer analyst Yair Reiner wrote.
Kumar previously had a buy rating on Cree when shares were at $17. The last time Cree shares traded as low as $17 was the beginning of 2009. Kumar rode the Cree story until shares of the LED company hit $52 by the end of 2009, when he downgraded the stock.
Cree bears concede that trading may turn bullish for the LED stock with the inventory glut that fueled shorts ebbing, however, the bears maintain that the long-term structural headwinds for Cree haven't changed.
>>Cree Hits Three-Month High
Two short-term headwinds, in particular, are set to be a thing of the past in Kumar's assessment.
First, there was a major glut in the LCD TV market last summer, leading to a freefall in shares of companies that supply LED backlighting. Cree acknowledged the revenue dip from the LCD TV market, however, Cree bulls noted all along that the TV market is a minor revenue affair for Cree, representing 10% of revenue and an ever-decreasing percentage of revenue. Kumar believes it doesn't matter if the LED backlighting to the TV market is a minor part of the Cree revenue model. What matters is that it was adding "insult to injury" for Cree.
The other short-term headwind in the past quarter was a slowdown in orders for Chinese street lighting, which no one saw coming and was another "last thing Cree needed" in a tough overall operating environment. The Morgan Keegan analyst said that China just released new standards for street lighting in October and the bidding is picking up again.
Kumar noted that the issue for Cree in the past two quarters has been coming up short with its guidance, but he is gaining confidence that it will see an uptick in both the Chinese street lighting and LCD TV markets in the March quarter, and a miss on guidance in December is becoming less likely.
"I wasn't pushing the stock at $80, but I'm simply getting back in with the China play," the Morgan Keegan analyst told
TheStreet
at the time of his Cree upgrade.
-- Written by Eric Rosenbaum from New York.
>To contact the writer of this article, click here:
Eric Rosenbaum
.
>To follow the writer on Twitter, go to
.
>To submit a news tip, send an email to:
.
RELATED STORIES:
>>Cree Hits Three-Month High