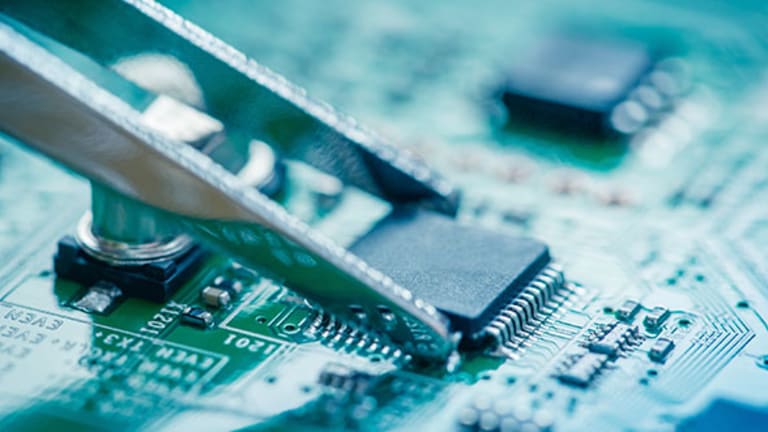 Publish date:
Cramer: These Three Chip Stocks Are Off The Charts
Semiconductors have surged this year, but there's more room to run for some, says Jim Cramer.
Semiconductors have surged this year, but there's more room to run for some, says Jim Cramer.
For his "Off the Charts" segment on Mad Money this week, Jim Cramer talked with Suz Smith, of Strategic Portfolio Solutions, a technician, who is co-founder of ExplosiveOptions.net and a contributor to RealMoney.com.
The discussion focused on semiconductor stocks, which have been one of the best performing sectors so far this year. This week Lam Research (LRCX) - Get Lam Research Corporation (LRCX) Report , a Cramer favorite, reported a strong quarter and saw its stock rise sharply.
That's a good sign for the sector because chipmakers only buy Lam's expensive equipment when they need to boost output to meet rising demand.
Now, even after experiencing a pullback earlier this month, Smith points out that the semiconductor group has been one of the strongest places to put your money in 2017. For the first quarter, the VanEck Vectors semiconductor ETF (SMH) - Get VanEck Vectors Semiconductor ETF Report was up 12%, far outpacing the S&P 500, up 5.5% over the same period including dividends. And when the SMH pulled back earlier this month, it found a powerful floor of support at its long-term trend line, and for the past few days it's been bouncing back pretty hard.
When it comes to the semis, there are three particular names that Smith thinks are worth highlighting: Microchip Technology (MCHP) - Get Microchip Technology Incorporated (MCHP) Report , which makes microcontrollers for all sorts of devices, Micron (MU) - Get Micron Technology, Inc. (MU) Report , the commodity maker of DRAMs and flash memory chips that just keeps roaring, and Advanced Micro Devices (AMD) - Get Advanced Micro Devices, Inc. Report , the best performing semiconductor stock of 2016 that nevertheless seems like it peaked back in February.
Microchip Technology is one of Smith's favorite names in the space. She likes that Microchip has been in a strong uptrend for the past year, with the latest leg starting at the end of December. When the big money likes a stock, it tends to keep going higher until something derails the story. And in the case of Microchip, Smith says we're dealing with a stock that has very strong institutional ownership. In other words, Microchip is almost an anointed winner at this point.
Beyond that, Smith points out that this stock recently had a successful test of its 50-day moving average, at around $72. Meanwhile, the full stochastic oscillator, a momentum indicator that tells us when a stock has gotten overbought or oversold, is flashing a buy signal here as it moves higher. Plus, Smith notes that the moving average convergence divergence or MACD indicator, a tool that helps technicians detect changes in a stock's trajectory before they happen, just made a bullish crossover, where the black line crosses above the red one, and this is one of the most reliably positive signals out there. If Microchip Technology can clear its near-term ceiling of resistance at $75, which is only a few cents above where the stock is currently trading, then Smith believes it can make its way to $86 in the not too distant future.
Next up is Micron. The stock spent the past year roaring higher, and if Smith is right, then it's got more room to run. Micron's not some fancy proprietary semiconductor play -- they make commodity products, DRAMs and flash memory chips, a total boom-and-bust business. Eventually, Micron's end markets will go bust as they get flooded with new supply and pricing comes down, but for the moment it's still very much in boom mode and that could last a while longer before this move runs out of juice.
Smith likes that Micron has been making a pattern of higher highs and higher lows, with the stock giving us an astonishing 58% gain since the election. Micron already reported at the end of March, and while the stock surged higher on some very strong results, it then pulled back from just over $29 down to $26 and change. In the past few sessions, though, Micron has begun the bounce back, and Smith sees signs that suggest this rally is for real. First, the stochastic oscillator is now turning up from some deeply oversold levels, a classic signal that it's time to buy. Second, the Williams percent R oscillator, another tool to measure whether a stock is overbought or oversold, created by legendary commodities trader and off the charts contributor Larry Williams, seems poised to move higher off of a very oversold level as well, just like it did when Micron roared higher in November, January and February.
Now, Smith thinks that the pattern in Micron's stock resembles the price action from last December, when the 50-day moving average was trending upwards in a huge way and we got a major rally. Perhaps best of all, Smith notes that Micron has a floor of support at $25.84, about a buck and a half below where it's currently trading, which makes this a low-risk entry point, as she believes Micron could have smooth sailing all the way up to $34 in the fairly near future.
Finally, there's Advanced Micro Devices. After more than quadrupling last year, this stock has been trading sideways since February. The reason? In 2016, AMD and its fellow-graphics chip maker NVIDIA were red-hot, the best performers in the group, and investors crowded into them because they were some of the only semiconductor names whose growth could be relied upon. This year, though, because Apple and Samsung both have new, hot smartphones, the cellphone-oriented chipmakers have gotten their mojo back, and that means AMD's stock has more competition.
However, Smith likes what she sees here. AMD's stock has stabilized above its March lows and the selling has occurred on lower volume, a sign that sellers might be less motivated than they seem. Meanwhile, the stochastic oscillator is in deeply oversold territory and turning up, which Smith says is a terrific buy signal. She thinks AMD has upside to its 50-day moving average, where it just might fill in the gap back up to $14, which would make for an 8% move from these levels.
One concern is that AMD reports on May 1, and while this company has given us a miraculous turnaround, a less-than-perfect quarter might throw this newly out-of-favor stock off kilter.
But here's the bottom line: thanks to Lam Research, we know that its semiconductor customers are on fire, and the charts, as interpreted by Suz Smith, suggest that Microchip Technology, Micron, and AMD are all worth buying.
Meanwhile, over on Real Money, Cramer says IBM's (IBM) - Get International Business Machines (IBM) Report slow turnaround is obscuring more successful turns going on in three other Dow stocks, McDonald's (MCD) - Get McDonald's Corporation (MCD) Report , Walmart (WMT) - Get Walmart Inc. Report , and Coca-Cola (KO) - Get Coca-Cola Company Report . Get his analysis and strategies with a free trial subscription to Real Money.
Cramer and the AAP team are concerned that the longer-term bullishness in Starbucks (SBUX) - Get Starbucks Corporation Report could be causing some unintended -- and unwanted -- short-term bullishness. Find out what they're telling their investment club members. Get a free trial subscription to Action Alerts PLUS.
Watch more of Jim Cramer's latest videos:
, which Cramer co-manages as a charitable trust, has a position in SBUX.