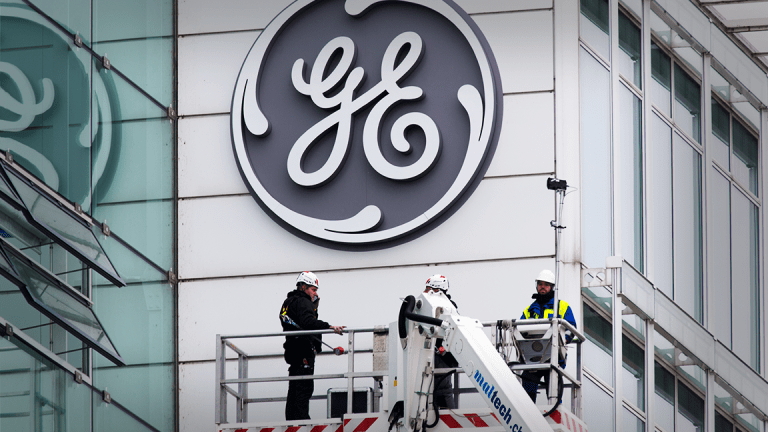 General Electric's Stock Is Finally Close to Bottoming Out: Jim Cramer
Struggling industrial conglomerate GE could see its stock slide to $17. But then, it may be a buy.
Struggling industrial conglomerate GE could see its stock slide to $17. But then, it may be a buy.
General Electric (GE) - Get Report shares have recently been through the wringer, but Jim Cramer says they could be close to bottoming out. 
"I interviewed CEO John Flannery [Tuesday] on Squawk on the Street and I have to tell you, I think that in the end, this company -- which could earn $1.06 in 2018 -- is close to a bottom," Cramer said during a private conference call with members of his Action Alerts PLUS club for investors. Cramer said he thinks that GE shares, which fell 2 cents to $18.25 Thursday, could bottom out at $17.
It's been a rough year for GE, with it shares plunging some 42.5% so far this year vs. the S&P 500's 15.5% gain. Flannery took over in August from longtime CEO Jeffrey Immelt, who stepped down as the stock's performance languished.
General Electric disappointed Wall Street yet again on Monday by announcing plans to slash its quarterly dividend in half to save cash to fuel a restructuring. Flannery intends to refocus the industrial conglomerate's sprawling businesses on just health care, aviation and energy. GE is also shrinking its board of directors to 12 members from the current 18.
"GE ... is perhaps the most problematic position of all [in Cramer's charitable portfolio] -- and probably one of the worst positions we've had," Cramer said.
The stockpicker added that he wished Flannery had been "more forthcoming" about GE's problems so that "we could better figure out what can go right." Cramer also said he believes 2018 "will be a very difficult year" for the company.
"I had interviewed former CEO Jeff Immelt many times [over the years, and] my feeling is that I just got had," he said. "There have been some instances in the last 20 years, 25-odd years, where I've been had, [but] it's like a bad loss in a game in the NFL. You've gotta move on."
Want to join in on Jim's monthly conference calls? Click here for a free 14-day trial subscription to Action Alerts PLUS and hear all of the latest call, plus get alerts before Jim makes any trade and enjoy lots of other exclusive material.
GE is the lone survivor of the original Dow 'Dirty Dozen:' 
More of What's Trending on TheStreet: