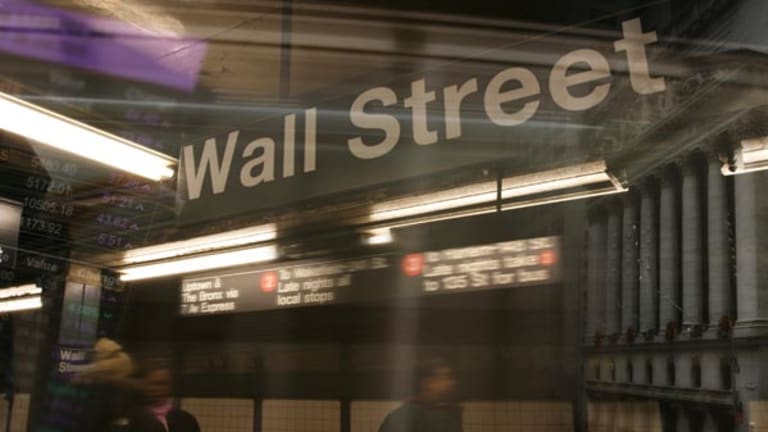 Cramer: Running With Deckers
Sometimes you know when you are in on something big. I knew it when I sat down with the Skechers (SKX) guys not long ago.
This article originally appeared on RealMoney.com onSept. 5, 2014 at 6:28 a.m. To read more content like this AND see inside Jim Cramer's multi-million dollar portfolio for FREE...Click Here NOW.
Sometimes you know when you are in on something big. I knew it when I sat down with the Skechers (SKX) - Get Skechers U.S.A., Inc. Class A Report  guys not long ago. I could tell that they have enough breakout shoes with enough new styles that they were going to have a good run. It's been a terrific stock and I expect it to continue to be so.
Now, after speaking yesterday to Angel Martinez, the chairman, president and CEO of Deckers Brands (DECK) - Get Deckers Outdoor Corporation Report , I feel exactly the same way about Deckers here as I did about Skechers before its monster run. Deckers, I believe, is about to have a breakout that's going to be huge, and even as it has come far off the bottom there's a great deal more to run.
See why Jim Cramer says he likes Deckers over Lululemon:

WATCH: More market update videos on TheStreet TV | More videos from Brittany Umar
If you haven't looked at Deckers in a long time, or if you only thought it was a takeover target or just a dying single women's brand named Ugg, I am telling you that you need to pull the file again.
STOCKS TO BUY: TheStreet Quant Ratings and Dave Peltier's Stocks Under $10 has identified a handful of stocks that can potentially TRIPLE in the next 12 months. See them FREE today...Click Here NOW.
That's because Martinez, who worked amazing magic at Reebok many moons ago, has totally re-invented the company to be such a multi-brand, multi-channel organization that I think you will be saying "ugh" if you don't participate in the stock. And it's all been done totally under the radar, revealed only yesterday when the company rang the bell at the New York Stock Exchange and changed its name from Deckers Outdoor to Deckers Brands. The name change is very much in synch with the new company that Martinez has built.
It is true that Uggs is still the dominant piece of the Deckers puzzle, more than 80% of sales. But what matters isn't where the company is now but where it is going to be next year. And next year I think the company will still largely be about Uggs but it will not just be a tired women's boot offering. Uggs will be a rejuvenated, multi-shoe line that has more men's shoe business than you ever thought possible. That's because Martinez has developed a full suite of men's shoes, slippers and boots promoted by a very engaged Tom Brady, who is featured in a series of ads, one of which you will see unveiled this weekend during the season openers. I've watched it; I think you will find it memorable and a potential needle mover.
One of the big raps against Uggs has been that they are too expensive for the younger kids, the tweeners. Not anymore. Deckers is now offering an entry position Ugg with an $80 price point for the younger crowd.
Martinez is also leveraging the brand into clothing, robes and tops -- a natural, something that should have been done ages ago.
These are all important to the story. However, Deckers has two initiatives that I think are going to be gigantic for the company: yoga shoes and running shoes. Martinez has always been able to spot unmet needs. He invented the aerobics shoe to meet the need of that form of exercise just when it started to go mass. He's doing the same with yoga shoes, a form of exercise that's already ascendant but still in growth mode. It's also something that yogi-dominant Lululemon (LULU) - Get Lululemon Athletica Inc Report  hasn't even touched. There really aren't any yoga shoes. Until now.
And with its Hoka running shoe brand, the company's got a terrific cushioned shoe that's getting raves in Runners World from runners who have been plagued with knee problems. As a former runner who quit because of knee pain, I am going to buy a pair this weekend, especially after Angel, plagued with a similar set of knees, told me he has begun to run again because of these innovative, light-weight but heavily cushioned shoes.
Deckers, which has been largely a wholesaler of shoes, has now also become far more aggressive with its own stores and with the web, recognizing that just as consumers like to use stores as show rooms, they will also use the web to browse and then come to the stores to try them on and buy. It can work both ways.
The stock's had a big move off the bottom, for certain. A lot of that is simply because traditional Uggs have been doing better. Some of it is because the company's figured out how to get raw costs down without sacrificing quality. But I think very few of these new initiatives are in the stock at all right now. As Martinez told me, it's the second inning of the transformation.
That's a lot of points to come before we get to the ninth. I think you go for them.
Today only: Get FREE access to all of TheStreet's subscription services. That's an annual value of $5,000! Click Here NOW for immediate FREE access.
Action Alerts PLUS, which Cramer co-manages as a charitable trust, has no positions in the stocks mentioned