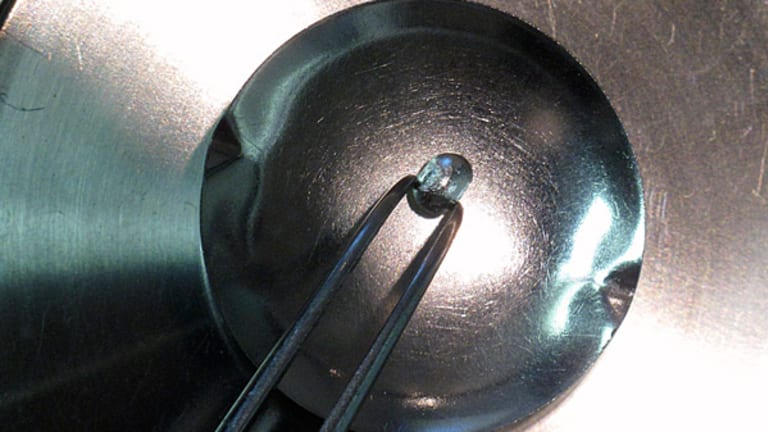 Publish date:
Cramer: Joy Is In America, But It's a China Stock
Jim Cramer points out that the bull case for Joy Global is that is it a play on China.
Jim Cramer points out that the bull case for Joy Global is that is it a play on China.
NEW YORK (
) --
Debra Borchardt:
Joy Global
(JOY)
reported its earnings. They had kind of a gloomy outlook on mining. Jim, let's talk about that. I mean, clearly coal has pulled way back because a lot of the power companies are going to nat gas because it's so cheap.
Jim:
Yeah, and also an activist EPA. In the second term ofn Obama a lot of the coal plants that were built in the Jimmy Carter era -- which were meant to last 40 years so do the math -- are coming to their natural end of their life and could be extended. Perhaps you put more filters on them, you do what it makes it so coal is a little bit cleaner. But to me it's an end game.
I mean, I think honestly if these coal plants weren't in coal states you would already see them be phased out more aggressively. I think that the executives there are caught among the rate payers, the coal miners and the EPA. But overall coal is going away in this country. Now, Sutherlin, CEO of Joy, knows it's a China play, it's an India play, it's a refurbishment of current material play. What I took heart in that one line in the release, which was that the electric use of China continues to go higher, which is an unrejiggered statistic that is like a lot of people are saying like their PMI number is phony or this number is phony or that number...you can go on, but electricity demand is going higher in China and I think that's industrial, it's consumer...
Debra Borchardt:
They love coal.
Jim:
... and yes, they do love coal. In my fantasies, I envision slapping tariffs on them for all the jobs they took from us, and then making stuff that pollutes the earth, and then they send it back to us. I was just going over that with my very environmental, anti-pollution daughter, and I said, 'Listen, China is the problem.' China is addicted to coal and China is the problem for the global warming, but it sure isn't the problem for like Sutherlin and Joy. It's good news.
Debra Borchardt:
That's what I was going to ask you. Is that why Joy went up because they got such a gloomy outlook and the numbers were not something that would make you want to buy this stock, but the stock went up.
Jim:
I think that China, they're talking about a inflection for China. It is regardless of a China play, I talked about
Yum! Brands
(YUM) - Get Yum! Brands, Inc. (YUM) Report
last night on
Mad Money
, China play, and you've got to start distinguishing between companies that are fiscal cliff plays and China plays, and the fiscal cliff being a powerful way to be able to cut the budget deficit.
But through austerity -- or Irish style is what I've been calling it -- because you go to Ireland you see that they voted in an austerity plan like we should be defaulting into, but Joy is a stock that's not going to be an American stock. It's going to be based here, but it's not going to be American.
--Written by Debra Borchardt in New York.
>To contact the writer of this article, click here:
Debra Borchardt
.
Disclosure: TheStreet's editorial policy prohibits staff editors, reporters and analysts from holding positions in any individual stocks.