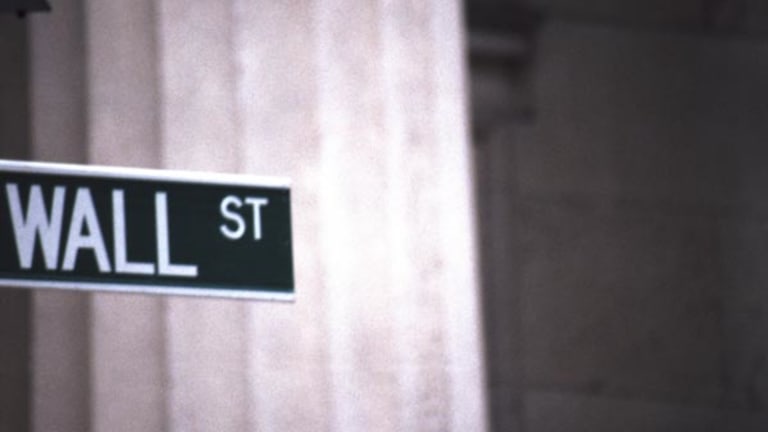 Cramer: Dollar General, Five Below Are Buys
Jim Cramer tells TheStreet's Debra Borchardt that Dollar General's good results are a positive buy signal for Five Below.
NEW YORK (TheStreet -- Debra Borchardt:Dollar General (DG) - Get Free Report reported their earnings this morning and some have seen a cloud in these earnings, not the silver lining. I'm here with Jim Cramer. So Jim, I've got to say, listen, these earnings up 9.2%, revenue up. They beat the estimate. Sales growth 10 to 12% . . . I did not see a lot of bad in here.
Jim Cramer:
There wasn't.
Debra Borchardt:
And I was surprised that some people were pointing to it, "Oh, but it missed and it wasn't that great."
Also see: Cramer Greets the 21st Century: Airbnb
Jim Cramer:
Well I harp back . . . this is a painful name for me. There've been a couple painful names of late with
Action Alerts PLUS
, got Dollar General where I told Stephanie, "Look. I'm very concerned that maybe this is the beginning of a tailspin," last quarter.
Debra Borchardt:
A lot of people felt that way.
Jim Cramer:
And they pulled out of that tailspin with shining colors. What I felt was most interesting was that it was done intra-quarter. We had been very worried about gross margin compression just four months ago. The gross margin compression did not appear. We were worried about price wars. The price wars did not appear. So now you've got the stock actually back to where it was before the chatter that things had gotten bad in the dollar industry. I think that people should look at
Five Below
(FIVE) - Get Free Report
, which supports later this week because it's a good sign for them.
I don't want to circle back to
Family Dollar
(FDO)
because I think Family Dollar's the weakest operator of the group.
Dollar Tree
(DLTR) - Get Free Report
. . . maybe. That got really hammered. This sector of the market was supposed to be finished as things got better and people shopped at
Target
(TGT) - Get Free Report
and
Costco
(COST) - Get Free Report
.
Debra Borchardt:
Yeah. But then we had our payroll tax holiday removed and all of a sudden, the paychecks were a lot lighter again.
Jim Cramer:
Right.
Also see: 6 Surprising Taxes Headed Your Way
Debra Borchardt:
And I think that combined with higher gas prices . . .
Jim Cramer:
Right.
Debra Borchardt:
Dollar General . . . ten thousand stores...they're going to be close by so it's a quick shopping trip and cheaper to drive to.
Jim Cramer:
Well think the take-away here is to say that we reached a level with
Bed and Bath
(BBBY) - Get Free Report
, with
Best Buy
(BBY) - Get Free Report
, with Dollar General, with
Ross Stores
(ROST) - Get Free Report
, where we felt that the consumer was not shopping at these places or cutting back, whether it be because of the payroll tax, whether it be because of gasoline, and now it's turning out that that's not happening. And whether it be Williams-Sonoma at the very high end or Dollar Gen at the low end, things are quite good, Debra Borchardt.
Debra Borchardt:
And it's interesting too, Dollar General said people are buying food there. And I think that, that has to make you concerned about the grocery stores but a good thing for Dollar General.
Also see: 12 Ways Skimping Now Can Blow Up in Your Face Later
Jim Cramer:
But at the same time,
Kroger's
(KR) - Get Free Report
had good numbers.
Safeway
(SWY)
doing a very interesting IPO. It seems like only
Whole Foods
(WFM)
is struggling.
Now someone was critical of me at Jim Cramer saying, "Jim, I thought you said Whole Foods had bottomed." There are many instances to believe that Whole Foods has bottomed because it's a great growth stock, but Piper Jaffray had a very negative note out about the trends and it finally mentioned the elephant in the room, which is Trader Joe's.
Now it's entirely possible that Whole Foods does what Dollar General did and wakes up this quarter and really gets things right and comes back . . .
Starbucks
(SBUX) - Get Free Report
did that . . . but now I have to tell you, Dollar General, if it pulls back is now a buy and again, I like to own up when I didn't do something right. I did not do Dollar General right.
Debra Borchardt:
Well, let's be fair. A lot of people had given up on Dollar General.
Jim Cramer:
Right. That's how it could move.
Debra Borchardt:
So it was not far-fetched to look at them and think they had missed out and had gotten things wrong. They righted it so . . .
Jim Cramer:
Right. Well, you're very kind. You're very kind. It still hurts but thank you.
Debra Borchardt:
I'm just saying, hindsight, you know, is 20-20.
Jim Cramer:
Is 20-20.
Debra Borchardt:
But that was a fair assumption at that time. They have figured it out now so it does look like things are good now for the dollar buyers at Dollar General and a couple of the other ones but not Family Dollar.
Jim Cramer:
Exactly. Thank you, Debra.
--Written by Debra Borchardt in New York.
>To contact the writer of this article, click here:
Debra Borchardt
.
Disclosure: TheStreet's editorial policy prohibits staff editors, reporters and analysts from holding positions in any individual stocks.