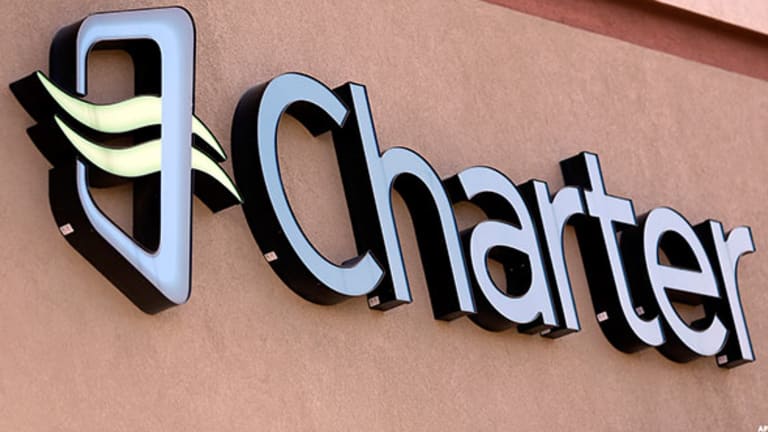 Cramer: Big Run Isn't Over for These Stocks
S&P leaders have been putting up some great numbers.
It's a mixed picture, but you have to like the S&P top 10 gainers on the leader board because it is spewing breadth and can point toward a direction that's fairly sanguine after a very big run.
The leader of the pack? United Rentals (URI) - Get Free Report . That's superb because URI is about renting and selling equipment used to build things, whether they be a wall or streets or commercial properties or oil and gas lines. The company bested the estimates big time and put through an immediately additive acquisition.
Next up is Charter (CHTR) - Get Free Report . You can't get enough M&A if you are in a bull market and the stock of Charter is reacting to talk that Verizon (VZ) - Get Free Report might want to buy it. Given Verizon's pathetic showing yesterday -- you can get a shorthand take on it by going to Twitter and reading what T-Mobile (TMUS) - Get Free Report CEO John Legere is tweeting in my column -- you know Verizon has to do something to grow again. I think this is a dangerous one because of all the capital it would require, especially if the price tag is around $400 a share. Would it put Verizon's big dividend into question? Anyway, I like that Charter can run and it might have had a move anyway given how robust Action Alerts PLUS name Comcast (CMCSA) - Get Free Report is doing. 
So many are worried about housing, I sure felt better when I saw the number Sherwin-Williams (SHW) - Get Free Report put up this morning. The paint company, which is on the verge of closing on its Valspar (VAL) - Get Free Report deal, needs to dispose of some assets. Could it come PPG's (PPG) - Get Free Report way? I think PPG is a buy on the earnings alone. Might be something to think about.
Royal Caribbean's (RCL) - Get Free Report gain shows me that people are still spending but they are spending on experiences, and these cruise ships are the biggest bargain when it comes to an experience with the family. It's incredible how well run they are and the forecast here, for 90 cents a share next quarter, is fully 19 cents more than what the Street was looking for.
EBay's (EBAY) - Get Free Report always been a hideous Internet 0.0 site and management has figured that out and made it more of a useable catalog. Thank heavens. Plus, the company is about to start doing machine learning like when Amazon (AMZN) - Get Free Report prompts "others who liked this bought..." No wonder it's having a good day, especially as we have learned that it was the second-most-used site for holiday gift-giving. (Amazon is part of TheStreet's Growth Seeker portfolio.) 
Southwest Air's (LUV) - Get Free Report Gary Kelly came on Mad Money recently and said things were good and getting better as the quarter went on and he was optimistic that 2017 would be excellent. Well, I guess no one listened then. But today with the same rap and the numbers, people are going gaga for this important transport.
You want to see homebuilders do well at a time of rising rates because it shows there is plenty of demand. There is a brewing housing shortage in this country that is constraining sales. But Pulte (PHM) - Get Free Report has what people want and it is rallying in the wake of an excellent number from big dog D.R. Horton DHI -- $67 versus $59 tells it all. Just a fabulous quarter by Pulte with good revenue growth.
Textron's (TXT) - Get Free Report bouncing back after a so-so quarter and the acquisition of Arctic Cat (ACAT) , a snowmobile company we have liked but recognize that there are some real unknown variables to the biz, such as snow. Nevertheless, if you listened to Boeing's (BA) - Get Free Report call last night, you know that defense spend is going higher. That will cover Textron's 2017 numbers and then some.
Defense will remain a big theme now that the spend is back -- nobody in the capital seemed to like sequestration and the spend for L3 (LLL) - Get Free Report could be very big given that it has a lot of stealth programs involving reconnaissance. Not cheap. But best of breed in its space.
Comcast's stock was all over the map this morning, which seemed silly as all get-out given how excellent the number was and how much of a Trump stock it is: made in America, hires in America, buys in America and exports movies! Can't beat that combination.
, which Cramer co-manages as a charitable trust, has no positions in the stocks mentioned.