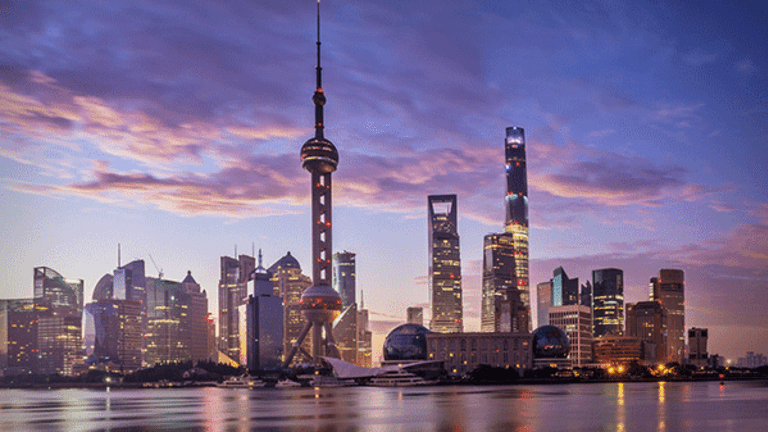 Publish date:
Cowen to Sell 20% Stake to Conglomerate China Energy
CEFC will pay nearly a 30% premium for shares Cowen issues in a PIPE offering.
CEFC will pay nearly a 30% premium for shares Cowen issues in a PIPE offering.
China Energy Co. Ltd. (CEFC)  is lending $175 million to investment bank Cowen Group (COWN) - Get Report as part of joint venture that will give CEFC a 19.9% piece of Cowen and pay to restructure some of Cowen's debt.
Cowen will raise $100 million in a private-investment-in-public-equity offering purchased by CEFC.
"We believe the synergies brought by this strategic partnership can create significant value for our clients and for our respective stakeholders and further promote a deepened cooperation in a number of areas within the U.S. and global capital markets," CEFC chairman and founder Jian Ming Ye said in a Thursday release.
A deal note provided by Instinet LLC analyst Steven Chuback also saw positives in the deal.
"This announcement provides additional firepower for COWN to pursue larger-scale acquisitions and better leverage its fixed-cost base," the note said.
"In terms of the broader landscape / implications for other broker-dealers, we could see similar takeout interest from other foreign buyers looking to expand to the U.S. while still retaining greater control / board seats," the note said.
"Other potential targets cited by investors include Piper Jaffray, JMP Group and Stifel."
Not everyone is so optimistic.
"China Energy as an investment bank investor on the surface level seems completely out of context and certainly scope," Dan McClory, head of china and equity capital markets at Los Angeles-based Boustead Securities, told TheStreet.
"It's even more surprising given the current prohibitions that the PRC has placed on Chinese companies embarking on international M&A in areas unrelated to their core businesses. I am sure we will learn and see more soon which will allow us to better understand the synergies. For now, we are pleasantly puzzled," McClory said.
Cowen is an investment bank and financial services company that provides a variety of advisory, research, underwriting and prime brokerage services. The company's Ramius unit is an activist hedge fund group that manages much of Cowen's proprietary capital.
Cowen has long provided placement agent services in the private-investment-in-public-equity market. The company has been involved in placing 395 PIPEs since 2001 that raised $17 billion according to PrivateRaise, TheStreet Inc.'s private placement data service.
The company has also placed 61 Rule 144A offerings that raised $23.9 billion.
The company said in its recent annual report that it stands at a disadvantage to some competitors when it comes to capital availability.
"We face competitors that are larger than we are and have greater financial, technical and marketing resources," the report said.
"Certain of these competitors continue to raise additional amounts of capital to pursue investment strategies that may be similar to ours. Some of these competitors may also have access to liquidity sources that are not available to us, which may pose challenges for us with respect to investment opportunities."
Some competitors could also afford to take on more risk, the report said.
Cowen carries $210 million in debt on the books according to FactSet. Most of that debt is in the form of $130 million in 3% convertible notes due 2019 and $61 million in 8.25% notes due 2021.
The posted a 2016 loss to stockholders of $26.1 million on revenues of $471.6 million.
Shanghai-based CEFC is an investment company with wide ranging interests in energy industries and financial services.
The investor will pay $18 per share for stock in Cowen's PIPE. The price reflects a 29.5% premium to Cowen's close price on March 28.
PIPE proceeds will go mostly toward repaying Cowen's notes due 2021, while $175 million from the six-year senior unsecured loan will go to a variety of purposes including strategic acquisitions.
Starr Strategic Partners served as financial advisor, and Willkie Farr & Gallagher served as legal counsel to Cowen Group.
Lazard served as financial advisor, Skadden, Arps, Slate, Meagher & Flom served as U.S. legal counsel and King & Wood Mallesons served as PRC legal counsel to CEFC.
Cowen shares were trading up around 6.5% in the $14.80 neighborhood in hours after the news of the arrangement came out before the open on March 29.